COUNT up the number of people who swear they saw the Beatles in the Cavern on any given night, and chances are there'll be twice as many as could squeeze in.  Oh well, you've got to allow the old-timers their tall stories and moments of imagined glory.
One day it'll be the same with Ken Campbell, Essex lad and honorary Scouser. His Liverpool productions of the Warp and Illuminatus! are legends in a theatrical career that was in itself legendary.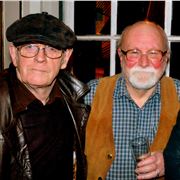 Peter O'Halligan
and Jeff MerrifieldHow many fitted into the little studio upstairs above Aunt Twackies in Mathew Street on any one night? Tens rather than hundreds. And yet there's devoted Illuminatisti  strewn across Liverpool  prepared to swear by all they hold dear that yes, they were there and yes, they saw the scenery fall on the hapless Guardian scribe Stanley Reynolds.
Peter O'Halligan was there, of course. As the driving force behind many acts of creative lunacy in Liverpool in the 70s and 80s he was a natural partner for the fizzing and ebullient Ken Campbell, and besides he was the proprietor of Aunt Twackies and principal of the Liverpool School of Language, Music, Dream and Pun.
So too was Jeff Merrifield, Bowell to Campbell's Johnson and author of a new memoir of Campbell's life, Seeker!
Put the two of them together to launch the new book at Mello Mello in Liverpool and the true Illuminatisti (to say nothing of the true Warpies) were out in force. Still as mad as sacks of cats and witnesses to a theatrical earthquake.