MA Boyle's has been a Liverpool institution since 1870.
In the city's commercial heyday, it was known for its oysters, a bustling downtown pub which offered a welcome respite from the office. We're talking about the days when it was perfectly acceptable to have a lunchtime tipple or two with your chicken in the basket, squeezed up next to Janet from the typing pool (when they had typing pools).
Times changed, as did Ma's fortunes - and not for the better. Then last year Iain Hoskins showed up. Iain, actor and one time Coronation Street publicist, is one of the hardest working - and creative - pub landlords in Liverpool and had already made a roaring success out of the once ailing Ma Egerton's Stage Door behind the Empire.
But could he do the same with Ma Boyle's - a different kettle of fish (the oyster have gone) at the other end of town?
Happily he could and these days the Tower Buildings Ma is thriving. Not just at lunchtime but all hours of the day, evening and weekend. Hers is an expanded crowd of port visitors, professional types and city dwellers.
Here are just six of the best things about Ma Boyle's that we've observed on one or two visits the past month.We could go on and on - but then there wouldn't be a reason to go back. And we will be going back.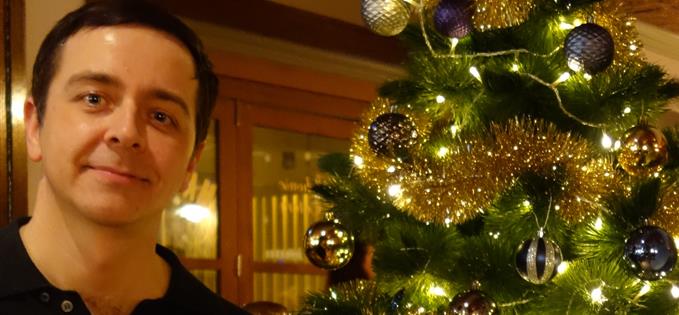 Ma's tireless owner Iain Hoskins
1) Step inside, love
Nestling in the shadow of Liverpool's historic Parish Church of St Nicholas's, the waterfront Tower Building has been the location of Ma Boyle's since 1974. You will find it slap bang in the middle of a UNESCO World Heritage site and their aren't many pubs in the UK that can say that. Once through the door, the welcome from Iain and his staff is warm and friendly. You will NOT want to go back out into that Mersey chill anytime soon.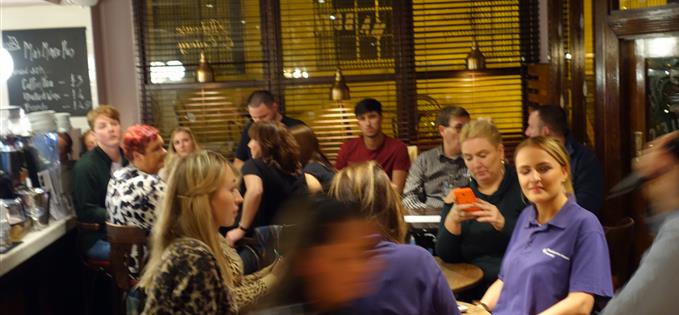 2) The pies have it
Ma Boyle's extensive food menu is inspired by Liverpool's Atlantic shipping routes but it also offers the best in classic northern pub dishes.
And that means pies: fillings home-made, deliciously so, and all under £8, served with chips, veg and gravy. We challenge you to find a similar offering elsewhere in the city - and not those bought-in Pieminister hipster things.
Choose from chicken, steak & ale, pulled pork, cheese & onion and scouse pie.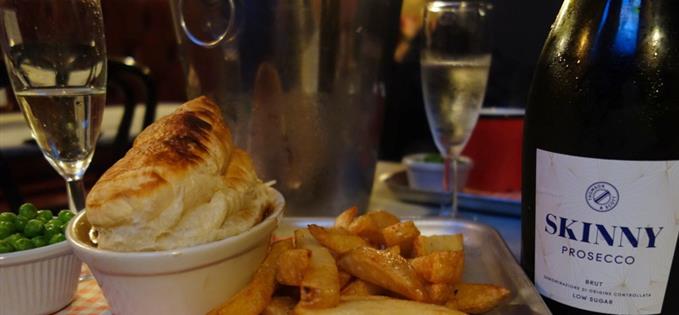 3) Prosecco and more prosecco
There are some very well kept cask ales in Ma Boyle's, but, ladies, if you are going to tackle a top class pie (and you know you want to) then a glass/bottle of Skinny Prosecco will help the goodness go down, guilt free. Ma Boyle's was the first bar in Liverpool to serve the taste sensation of summer 2016.
Now, if pies aren't your thing and fizz is, Ma Boyle's have prosecco bottomless brunch every Saturday and Sunday. Served from 10am-2pm, it costs just £25 and includes any brunch meal - from classic English breakfast to fluffy waffles and toasted bagels - plus free-flowing Frizzenti prosecco for a whole hour and a half.

4) A win-win lunchtime steak sandwich
This beautiful, tender, medium rare rump steak comes with caramelised onions, and rich, well seasoned field mushrooms on a soft, locally baked hunk of bread seeping with meat juices. At just £7 this is just a quid or two more than what you'll find on the hot counter at nearby takeaway sandwich bar Philpotts. However this is a world away, plus you get a crunchy salad, lovely crunchy skin on fries AND that setting (see #1).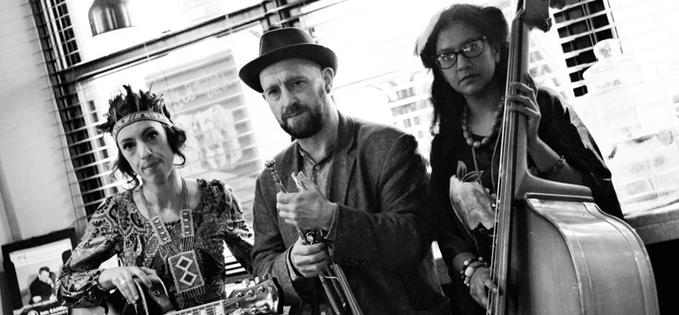 5) All that jazz
There are myriad food and drink offers all week at Ma Boyle's to tempt you in until late in the evening when the kitchen closes, but what about the other stuff?
Well, every Thursday, from 7.30pm, there's the resident jazz band, Amanda Brown and the Common Ears, which features tireless Liverpool trumpet stalwart Martin Smith turning out classic jazz, blues and vintage music of the finest quality. Saturday night sees a live music set too, but while it's low key, it's always top drawer.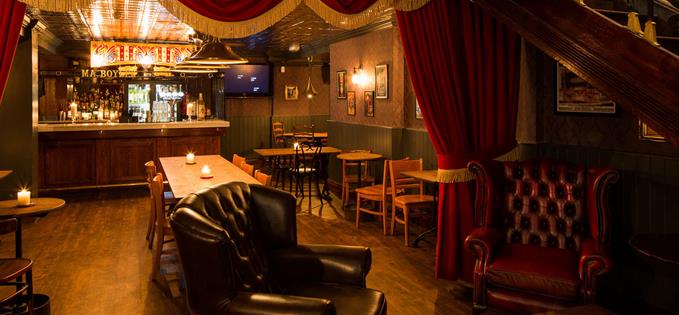 6) Rum
Where once was a basement oyster bar for cotton and fruit traders to congregate, now there is different spirit - the Rum and Rumour Kabaret Bar. You won't find any pirates, but you will find 50, yes 50, speciality rums to warm your figurative cockles. There is a weekly special and you can even hire the place out for all your drinking den needs.
Told you you wouldn't want to set foot into that Mersey chill anytime soon.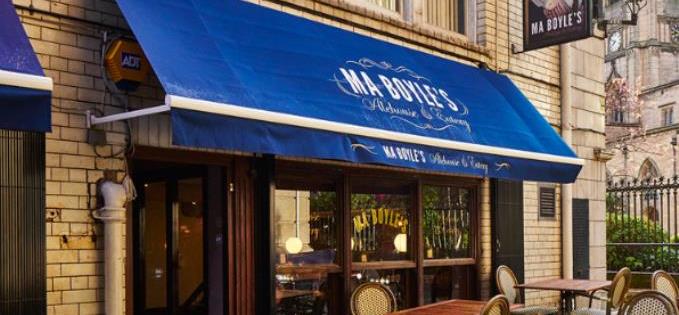 Any more for any more?
Plenty. You can check out Sunday lunches, afternoon teas, two for one Tuesday burgers, FIVE different kinds of scouse and brilliant Christmas parties for yourself. Let us know how you get on.
Limited time offer: Spend £25 and get £50 worth of food and drink at the excellent Ma Boyle's Alehouse and Eaterie with our exclusive privilege voucher. Click here before they're gone.
*Ma Boyle's Alehouse and Eatery, 2 Tower Gardens, Liverpool L3 1LG. Tel: 0151 236 0070. Click here for info.