STANLEY Dock is made up of three Grade II-listed buildings including the gargantuan Tobacco Warehouse which, in 1901, was the largest brick building in the world.
The chasing round the plate became more frenzied than the Benny Hill credits
These mighty behemoths of the UNESCO World Heritage waterfront are only a 20 minute stroll from Liverpool's vibrant city centre. In terms of commercial potential and creative possibility, the structures are an unrivalled goldmine and have already received some back-slapping planning awards for just being there.
Across the waterway, the Titanic was originally constructed as a rum warehouse and now houses a luxury hotel and spa, as well as a 1,400sqm conference, exhibition and banqueting centre which has been open for two years. We thought it was time to visit its restaurant, Stanley's Bar and Grill.

Its refreshingly genuine industrial look has been sleekly enhanced by dark grey paintwork and shiny black floor tiles softened by fabric seating and natural wood. It can get away with having a dark interior thanks to the expanse of floor to ceiling windows on one side. The derelict Tobacco Warehouse dominates the view and is hauntingly beautiful. They don't make them like that any more.
Stanley's is trying to achieve what all good hotel restaurants, which attract a variety of clientele, are aiming for – to be all things to all people.
Like Liverpool itself, dishes reflect a multi-cultural outlook with modern British overtones. An Italian risotto incorporates English peas, Cheshire lamb is spiced with Moroccan harissa and Cornish stonebass has been paired with padron peppers. There are char grilled steaks on offer, as well as a more casual bar menu listing burgers, sandwiches, pizzas and salads, but we were here to see if they can really cook.
Beetroot tart with whipped goats curd, apple and hazelnuts
My friend and I discussed Great British Menu and the way chefs judge a plate of food very differently to the way critics and diners do. Her starter of beetroot tart with whipped goats curd, apple and hazelnuts (£7.50) was a perfect case in point as to why this might be. It was very pretty with soft wedges of purple, golden and candy beetroot on a thin rectangle of pastry with a quenelle of goat's cheese curd perched on the side. But for "eatability" it scored low as I watched her chase it around the plate while trying to maintain conversation.
My salad of English mozzarella with grilled peach, prosciutto and wild roquette (£8) was simply assembled, so not particularly challenging. They'd substituted peaches for the more seasonal plum without a word. Does it even matter if they quietly change one fruit for another? I suppose more people would notice if it was something a bit more obvious like banana.
Both main courses were pretty much faultless. South coast hake with sea herbs, mussels and saffron (£19, main image, top) was perfectly cooked, balanced and well executed. They were a bit vague about what the sea herbs were but my spidey senses picked out chervil, which is more of a garden herb.
Rump of Cheshire lamb with harissa, spiced lentils, kale, aubergine and mint was genuinely excellent – which it should be for £25 to be fair. The lamb had been charred enough to give it a naturally sweet caramelised crust while the centre was as pink as I was tickled to be eating it. Lentils have a reputation as a peace-loving pulse, but these had perfect bite and also a kick coming through from the chilli.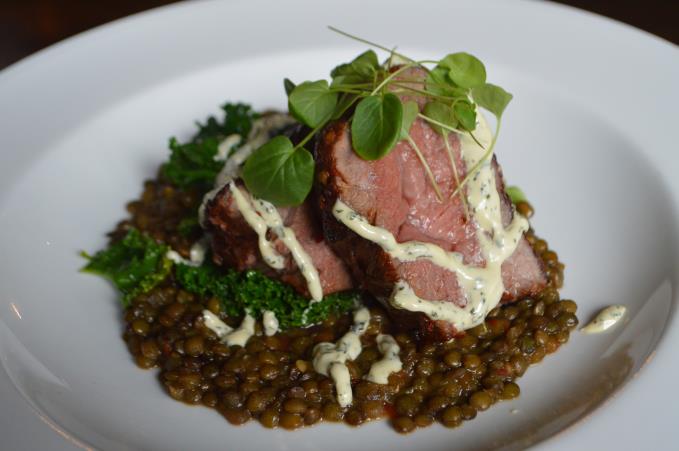 Lamb rump and lentils
They'd used the same template for the lemon meringue pie (£7) as the beetroot. The pie was a lie. Soft Italian meringue and good homemade lemon curd sat next to each other with a thin pastry rectangle in the centre. The chasing round the plate became more frenzied than the Benny Hill credits as we were only given a spoon to eat it with. It was also overwhelmingly sweet.
Elderflower jelly (£7) was a much more contained affair and the accompanying G&T sorbet was excellent; not too sweet and nicely ginny. However, if you take a closer look you'll see filthy fingerprints on the glass as though my order had interrupted someone grating chocolate or doing the gardening. Both desserts were heavily garnished with troublesome strips of candied lemon peel which we had to remove like one would a stray hair.
I couldn't help thinking they'd missed an opportunity. An ex-rum warehouse serving over 30 different types in the bar and there was not even a snifter of it on the food menu.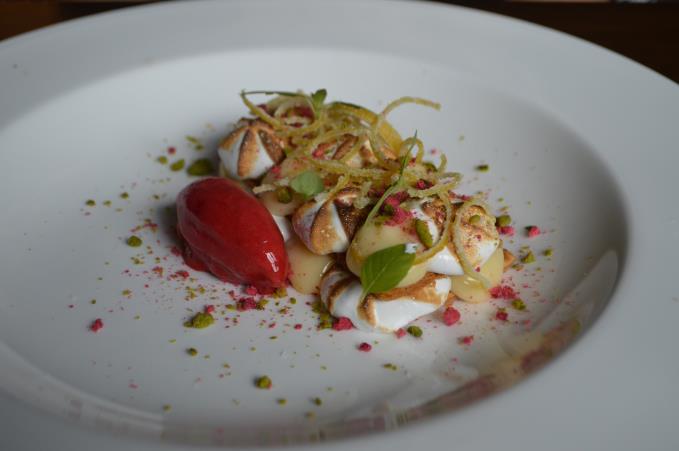 Lemon meringue pie
The reason Stanley Dock's potential hasn't been fully maximised for almost half a century has been the subject of many column inches and will be of many more, but all parties involved are seemingly getting their act together.
In the next 10 years, the area is scheduled to undergo its transformation. Meanwhile, the Titanic Hotel, like the eldest member of the Jackson Five, has been patiently waiting for its siblings to catch up.
With more hits than misses (almost all of which could be ironed out if the chefs ate their own food more often) we recommend Stanley's Bar and Grill as the perfect place to watch the work in progress.
All scored Confidential reviews are paid for by the company, never the restaurant or a PR outfit. Critics dine unannounced and their opinions are completely independent of any commercial relationships.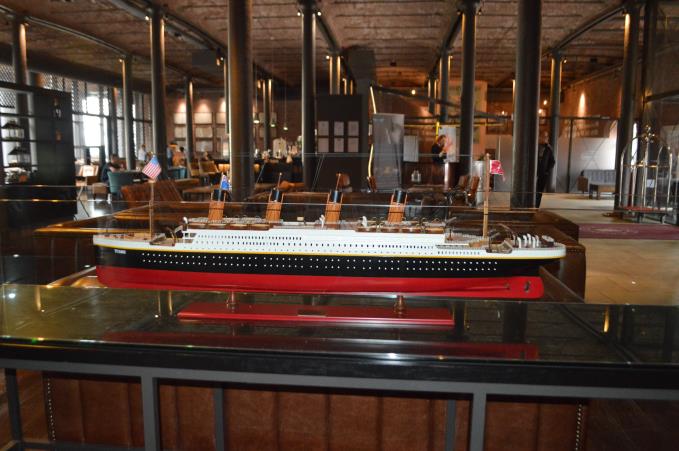 Stanley's Bar and Grill


The Titanic Hotel,

Stanley Dock,
Regent Road,
Liverpool, L3 0AN
Tel: 0151 559 1444

OVERALL SCORE: 14/20
Food 7/10
(Peach salad 5, Beetroot tart 6, hake 9, lamb 9, lemon meringue 5, elderflower jelly 7)
Service 3/5 - polite and neat but slightly vague when answering questions about the menu
Ambience 4/5 - genuine industrial chic.

Venues are rated against the best examples of their kind: gastropubs against the best gastropubs, takeaways against the best takeaways, etc. On this basis, the scores represent...

1-5: Straight into the dog's bowl
6-9: Netflix and chill
10-11: In an emergency
12-13: If you happen to be passing
14-15: Worth a trip out
16-17: Very good to exceptional
18-20: As good as it gets