THE best children's shows always have something for adults too. In the raucous world of pantomime, this often comes in the form of double-entendres so brazen that even kids can clearly see their linguistic knickers. But in the calmer context of the Unity Theatre's Little Red and the Big Bad Wolf, the uniquely adult insights are cloaked in rather more subtle theatrical attire.
This is the kind of theatre that fills young minds with wonder using movement, music and just a few simple props
Kids will love this show's high quality clowning and clever treatment of a familiar story, but any parent who has waved their kids off to Colomendy (or similar), heart heavy with the knowledge that that their offspring are stepping onto a path that will one day lead them away from home for good, can expect to experience a few emotional tingles.
This production is a Unity collaboration with Action Transport Theatre, whose expertise in fashioning fine children's entertainment shines through. With just four performers, the company conjures up cosy cottages, idyllic countryside, a wolf's lair and, of course, a tangle of twisting paths through a beautifully atmospheric wood.
This is the kind of theatre that fills young minds with wonder using movement, music and just a few simple props, and with these modest means, the cast succeed in developing a wonderfully warm rapport with the young audience.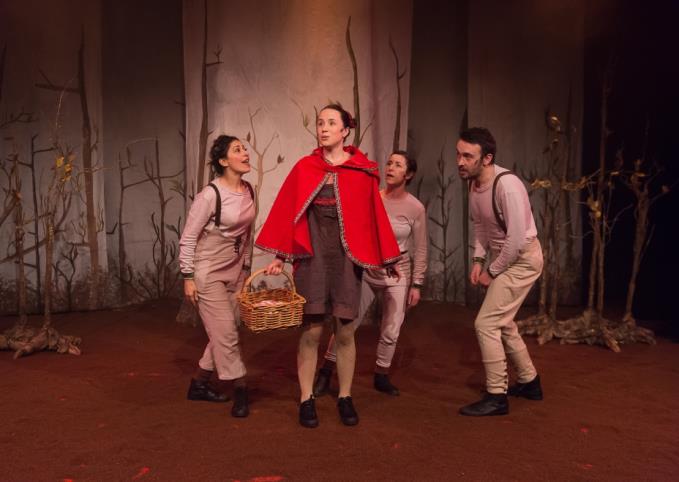 Although much-loved fairy tales have stood the test of time for good reason, the stories are seldom complex enough to sustain a fully-fledged show without embellishment here and there, and there's always a danger that extra narrative strands can prove confusing or tedious. I've certainly seen a few festive shows that were more shaggy dog than big bad wolf. However, under Nina Hajiyianni's direction and in tandem with writer Kevin Dyer, this team neatly sidesteps potential plot overload.
The relationship between Luca Rutherford's Little Red and Natalia Campbell's axe-wielding, wood-chopping mum is given just enough extra edge, and Harvey Robinson's suave wolf comes with sufficient back story to make him more than just a generic baddie. But the storytelling remains tight and, despite the darkness at its core, the jokes come thick and fast.
Just because this show is sophisticated fare, there's no shortage of silliness. The audience participation sequence is one of the funniest I've seen and the whole cast prove themselves worthy of some cracking gags by delivering them with pin-sharp timing. A mention too for Simone Lewis, whose turn as the crafty hypochondriac Grandma is a comic highlight. Now that I've seen Lily of the Valley perfume used as pepper spray, I have a new-found respect for that most grandmotherly of scents.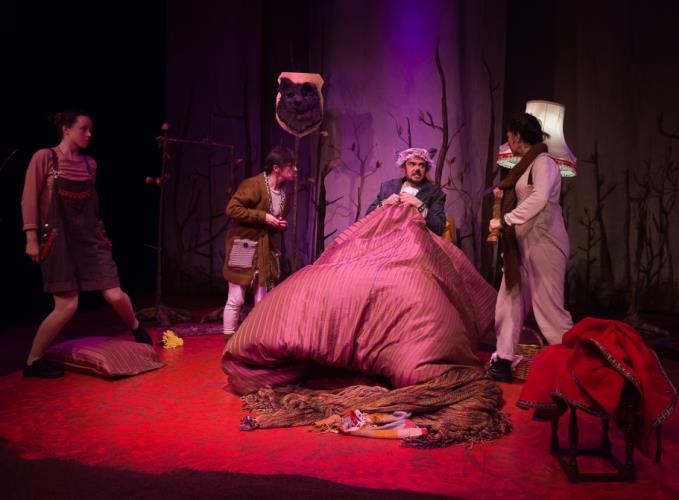 The Unity Theatre has a long tradition of treating festive tales with respect while giving them a fresh new flavour but, even by its standards, Little Red and the Big Bad Wolf stands out as one of the best.
Alas, my kids don't come with me any more as they're on their own journeys through life's deep dark wood but, as long as their real-life coming-of-age dramas pack as many laughs as this one, I won't mind if, occasionally, they stray from the path.
8/10
*Little Red and the Big Bad Wolf runs until January 7, 2017.