TYPICAL. You wait two hundred years for a Nepalese restaurant, then two come along at once.
I say "at once"; actually around 18 months elapsed between openings, but that's the twitch of an eye considering the first, Da Gurkha, came nigh on two centuries after Waterloo took its name from a bit of a skirmish on Belgian soil.
You can't help noticing that Waterloo's second Nepalese restaurant, Da Mount Gurkha, bears a somewhat similar name to the first. Coincidence? Not really, but that, the lawyers will be pleased to note, need not concern us here.
The cooking pots were not the only things getting heated out back, and we wondered if that's what Geeta had meant when she said her husband liked to create in the kitchen
Before a vacant unit on the main Crosby Road became Da Mount Gurkha, it had briefly provided another brand of subcontinental cuisine, and we dropped in with an eye to a review. However, just occasionally, a restaurant's food is so profoundly uninspiring as to leave you absolutely nothing to say. Such was the case with Simply Indian, whose swift demise needed no help from us.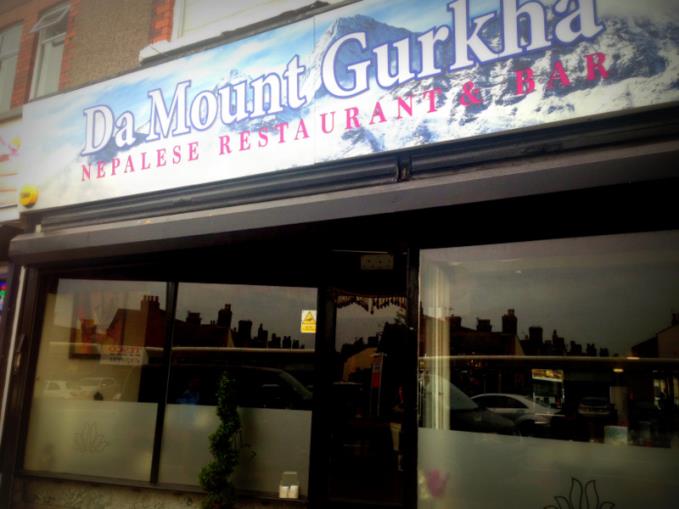 Da Mount Gurkha is a different proposition altogether, although, like their near namesakes round the corner, they encourage you to begin proceedings with poppadoms, which have nothing to do with Nepalese cuisine, but are, evidently, what's wanted by the curry loving public.
We are welcomed by Geeta, meeter, greeter and wife of the cook at this family-run, family-friendly enterprise. The place is busier than you would expect of a Sunday night at a suburban restaurant that favours curry, and that's because it's Father's Day.
There's a father at every table, including ours, the boys having generously allowed me to take them out for dinner to mark the occasion.


Day Of The Dad it may have been, but it was Geeta's maternal instincts that were shining, Mrs Grill noted. At a neighbouring table, a restless toddler threatened the slumber of her baby sister until Geeta, uninvited, scooped her into her arms, and carried her off, up and down, round and about. Result: an amused toddler, a sleeping baby, and one happy mother.
The last time we witnessed a small child being spontaneously embraced by a restaurant proprietor it was our own. That was 13 years ago at a roadside cafe a few miles out of Sorrento. "Bellissimo, bellissimo!" she cooed, noting the guileless smile that, in those days, rarely left our son's face.
Suddenly he's The Young Man sitting across from me, that smile less freely given, but still to be glimpsed, now and then, through the gaps in the wall of adolescence.
Meantime, his younger brother had reported, on return from the loos, that the cooking pots were not the only things getting heated out back, and we wondered if that's what Geeta had meant when she said her husband liked to create in the kitchen.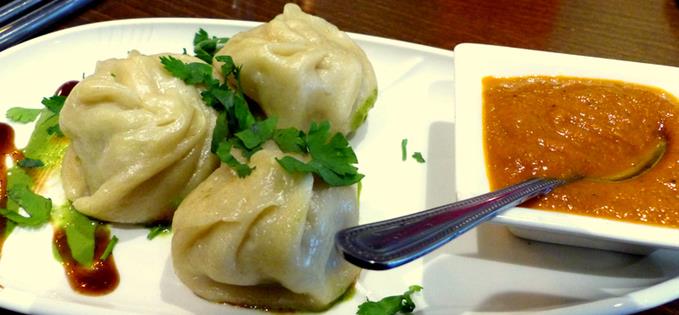 Momos, a nod to Nepal's Chinese side
In fact, most of the dishes put before us were expertly prepared and attractively presented, amid simple surroundings and a benign atmosphere. As food for the brood, there is much to recommend it.
Dasdunge Namkeen, a sort of samosa of crisp pastry stuffed with mashed potato, onion, peas and spices was just a little humdrum, even aided by "Nepalese tangy sauce". Better were Momos (£4.40), steamed dumplings – a nod to Nepal's Chinese neighbours – filled with minced chicken, the soothing stodge given a shake-up by the sweet and spice of a peanut and szechuan sauce.
A couple of tiger prawns, meaty and fresh tasting, marinated with lemon, garlic and "Himalayan herbs" (£5.95), came nicely blackened over charcoal, with smears of mustard and chilli sauce. Good as they are, two prawns for a shade under six quid (I'll leave the jokes to you) was pushing it, particularly when the salad garnish had faded under the lights.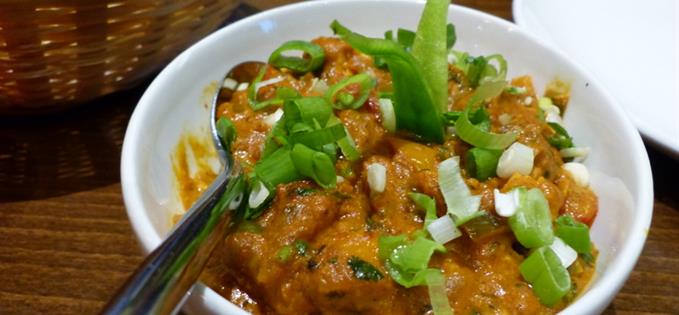 Hot and spicy: Chicken Dhede Khursani
Lamb Rasilo Posilo (£8.95), "traditional homemade curry", may imply a domestic simplicity, but the sauce, of ginger, garlic, onion, tomato and Nepalese herbs, was darkly rich and complex.
Lighter and creamier is Fish Kholi Tirema, enriched with coconut and the subtle appliance of herbs; it's just a pity the fish, an anonymous fillet, had little to contribute.
The Young Man's Lamb Bhutuwa (£9) tender pieces in another intense sauce, drew warm approval, while the junior's Chicken Dhede Khursani (£8.50), chunks of breast sauteed with peppers, garlic and "hot chilli", was bursting with flavours. Geeta's fears that it would prove too spicy for him were without foundation.
We wolfed the lot with cakes of perfect jauli (Nepalese pilau) rice (£3), every grain somehow separate and conjoined at the same time, and makmali bread (£2.95), soft as a mother's heart
Business differences of an apparently irreconcilable nature are said to have made Waterloo the unlikely beneficiary of the city's only two Nepalese restaurants. It's early days and it remains to be seen which proves the daddy.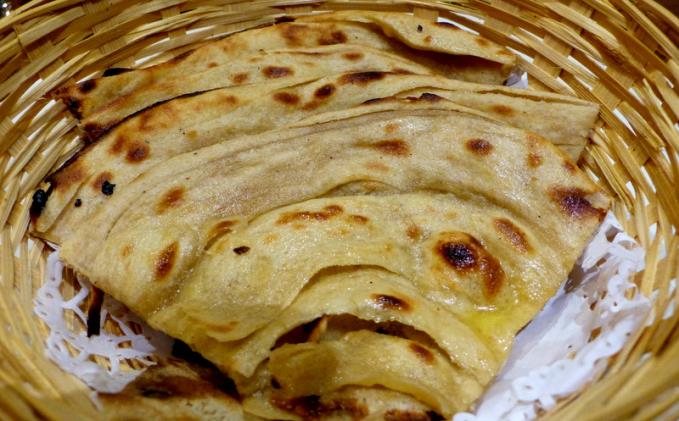 Da Mount Gurkha, 71 Crosby
Road North, Waterloo, L22 4QD.
Tel. 0151 920 2727.
Rating: 15/20
Food 7/10
Service 4/5
Ambience 4/5

Venues are rated against the best examples of their kind: takeaways against the best takeaways, fine dining against the best fine dining, etc.
Following on from this the scores represent:
1-5: Straight into the dog bowl
6-9: Raid the freezer
10-11: In an emergency
12-13: If you happen to be passing
14-15: Worth a trip out
16-17: Very good to exceptional
18-20: As good as it gets
ALL SCORED LIVERPOOL CONFIDENTIAL REVIEWS ARE IMPARTIAL. CRITICS DINE UNANNOUNCED AND PICK UP THEIR OWN BILLS, NEVER THE RESTAURANT OR A PR COMPANY.