TAPAS has no place in this country. If it did, it would choose to reside on the counters of our bars and pubs, rather than resplend in an ever increasing number of restaurants built to elevate it.
Manchego, picos blue and more of that hand made Monte Enebro was matched with sugared almonds and was as much a treat to eat as to look at – which was through a glass of dry Pedro Jimenez
Depending on who you believe, the pure intent of tapas was – and is - merely an aside: a soaker-up of drink: a belly coating to keep those Iberian imbibers of a breakfast brandy, a lunchtime beer and/or several sherries in between, from falling over before dinner proper is served. And that's very, very late.
For the Spanish flea, hopping from bar to bar, it is something to chew over while, perhaps, chewing over the events of the day; small food for small talk - "Eat while you drink, drink while you eat."
It does the trick, As you toast your good health, you can be quietly confident that, if you don't plough yourself into a truck on the way home to your senora, your organ functions will stay largely intact for the 81.9 years the World Health Organisation says a Spaniard can expect.
In this country we have pork scratchings for that; a packet of Walkers, or nothing at all, to fuel our Bacchanalian journey, before dinner proper - a midnight kebab – is served. Did you ever wonder why it is called a pub crawl and not "bar hopping"? Not for nothing.
Sweeping statements, of course. But no matter. In this dark place, tapas reminds us that once the Costa holiday is over, there is a silver lining to both every British cloud and entrepreneurial restaurateur's trouser pocket. With one difference. Here, we turn the tables on tradition and the grog is the incidental music to the main event: the grub.
And so, from the people who brought you Ego, we have Salt House Tapas, the latest flame in Liverpool's love affair with the cuisine where big dinners are downsized, both in quantity and price, the latter of which which will still, nevertheless, come as a shock if you are used to squeezing a plate of sardines out of a few euros.
I should stop sounding so cynical. Salt House Tapas is a handsome looking, modern yet ambient place, occupying what might be a difficult corner, the "prow" of Church House, at the start of Hanover Street, and taking its name from the dock, not from the flavour of the food.
Service, fittingly, is at the sharp end. The whole ship runs in an efficient, friendly, very knowledgeable manner. However, while it might be tapas – though not quite as Pedro the Fisherman or his bank manager knows it - is it any good?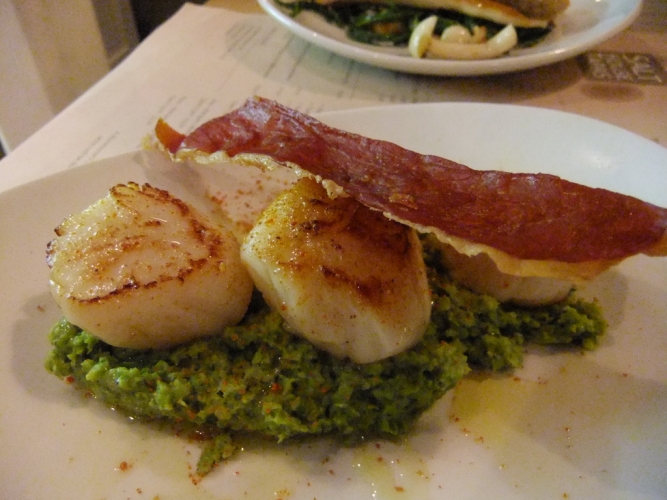 Well yes. Better than most. Take basics like Libby's sourdough bread (£2.80), made in the eponymous bakery shop in Marple Bridge, Cheshire, still as fresh and as bouncy as a WAG with implants, at 10pm. Add excellent, swollen Gourdal olives in a hailstorm of sea salt and good virgin olive oil (£2.65), which reminded us of the best of a Navarran stop-off the week before.
Build up to more complex dishes like the wonderful pork belly, sticky quince roasted and served with spinach and broad beans in a chicken and veal stock (£5.75) and any number of deeply pleasant items in between. Breathe out and relax...and then... order some more.
Tonight we are eating to keep the perfectly passable house tempranillo company, a Marques calado (£4.70, 250ml glass, £13.25) and its macebo friend.
I am regaling own friend with tales of the August road trip from the Bilbao ferry to the Costa Brava, and how the wild west towns and cities in the prairies and sierras in between, had failed to provide the kids with a single Macky Dees. Thus they had embraced a liking of frogs legs, served as pintxos in bars of places like Tudela, way past their bedtime, along with the best and most mature manchego, the driest, yet tenderest calamari (everywhere) and the cockles and mussels and fiery sausage, like xistorra, that are fitted as standard en route.

Fifteen dishes and a bottle of big, full crianza for forty quid, at a place called Taberna Ca La Raquel, in the charming Mediterranean village of Calella de Palafrugell, may explain why so many Brits who go holiday there take their pensions and a van load of furniture with them the next time, saying one big, fat, regret-free adios.
Meanwhile, back in Church House, they don't do kids options, "but if we can alter any of our dishes, just ask". See above people. If you don't think your children can handle it, just lie.
At the top end of the menu, a wholly agreeable trinity of seared scallops (£8.95), wears a crispy slice of Serrano ham like a biretta, and sits on a fat and vivid tabernacle of good pea puree.
A trim, crispy skinned fillet of pan fried sea bass (£5.90), is given a lift away from its farmed origins by samphire, wild mushrooms and shallots. Again, proving that chef Martin Renshaw knows his sauces as well as his other stuff, sauteed chicken (£5.50) is accessorisesd by a very good chorizo and red onion concoction and heated up again by whole padron peppers on top. Patatas bravas, in the absence of any potato tortilla left (£3.50) is nothing less or more than you would expect. Deep fried Monte Enebro (£4.90), a goats cheese, with honey and thyme, is definitely more.
On the subject of cheese. Full marks to Renshaw's pretty board selection for straying away from the depressingly predictable British traditional. Manchego, picos blue and more of that hand made Monte Enebro was matched with sugared almonds and was as much a treat to eat as to look at – which was through a glass of dry Pedro Jimenez (£3.75)
They have done their homework in here, and Paddy Smith and his old, experienced Ego team deserve for Salt House Tapas to do well. Which it will.
It might not be the Med, or the weather for a tan, but it's some consolation for all those pasty people forced to stick it out where the sun don't shine.
Liverpool Confidential reviewers always dine out unannounced and always pick up their own bills.
Rating:
17/20
Breakdown:
8/10 food
4.5/5 service
4.5/5 ambience
Address:
Salt House Tapas,
Church House,
1 Hanover Street,
Liverpool
L1 3DW
0151 706 0092.
Venues are rated against the best examples of their kind: fine dining against the best fine dining, cafes against the best cafes. Following on from this the scores represent: 1-5 saw your leg off and eat it, 6-9 get a DVD, 10-11 if you must, 12-13 if you're passing,14-15 worth a trip,16-17 very good, 17-18 exceptional, 19-20: the dog's Balearics
.