WHAT do you get when you cross the current trend for "dirty" food with Japanese cuisine?
Pimped-up comfort food, laden with meat grease and calories, confronting the clean flavours and pure artistry of chefs who train for decades in the right way to slice a fin, equals the culinary version of a nuclear reactor meltdown.
And what to call such a category? Dirty sushi? It sounds more like an entry in the Urban Dictionary.
Curiosity piqued, if slightly disturbed, I made my way to the new branch of Mr Miyagi on Allerton Road (sister of the Bold Street restaurant of the same name) to sample the latest in gastronomic cultural appropriation.
I ordered the veggie bento box more for its beautiful appearance than the sound of its contents, and I was rewarded for my shallow approach with a bad case of menu regret
Actually Mr Miyagi's, despite the name and décor (Mount Fuji, check. Cherry blossom, check. Winsome geisha girls, check), is much more Asian fusion than strictly Japanese. What's interesting is that while the term "Asian fusion" usually means Asian flavours merged with European styles, here Asian cuisines are merged with other Asian cuisines. Which makes sense when you think that there are so many different styles of Asian cooking that subsuming them all under the title "Asian" is actually fairly ludicrous.
The menu at Mr Miyagi manages to touch on not only Japanese but Korean, Thai, Malaysian and Chinese, as well as rolling in that all-important "dirty" attitude. What a multi-tasker.
A case in point is the first of our starters, the duck gyoza (£5.75). This was a blend of Japanese dumplings and the classic Chinese Peking duck pancakes. Gyoza are usually soft, but the dumpling case here was fried to a crisp, an excellent contrast to the tender, rich duck meat inside. The hoisin dip was pleasingly light in texture, but perhaps needed a little extra kick to cut through the fattiness of the duck.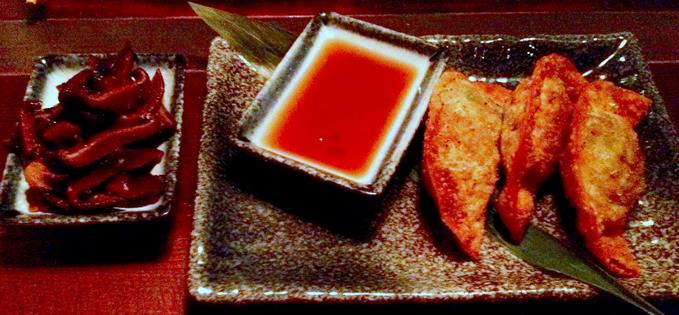 Duck Gyoza
The sticky beef nori taco (£5.95) was quite the revelation – an exercise in crispness. Instead of regular corn tacos the shells were made of deep-fried nori (the seaweed that Japanese people eat with everything – even for breakfast) and boy does it make a good crunch. Add to that some superlative sticky beef, without a hint of the sogginess that can come from not being cooked in hot enough oil (a common problem) and a crisp slaw in wasabi dressing and you have a starter that really showed what blending different aspects of food cultures can achieve when done successfully
We also tried the blackened cod (£6.95), in part because it's such an early 2000s classic sort of a dish. Here it was a bit bland though you did get a nice hunk of fish.
Blackened cod
Luckily we had also ordered a dish of pickled shiitake mushrooms (£1.25), which more than made up for it in terms of flavour and oomph. A little dish of pure umami, a taste which I can best explain by referring you to such flavours as old-school beef and onion crisps, i.e. extreme savouriness distilled into a little pickle bomb.
It's a shame that our main courses weren't quite as distinctive. I ordered the veggie bento box (£11.95, main picture) more for its beautiful appearance than the sound of its contents, and I was rewarded for my shallow approach with a bad case of menu regret. Everything was absolutely fine, the vegetable teriyaki nicely cooked and fresh-tasting, the green tea soba noodle salad probably the most authentically Japanese thing I'd sampled all night, and I liked the sesame seeds sprinkled on the edamame beans. But in the end it wasn't exciting me the way the taco or the gyoza did.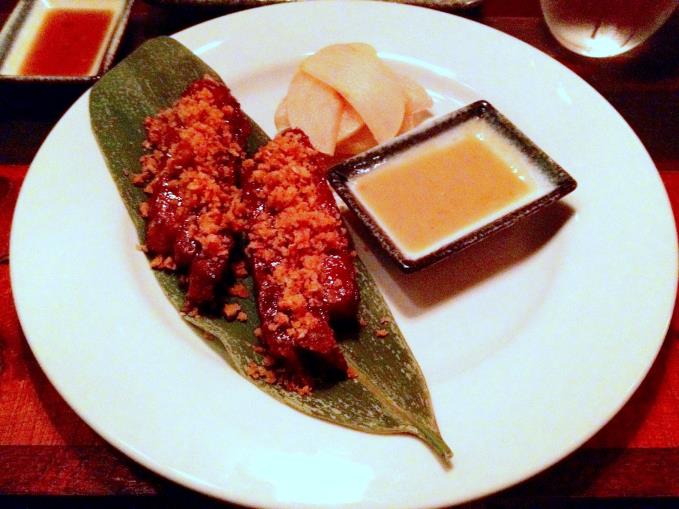 Belly pork
Luckily, the glazed suckling belly pork bao bun (£11.95) had a little bit more of the tastiness factor. Bao buns are steamed (they arrive in their bamboo steamers, just as in a dim sum selection) so they are extremely soft and sweet, even more so than a brioche bun. This melting softness doesn't give too much foil to the very meaty, fatty pork belly or sweetness of the pickled pears or, indeed, the honey sauce that the pork was served with. That's a lot of sweetness for one dish.
But my favourite of the evening was the black sesame custard doughnuts (£4.95) we shared for afters. Normally I'm not wild about doughnuts but these were cracking, light and airy yet somehow satisfyingly stodgy at the same time. These little balls of fried dough were served with a smooth, sesame-speckled, vanilla-infused cream that had me considering ordering a second serving.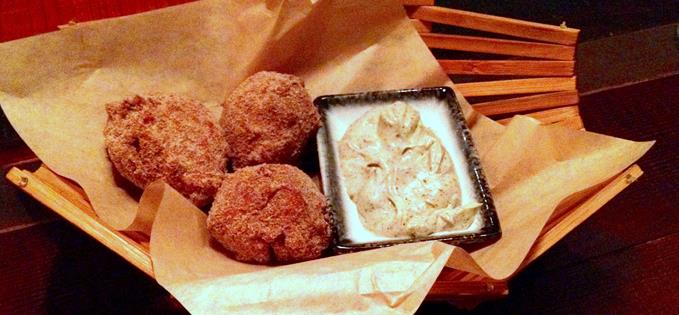 Doughnuts
Of course, I can't finish this review without mentioning the cocktails (there isn't a separate cocktail bar here, like its sister restaurant, but they are good nonetheless). Miyagi's cocktails take the Eastern-ingredients-meets-dirty-attitude formula and really runs with it. The Japanese Stiletto (£8.50) was a fun 'n' fruity pear-based number, while the Migroni (£7.50) was like 'sucking a deeply alcoholic Jolly Rancher' (that's a good thing by the way).
So, anyone expecting pristine Japanese cuisine will be disappointed (surely the name gives it away: it's Japan through a Hollywood lens). Besides, the Japanese aren't always the purists we imagine they are – I once saw a Tokyo street vendor selling deep fried soba noodle sandwiches – and I'm all for banging traditions together if, occasionally, it means a few sparks fly.
Incidentally, all scored Confidential reviews are paid for by the company, never the restaurant or a PR outfit. Critics dine unannounced and their opinions are completely independent of any commerical relationships.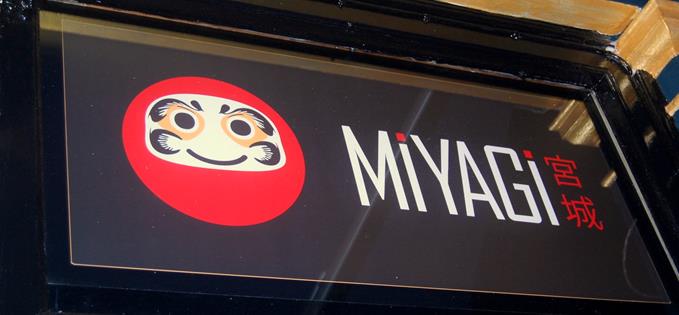 Miyagi, 137-139 Allerton Road, Liverpool L18 2DD. Tel: 0151 724 2255. Website
Score: 14.5/20




Food: 6.5




Ambience: 4




Service: 4 (Super-friendly and super-busy)
Venues are rated against the best examples of their kind: gastropubs against the best gastropuns, takeaways against the best takeaways, etc. On this basis, the scores represent....
1-5: Straight into the dog's bowl
6-9: Straight down to the Iceland
10-11: In an emergency
12-13: If you happen to be passing
14-15: Worth a trip out
16-17: Very good to exceptional
18-20: As good as it gets
Powered by