"THERE is a big demand for Arabic food in Liverpool, so there is," a Moroccan waitress with a broad Belfast brogue insisted upon our first visit to Bold Street's Kasbah in 2011.
'There is nobody left in Syria. Nobody,' Fadi says with arresting
finality
And as sure as shisha, Kasbah soon got a Lebanese sibling, Bakchich, extending the sense of hummus along a thoroughfare that, up till then, had little to smile about on the bar and restaurant front.
For of the two, Renshaw Street was still where the ethnic food action was - if you could call a handful of curry houses that.
And this was perhaps the USP that persuaded the owners of Damas to open up there, two years ago, exactly the same week as the pleasing and much lauded Moorish mock-up, Maray.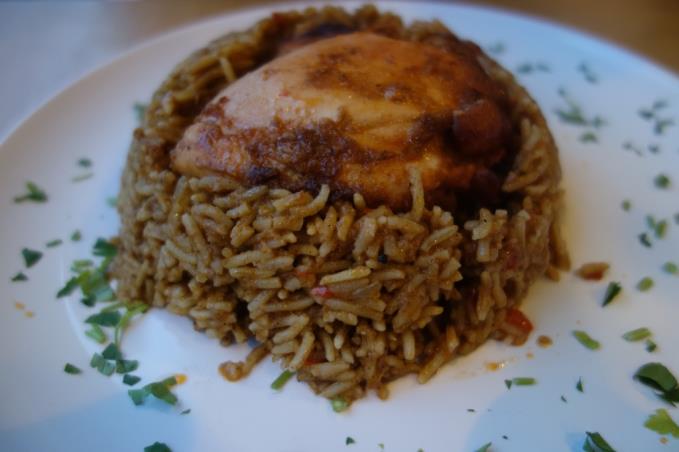 Mansaf
We could spend time examining the whys and wherefores, but right at that moment, June 2014, the former "Bond Street of the North" was a phoenix of exciting new venues and flavours.
Renshaw Street looked rather like the River Dee to Bold Street's Mersey. A spent force.
Fadi, one of the main people behind Damas, knows more about shifting fortunes than most of us will ever comprehend.
A Syrian, he tells how he worked his passage in kitchens around Europe long before the darkness swept over his homeland. Most of his brothers were doing similar. However, their late parents joined the exodus of millions only when imperilled. Their passing, he says, was down to natural causes during the long walk to the West.
"There is nobody left in Syria. Nobody," Fadi says with arresting finality; yet eyes agleam when we discuss the new shoots in his life, outrunning the shadows: his young family here in Liverpool.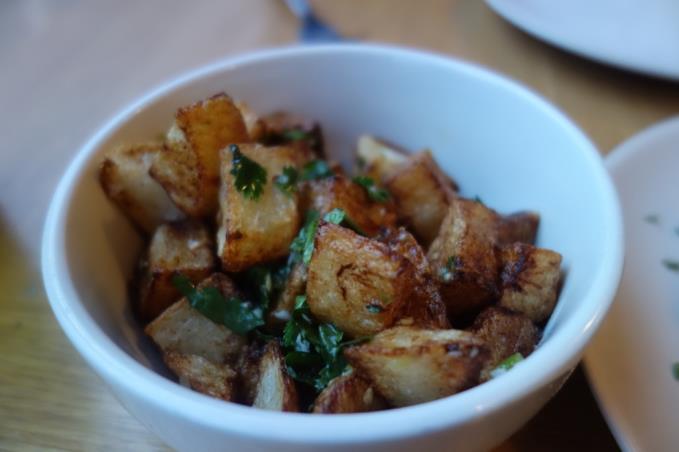 Batata Hara

Despite the name suggesting otherwise, Damas bills itself as Lebanese, yet the food could be Palestinian, Turkish, or Persian. Stick a pin in the geography or the history of the Levant and choose your mezze, your halloumi, your kebab, your spices and your rices.
There might be a shisha lounge on the first floor, but otherwise there is no smoke, no gaudy mosaic mirrors at Damas. The decor: understated, clean Mediterranean colours and wooden lines. The food: as decent as it is honest - and top value for money to boot.
Divided into mezzes - hot and cold - grills and mains, seafood, salads and wraps, we begin with wafer thin, bone dry flatbreads. We use them to scoop up a perfectly judged sludge of hummus, over which are served succulent slabs of chicken shawarma infused with the gentle residue of the day's desert heat (£5.50).
Foul Moudamas (£4.50), that peasant mash of fava beans and garlic, here shine with the judicious addition of fat yoghurt, tahini, coriander and sparkling tomatoes which come in various forms throughout.
Jawaneh (£4.50) are the sort of grilled, spicy chicken wings that you could consume by the juicy bucketful. Where were you Col Sanders?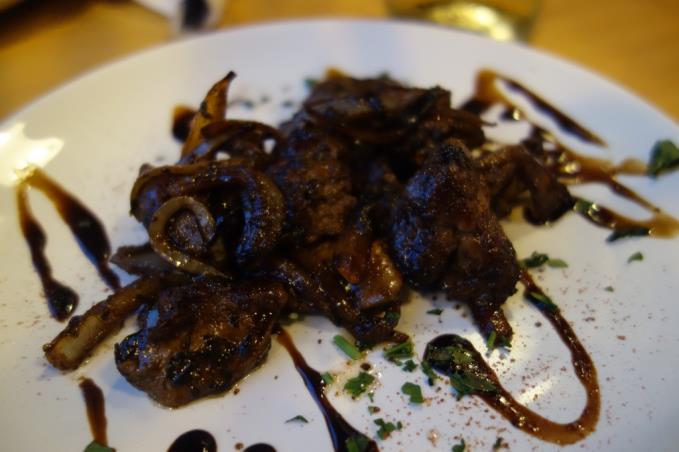 Sawda Daja (chicken livers)
Sawda Daja (£3.50) is another Middle Eastern staple: marinated chicken livers fried with onions and sauteed with herbs and lemon. Softly, correctly cooked, the sweetness of the livers was stolen by the presence of too much vinegar. Similarly, its sharp tang loomed a little too largely in an otherwise excellent bowl of Batata Hara (£3) - simple spuds sauteed with coriander, garlic and chilli.
My friend, however, rubbished the suggestion and demolished the lot, deeming everything, so far, "gorgeous" and wondering why the place was empty when it was clearly so much better than the competition elsewhere.
It was hard not to concur.
More deserving dishes were yet to come. Fadi shepherded us away from lamb, in its chunky form and threaded into a shish kebab, and towards the more complex charms of the minced version, seasoned, skewered and grilled in the shape of a Kafta Kebab (£8). It delivered on all its sweet and generous promises.
Mansaf (£9.50), rice with almonds, redolent with the fragrance of Eastern promise, was topped with a plump, golden chicken thigh and a cucumber yoghurt salad, all of which was disassembled greedily.
Last but not least, a special word for Moujadara (£4), the ancient Arabic dish of rich brown lentils and rice, this time gently spiced with cumin, and over which were lavished caramelised onions, dark and sticky as molasses. Served with meat at special occasions, this is otherwise no food of the rich and yet there was nothing poor about Damas's version.
"A hungry man would be willing to sell his soul for a dish of moujadara," goes the proverb; and, in a reckless moment, so might I.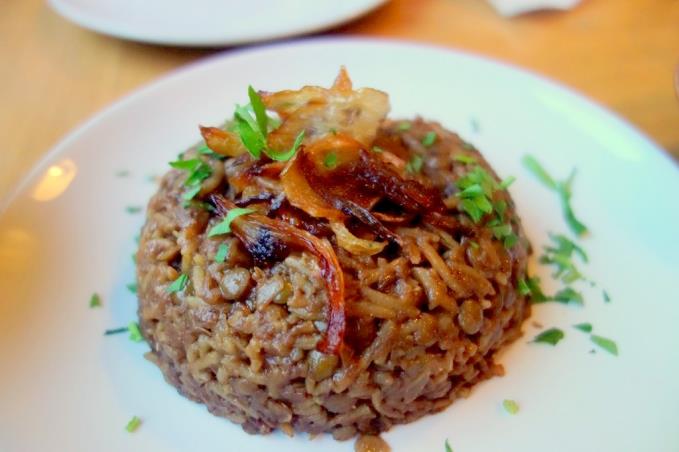 Moujadara
Damas now allows you to bring your own wine in - and a handy couple of supermarkets nearby will provide. Otherwise, the mint tea flows.
As I mentioned, it is celebrating its cotton anniversary with Maray. It was the latter that we wandered into on opening night, another snap decision made purely on the basis of thirst. It was delightful, we said so, and it still is - but I regret that it has taken us this time to put the evening right.
There are plenty of tables ready to occupy in Fadi's place of no regrets on Renshaw Street. And with the demand for Arabic food likely to soar, why not take the road less travelled?
Time, you could say, for a Damascene conversion.


Please note: all scored Confidential reviews are paid for by the company, never the restaurant or a PR outfit. Critics dine unannounced and their opinions are completely independent of any commercial relationships.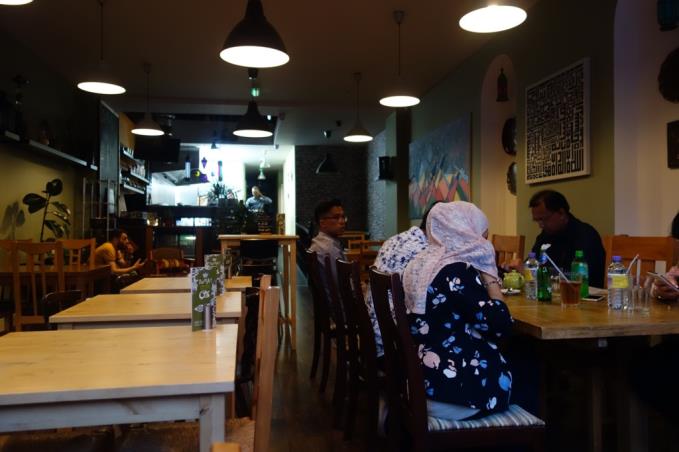 Damas Lebanese Cafe and Eatery,


79 Renshaw Street, Liverpool, L1 2SJ; Tel: 0151 345 3240. Website
Overall score: 14/20
Food: 7/10
Service 4/5
Ambience: 3/5
Venues are rated against the best examples of their kind: gastropubs against the best gastropubs, takeaways against the best takeaways, etc. On this basis, the scores represent...
1-5: Straight into the dog's bowl
6-9: Netflix and chill
10-11: In an emergency
12-13: If you happen to be passing
14-15: Worth a trip out
16-17: Very good to exceptional
18-20: As good as it gets