WHEN setting out for an early dinner at Chamber 36, in Berry Street, the name did sound a trifle obscure, to the point of bafflement. Until we were enlightened.
It is a reference to the fabled Chinese Shaolin monks, a bunch of lads who were, indeed still are, a tad handy in the realm of martial arts and uncorking (ahem) the secrets of the eternal life force.
The table was almost groaning with the weight of our plates which, although only tapas size, were clearly a burden to the furniture
Seemingly the chaps, seeking their own enlightenment, find that once they are ensconced in said numbered chamber they can wallow in the unity of body, mind and spirit; having successfully passed through the previous 35 chambers that contain an assortment of tricky tasks to be tackled before harmony, so to speak, saves the day. Look it up.
So Chamber 36, in the shadow of the Chinese arch, is essentially a sanctuary.
In truth, our little party of four needed one and during the evening we wallowed quite a bit, and certainly my three charming female companions on this gastronomic escapade across Asia embraced the "spirit" element with gusto. Their own natural good cheer was enlivened by a selection of cocktails, which the folk at Chamber 36 describe as "the hard way" – or "hung gar" in Chinese, which isn't that linguistically far from "hung over"; or maybe it's a Chamber 36 play on words.
There are enticing concoctions such as Chamber Negroni (£7.50) - a seductive marriage of Akashi plum sake, Campari and sweet vermouth - along with what appeared to be an interloper from across the Pond in the form of an IP-Manhattan (£8). This is made up of a startling mixture of Woodford bourbon, Russo and Marcel brandy "come together", as Chamber 36 pithily put it, with fruity bitters and aged tea, the latter of which could be a sop to the temperance brigades.
The others cocktails – and this, my cronies informed me, is the current vogue way of getting loose lipped and legless – included the intriguing Beggars' Brew (£8.50) and something called Old Lotus, (£7.50) which combined Buffalo Trace bourbon (beyond me that one), five spice and bitters.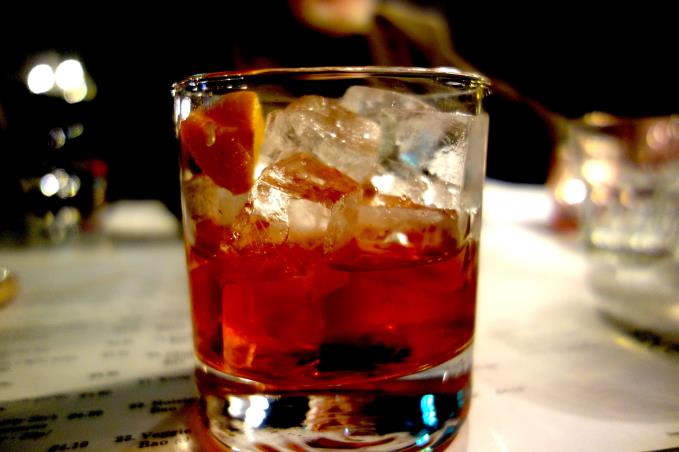 IP Manhattan - 'the hard way'
For those inclined not to stagger home quite so intentionally - there is also a range of cocktails described as the "soft way" or "wing chun".
They also offer a Bruce Lee-Chini (£7), a Singapore Dream (£8.00) – which comprises a potentially lethal confection of El Jimador tequila, absinth and elderflower with mango, grapefruit and lime – and that old favourite of the Tzars the White Russian (£7.50); and a Ginger Beard (£8), which the wags at Chamber 36 describe as a "grown up rum sours". Ho, ho.
Being boringly abstemious I sipped jasmine tea (£2.20), which came in a rather swish glass teapot and was cheerfully and regularly refilled by the patient waiting on person. Her ever-present broad smile indicated that she clearly thought my frisky dining pals - Maggie, Debbie and Angie – were leading members of a "party maker" cooperative on a training course. Well, there was much hilarity, chortling banter and a sudden swerve into a ranting about the political imperfections of America and our own dear United Kingdom.
Yes, yes, yes, I hear you wailing...but what about the grub? Patience, my dears, as you might scoff, so to speak, at the twee reference to what was served up here as truly yummy.
But as we tucked into an Oriental dim sum feast that spanned a number of nations, taking in China, Japan, Vietnam and Malaya, it became increasingly obvious that we should, for the purposes of both veracity and greed, tuck in to as many of the 18 dishes as possible (ranging from £4.10 to £5.80 a portion). And some we did twice.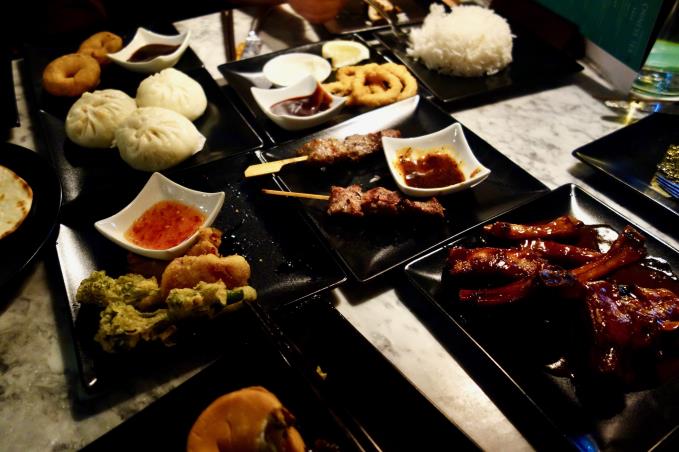 This sort of thing
The menu is, of course, more extensive than just dim sum platters with such tempting offers as a bottomless brunch (£23.50 - two courses and unlimited fizz) at weekends. And it sweeps across a range of dishes which include Japanese style fishcakes, Sichuan hot and sour soup, hoisin and duck buns (or baos as the Chinese call them) with main courses that feature a Thai red curry with chicken or mixed veggies, pan fried salmon and hearty udon noodles in XO Sauce with chicken or whatever.
I quite liked the sound of the fabulously tagged Ya Ya Salad, which is shredded Peking duck with a light sweet and sour Thai dressing. We had it for a starter (£5.50) and ye'd happily whistle "ya, ya" or even wrestle someone for more.
So, to our own selection, and we had decided on a romp and chomp through the enticing dim sum on offer as the rest of what looks like a gourmand's delight is to be sampled at another time, and quite soon. In fact Chamber 36 tags this section of the menu as "Oriental Street Food", although we were inclined to push it up the cuisine hierarchy a bit.



It must be observed that if Angie (editor of Liverpool Confidential) says the vegetable tempura (£4.10) are the lightest and most authentic she's ever had out of Japan, who would dare gainsay that, as she once lived in Tokyo? Suffice to say we ordered another portion very quickly.
The table was almost groaning with the weight of our plates, which although only Spanish style tapas size, were clearly a burden to the furniture. But it soon heaved a sigh of relief as we consumed, with an alacrity that resembled panic, the portions of Fei Jai baby ribs in Kyoto sauce (£5.80), grilled lamb with cumin (£5.50), Thai marinated chicken (£4.20) wrapped in a pandamus leaf (from a Thai tropical plant), pan fried asparagus (£4.70), the restaurant's own memorable salt and pepper siu mai dumplings (£4.30), with a couple of servings of Japanese style fish cakes (£4.20) made from fresh prawns and chicken with a hint of spice.
In fact, and without apology, we went through the card, as horseracing pundits would call it, and at one point were eagerly scrabbling over the tempura calamari laced with garlic mayonnaise (£4.60).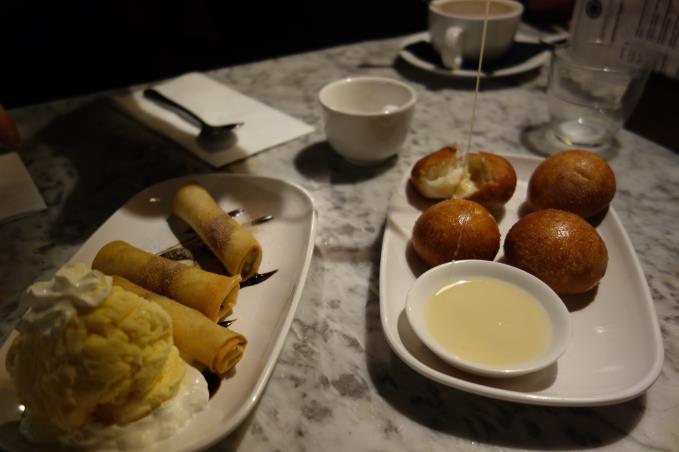 The gals washed all that down with a couple of bottles of what they described as a very pleasing dry white wine at £15 whilst the jasmine tea flowed furiously.
We were surely sated but suddenly and sinfully tempted to the verge of pretend joyous weeping by the crispy spring rolls that oozed molten hazelnut chocolate and were smothered in ice cream (£3.80). The virtuous subscribers to Slimming World would run shrieking from this establishment. However, to parody the Shaolin monks, we four waddled cheerily off into the night, parrying imaginary blows from devil dragons.
All scored Confidential reviews are paid for by the company, never the restaurant or a PR outfit. Critics dine unannounced and their opinions are completely independent of any commercial relationships.

Chamber 36

45-49 Berry Street
Liverpool
0151 708 7658
Overall Score: 15/20




Food:
8/10
Service –
4/5
Ambience:
3/5
Venues are rated against the best examples of their kind: gastropubs against the best gastropubs, takeaways against the best takeaways, etc. On this basis, the scores represent...
1-5: Straight into the dog's bowl
6-9: Netflix and chill
10-11: In an emergency
12-13: If you happen to be passing
14-15: Worth a trip out
16-17: Very good to exceptional
18-20: As good as it gets