THE fastest trains from Liverpool to London Euston will take 26 minutes longer to reach the capital than those from from Manchester.
A report issued today by Transport Secretary Chris Grayling reveals details of Phase 2 of the HS2 line from Birmingham to the north, essentially giving a full HS2 link to Manchester and its airport, as well as to Leeds.
It will mean the journey time between Manchester and London being slashed by an hour from two hours seven minutes to just 67 minutes.
Meanwhile the fastest journeys from Lime Street to Euston, currently two hours and 14 minutes, will be cut to a journey time of 93 minutes.
That is because under the current plans, confirmed today, Liverpool trains will travel on the 160-year-old West Coast Line to the south of Crewe before joining the HS2 fast line for the dash to London.
In fact trains from Preston will reach London more quickly than those out of Liverpool: 78 minutes compared to the current one hour 21 minutes.
Faster trains will arrive from northern cities when phase one is completed between London and Birmingham.
Trains from Manchester Piccadilly will then take 1 hour 41 minutes to London, almost neck and neck with the one hour 46 minute journey time from Liverpool.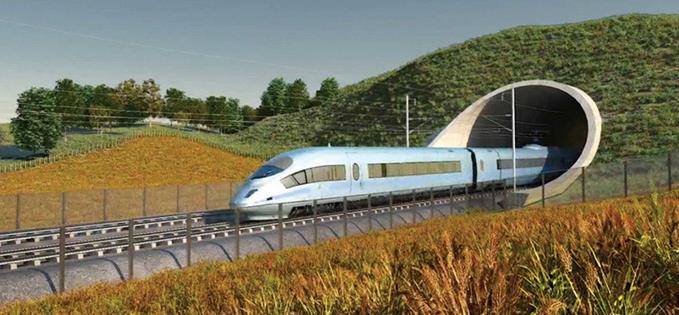 The good news from Grayling is that the number of trains from Liverpool to London will double from one an hour to two. Manchester already runs 48 trains a day to London.
Talks are still taking place about whether a direct HS2 into Liverpool can be built as part of plans for the so-called HS3 west to east line from Liverpool through Manchester to the east coast.
The report says: "As currently planned, when Phase One opens, HS2 trains will serve Lime Street station and provide Liverpool with faster and more frequent direct services to London. The current journey to London of 2 hours 14 minutes will fall to 1 hour 46 minutes and will improve further, to 1 hour 33 minutes, when Phase 2a opens between the West Midlands and Crewe."
It adds that aspirations Northern Powerhouse Rail for better services between Liverpool and Manchester could be met with a range of options. These options include new lines and upgrading existing lines.
Transport for the North (TfN) has examined two options that make use of HS2 to connect Manchester and Liverpool. Both options involve construction of a new line to Liverpool, and a junction onto the HS2 route. Under these options it would be possible to deliver NPR's ambitions for a 30 minute journey between Manchester and Liverpool, connecting the cities via Manchester Airport.
But it could be a year before Liverpool learns whether it will be directly linked into HS2 or make do with the scenic route across the Runcorn bridge and through the Cheshire countryside to Crewe before joining the 250mph line for the rest of the journey.
Grayling told MPs in the House of Commons today: "Our railways owe much to the Victorian engineers who pioneered them, but we cannot rest on their legacy when we face overcrowding and capacity problems.
"HS2 is an ambitious and exciting project and the government is seizing the opportunity it offers to build a transport network fit for the 21st century; one that works for all and makes clear to the world that Britain remains open for business.
"The full HS2 route will be a game-changer for the country that will slash journey times and perhaps most importantly give rail passengers on the existing network thousands of extra seats every day. They represent the greatest upgrade to our railway in living memory."
He said poor connectivity between the cities and regions of the English midlands region and the north is restraining economic growth, adding: "HS2 will become the backbone of our national rail network."
As things stand, Liverpool will have to make do with that Victorian enterprise for many decades to come, at least for a large chunk of the journey to the smoke….