MANY people couldn't wait to see the back of it, but for Liverpool's Japanese restaurants in Liverpool, 2016 was nothing but blue skies.
So claims global restaurant bookings giant Quandoo which says more people in the city turned to Tokyo for tastebud tittilation than ever before.
It went on to crown fusion hang-out Mister Miyagi as the most popular eating place in the city, after, it says, it analysed hundreds of thousands of bookings to uncover what Liverpool has been eating over the past 12 months.
According to the data, sushi and sashimi are in, while old school favorites, such as Indian, barely scraped into the top ten. And while our love of Oriental food might have been awoken by the Chinese way (indeed Liverpool has the oldest Chinatown in Europe), in 2016 chop suey and crispy duck barely a look in.
Similarly, the subtle charms of a Thai green curry failed to melt the Liverpool gob in great numbers of days gone by.
There are many curiosites in terms of what the list omits and what it includes.
Spanish and Latin American food, does, however, continue to ride the wave of popularity. The Americas, both south and north, take third and fourth respectively in the city's rankings. Traditional favorite, Italian, makes the top five and African, which is not really explained, beats morsels from the Med.
On Bold Street, neon-lit Mister Miyagi, which opened a second branch in Allerton Road last year, has "gone from strength to strength, winning over customers with its exciting fusion of Japanese and other globe-trotting cuisines, offering high class food in on-trend surroundings", says Quandoo.
In runner up position came another L18 and L1 stalwart, Neon Jamon, while Alma De Cuba, The Monro and Deathrow Diner, which won Liverpool Confidential's best burger vote last year, were also named
Dave Roach, owner of Mister Miyagi said: "We're humbled to be named as Quandoo's most popular restaurant in 2016 Liverpool, especially among such strong competition."
Matt Simpkin, VP Western Europe at Quandoo, added: "It's great to see such a diverse mix of top-quality restaurants at the heart of Liverpool's food scene. We expect this trend to continue in 2017 as even more diners take advantage of the amazing variety on offer."
Quandoo's Liverpool top 10 in their words. Pinch of salt or pass the phone?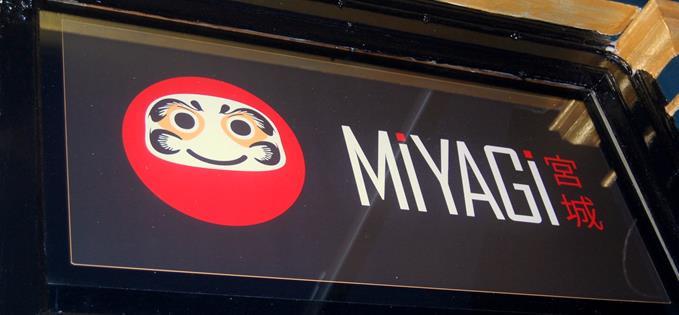 1.

Mister

Miyagi

, Bold Street and Allerton Road: "Exciting Asian eatery specializing in 'ghetto Asian fusion'.

Miyagi

's vibe, from the exciting Japanese food and clever cocktails on offer to the atmosphere of their newer Allerton Road restaurant, is fun and good humored through and through."
2.

Neon Jamon, Berry Street & Smithdown Place

: "Born out of a love & passion for great authentic Spanish tapas, wines & cava. Neon Jamon's two Liverpool sites create amazing Catalan inspired dishes enhanced by a great soundtrack & awesome staff."
3.

Alma De Cuba

: "Situated inside the former St Peter's Catholic Church, Alma De Cuba provides a truly stunning location for dining in, lit by candlelight and with exposed brick walls and ornate decor. The perfect place for adventurous foodies, the menu boasts a broad selection of dishes with Latin-American influences."
4.

The Monro

: "A gastro pub of the highest order at the heart of the city. The Monro boasts some amazing British grub as well as a splash of designer elegance with wrought-iron chandeliers, bold floral wallpaper and tasteful color schemes."
5. Deathrow Diner: "Deathrow Diner offers a menu that brings the very best of modern American cooking to the streets of Liverpool, from burgers and barbecue to wings and ribs and plenty more besides. Throw in a fair few drinks options – cocktails, beers, speciality soft drinks and milkshakes – and an ambience that recalls all of the gin joints in all the towns in the entire world."
6. TriBeCa, Berry and Smithfield Street: "Bringing a slice of New York to Liverpool, TriBeCa is a New York-style joint serving up pizza and cocktails in a stylish atmosphere. With two branches in the city, TriBeCa is a favourite among Liverpool's pizza loving population."
7. The Baltic Social: "Located on Parliament Street in the centre of the Baltic Triangle, Liverpool's creative hub, The Baltic Social serves up classic British pub food in a cozy and fun environment. Mismatched furniture and shabby chic vintage decor give this pub an edgy appeal and only add to its unique charm."
8. One Melling Road: "A family-run Italian restaurant, One Melling Road stands out in terms of both quality and flavour."
9. Blind Tiger: "A hip new Asian cocktail bar and restaurant on Seel Street, Blind Tiger has not taken long to become one of the city centre's most talked-about locations. Situated inside of a basement, this speakeasy-style establishment in the Ropewalks is the epitome of cool, with chic red leather seating and exposed brick walls giving the environment a particularly sultry feel."
10. Rack and Dollar: "An American-inspired restaurant on Liverpool's Berry Street, Rack & Dollar is home to food challenges, massive portions and the friendliest service around. Taking inspiration from the huge servings of grub so common in the United States, Rack & Dollar serves classic comfort food items with a gourmet twist.
Read more: Review: Rack and Dollar