CHEF Paul Askew has been crowned the best chef in the North West and his Art School the best restaurant in 2015.
He described the double victory, at the Cheshire Life and Lancashire Life Food & Drink Awards, as a major pat on the back for the fine dining venture which opened just over a year ago, largely staffed by young apprentices who are mentored, Jamie Oliver Fifteen style, by Askew, a Fellow of the Royal Society of Culinary Arts.
This was all noted by the judges.
"Our Chef of the Year 2015 is not just a cook, albeit one of the best cooks in the business, he's a food champion, an ambassador for his profession and for his home city and a huge supporter of apprentice schemes dedicated to nurturing young talent to seize the opportunities he has done so much to create," they said.
I think it gives the team a sense of where we are in the region
"Our winner is rightly convinced that a culture of good food and top quality hospitality is vital to the wellbeing of any great city and the rapid development of the vibrant dining scene in Liverpool - in which he has played such a major role - is one of the key attributes to the dramatic regeneration of the great port city in recent years."
Askew, who made his name as founding chef parton of the London Carriageworks, took the plunge and went it alone last September, opening The Art School in the Lantern Room of the Victorian School for Destitute Children, behind the Philharmonic Hall.
Judges said they were looking for a restaurant in the region which offered the best dining experience including food, décor and service.
They described the Sugnall Street Grade II building as striking with a "more than worthy occupant in the premises where the service was exemplary and the innovative cuisine took the city's culinary offering to a new level of excellence".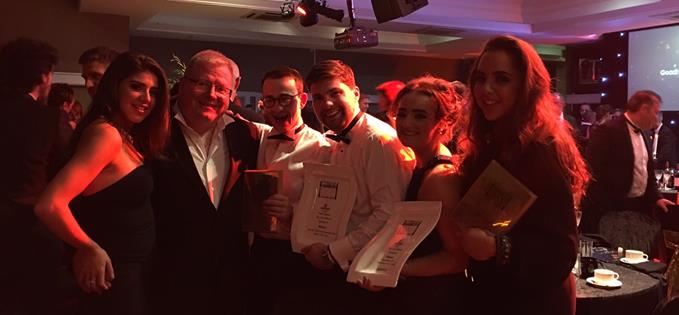 Paul Porky Askew and The Art School team celebrate the double win
Speaking of the double win, Chef Askew said: "Just to be shortlisted amongst the final three in the Best Restaurant category was great but to win was amazing, especially for the team after only being open for 14 months. It's a huge pat on the back for all of the team and their hard work, especially to open a new business and to get the restaurant in a position where it is already winning awards.
"The big one for me was winning the North West Chef of the Year which came as a wonderful surprise and quite an emotional one with winning the two together. I think it gives the team a sense of where we are in the region, not just in our own little bubble within the Art School.
"People outside of the city have also recognised what we are trying to do so it really is wonderful. It's a beautiful thing."
Read our review of The Art School