Campaigners fighting to stop Liverpool Women's Hospital from being axed have told Liverpool Confidential they are prepared to stage a sit-in if bosses order its closure.
The future of the hospital will be examined on Tuesday night at 6pm at, of all places, Blackburne House Centre for Women, where an "engagement meeting" takes place.
It is part of an exercise by Liverpool Clinical Commissioning Group (CCG), the GP-led body that effectively runs the NHS in Liverpool, and is one of a series coming up around Liverpool.
How can the Royal accommodate another 50,000 patients a year, which is what moving the Women's there would mean?
But opponents believe it's a done deal already, that the hospital, in Crown Street, is waiting for the order, not from doctors or nurses but from policy makers, to pull the plug on its life support.
The threat to the Women's emerged when it was revealed that huge debts and other money issues meant it was not financially viable, despite being a regional centre for maternity care.
Opened in November 1995 by the late Princess Diana, the hospital breathed new life into Liverpool 8 in more ways than one and around 150,000 babies have been born there. It cost £30m to build and brought together three older hospitals, the Women's in Catharine Street, Mill Road Maternity and Oxford Street Maternity, birthplace of the famous Walton Sextuplets.
Although the CCG says the final decision has yet to be made, campaigners claim some staff linked to the Women's have already had sight of floor plans of an alternative hospital in the grounds of the towering new Royal in Prescot Street.
Campaigner Felicity Dowling told Liverpool Confidential: "We think they have already made a decision to close the hospital, but it is not a well-thought-out decision. How can the Royal accommodate another 50,000 patients a year, which is what moving the Women's there would mean?
"We were told by one doctor that one hospital in Liverpool had to close, and 'it might as well be the Women's'. We feel as though we are having the wool pulled over our eyes as they go through what seems to be a paper exercise.
"Since it opened about 150,000 babies have been born there and it is a brilliant, much loved hospital. We hope the people of Liverpool won't let this happen. We are prepared to take direct action, including a sit-in to save it."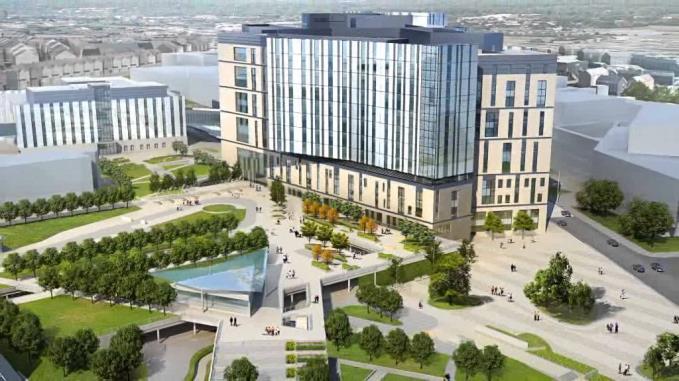 Campaigners claim some staff linked to the Women's have already had sight of floor plans for an alternative hospital in the grounds of the new Royal in Prescot Street
Health chiefs say the current hospital is unable to offer specialist treatment needed every year by mothers and babies who develop complications. Around 800 patients a year have to be taken by ambulance to the Royal or to Alder Hey. It seems money and debt is no longer the driving force.
A petition so far signed by almost 40,000 people pleading for the Women's to be saved, seems to have fallen on deaf ears.
Felicity Dowling created the "Save the Women's" petition, stating"It provides crucial specialised care and the daily joy of new babies.. The driving force for closure is a clumsy funding structure not the needs of women and babies. The alternative of wards in the new Royal is not an equivalent.This is a modern hospital on a good site. Our taxes built it for our babies and for our women.
She told Liverpool Confidential: "Unlike other hospitals in the area which used PFI funding formula, the Women's was paid for by the Government and the lease of the land is owned by the hospital. It seems to us that the Women's has to go because it is the easiest of the hospitals to close. The peaceful environment of the Women's in its own grounds helps to make it special. Putting it on the site of the Royal will change that environment."
Healthy Liverpool insists no decision has been taken.
The CCG says the NHS is looking at how services provided at Liverpool Women's Hospital could be improved in the future.
It adds the review was prompted by the clinical case for change that was developed by midwives, nurses and doctors at Liverpool Women's.
Last year multiple clinical workshops were held for staff from the Women's to discuss how services could be made better for the women and newborn babies. The workshops involved doctors, nurses, midwives and clinical support staff, as well as patients and partner organisations.
Midwives, nurses and doctors believe people could receive better care if things were done differently because, the needs of patients have changed. There are new ways of caring for patients and higher national standards, the way that care is organised at the moment is not affordable.
Consultation events to discuss the Women's Hospital
Tuesday August 2 at Blackburne House, Hope Street, 6pm – 8pm with registration from 5.30pm. To guarantee your place at CCG events you must pre-register at Eventbrite(External link) or by calling 0151 296 7537.
Thursday August 4 at PAL Multicultural Centre, 68a Mulgrave St, L8 2TF.2pm – 4pm with registration from 1.30pm.
August 9 Healthwatch Sefton from 2pm -3.30pm at Lord Street West United Church, Southport,
August 10 Oakmere Community College, Cherry Lane, L4 6UG. Event runs 3pm – 5pm with registration from 2.30pm.
August 11 Healthwatch Sefton 10.30am – 12pm at Bootle Cricket Club, Wadham Rd, Bootle, L20 2DD.
Closing date for comment on Liverpool CCG website is Monday, August 15
Places for the meetings can also be booked via the website.