HELPING to drag Britain, kicking and screaming, out of Europe was easy peasy for Paul Nuttall compared to the mission he has tasked himself with yesterday as he took over as leader of UKIP.
Nigel Farage's former right hand man and deputy came backwants UKIP to become the natural home of Labour Party members in the north, ie, around 'ere.
Nuttall, like many in UKIP, is now setting his sights on being the new force in British politics, emboldened by the fact they often beat the Lib Dems
You'd think that coming from Bootle, which borders on Liverpool Walton, two of the strongest Labour seats in the land, would have made him think twice.
But not Nuttall. He is hoping to capitalise on divisions within Labour into two camps, them that hates Jeremy Corbyn and those that loves him.
Bootle is the kind of place where it might be said a three legged dog, with an eye patch, chewing a red rose and wearing a Labour rosette, is guaranteed victory.
Before he "rescues" the working classes of Bootle and beyond from Labour, Nuttall has to help ensure Brexit means Brexit. He will need more than kryptonite for that.
Like Farage, Nuttall stood down at the party's annual conference in September. He didn't make a song and dance of it, just decided it was time to quit as deputy leader.
As Farage said on Monday if it hadn't been for UKIP, there would have been no EU referendum in the first place.
Now with Tony Blair, John Major and others re-appearing in the hope of reversing Brexit, Nuttall is back too and says there is work to be done.
He has a frontline army of Brexiteers, one MP in the Commons, a handful of peers, a group of MEPs (himself and Farage included) and 500 local councillors, and around 33,000 members around the country.
Yesterday social media was busy ridiculing Nuttall and his victory (by a near two-thirds majority) as successor to Farage who now claims he is going to live in the US, bolstered by his new pal Donald Trump.
But pro-fox-hunting Nuttall, whose political views range from denying climate change and banning the burkha, to limiting abortion and bringing back the death penalty for child killers (he wants referendums on those last two), has already demonstrated he is too thick skinned to be troubled.
Congrats to Paul Nuttalls of the UKIPs, Bootle's biggest meff in charge of Britain's biggest bigots, hip hip! #UKIPLeadership pic.twitter.com/LP1BKIMLXA

— Claire Marshall (@ClaireTweedle) November 28, 2016
Born in 1976, Nuttall went to the Roman Catholic Savio/Salesian High School before studying at Bootle's Hugh Baird College. He ended up at Liverpool Hope, eventually gaining an MA in Edwardian politics and he qualified as a teacher at the University of Central Lancashire. He joined UKIP in 2004, becoming the party chairman four years later.
As an MEP he had a lousy attendance record at Brussels and Strasbourg, almost bottom of the EU class for his failure to turn up for meetings. He defended his record, saying: "I have no interest sitting all day in Brussels committees enacting job-killing, democracy-destroying legislation inspired by the EU".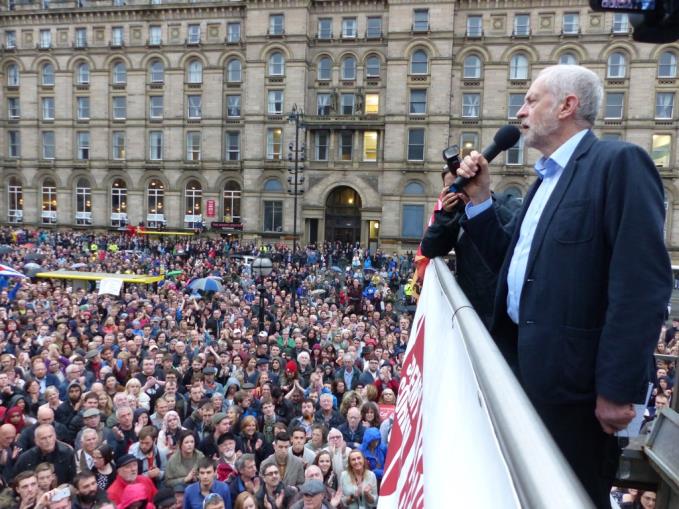 Nuttall is out to snatch Labour supporters in its heartlands (Pic. Angie Sammons)
And just as Farage left and came back, Nuttall emerged from retirement and decided to go for the leadership after the party was hit by a summer of squabbles. He said he wanted to reunite the party to put it back on track.
Some say that as UKIP was established – Farage was a founder member 23 years ago – with the single task of bringing Britain out of Europe, its job is done (give or take) so there is no longer any need for the party.
But Nuttall, like many in UKIP, is now setting his sights on being the new force in British politics, emboldened by the fact they often beat the Lib Dems.
In central London, after being declared the new leader, Nuttall laid it on the line. He said his main goal was to target votes in the Labour heartlands. Labour under Jeremy Corbyn was more interested in "dinner party" topics like climate change and fair trade than the interests of its working class voters, such as immigration, crime and social mobility.
He told his supporters: "My ambition is not insignificant: I want to replace the Labour Party and make UKIP the patriotic voice of working people."