WHAT makes a good curry"
Freshly ground and toasted spices and aromatics that sing in harmony?
Heat? If you like - but not at the expense of depth and complexity of flavour.
A great curry will not be stingy or thin. It will not be made by someone who thinks it's ok to charge you and your companions top dollar for the same adulterated sauce doused over five or six carefully counted cubes of thawed out chewy meat.
To save you the bother of trawling around the curry houses of Liverpool, we have done it for you, paying our own way and showing up unannounced
No, it will be robust and colourful, it will act as a feast for the senses and, as such, will linger in the memory. Its vibrancy will be countered by soft, comforting accompaniments: sweet puris and leavened breads as puffy as a pensioner's ankle.
Once you have found it, it will draw you back again and again.
To save you the bother of trawling around the curry houses of Liverpool, we have done it for you, paying our own way and showing up unannounced.
As you might expect, this mission wasn't an overnight job. It is however a thorough and considered chart and if one or two big names aren't included here, it is probably with good reason.
These are all Indian subcontinent curries, Nepalese, Keralan, Pakistani and Banglaseshi among them. A defining dhal was ordered alongside two main courses and a bread and rice dish. They are presented in no particular order of preference.
Please note that Liverpool Confidential's lists and pictures are never compiled or provided by the restaurants or their PR representatives or plucked for ease off Tripadvisor.
Nor - and especially given the nature of the subject - did we get a free, er, "bung".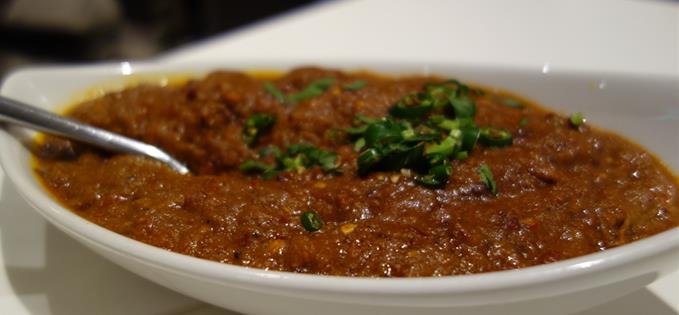 Perfect lamb madras at Rumi
THE LONG QUEUE CURRY
Rumi by Bukara 46-48 Mount Pleasant. Liverpool L3 5SD. 0151 709 2033 Website
With its own gelaterie serving dozens of made-on-the-premises ice creams, Rumi by Bukara is a scoop in more ways than one.
Drop in at teatime but take snacks and a seat: the queues for takeaways are going out of the door.
Rumi is well known in Preston for its fine dining restaurant. Here it is simple cafe style Formica with the whole world milling about from noon till late. Nevertheless, the food remains fine indeed.
Bigging up: Whole Lamb: £250, marinated with an array of spices and roasted in the oven. Cheaper and quicker: an exceptional madras (£7.95). No alcohol licence. No bringing your own, either.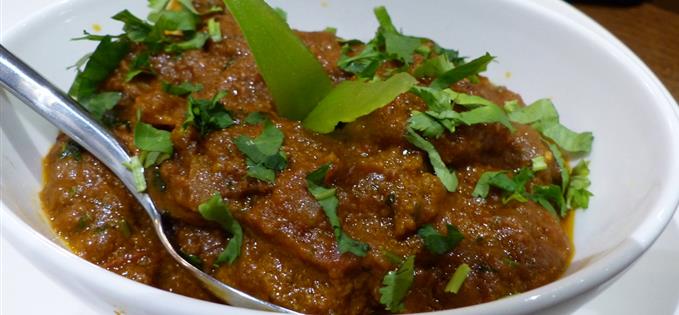 Chicken Dhede Khursani at Da Mount Ghurka
SCALING THE PEAKS CURRY
Da Mount Gurkha, 71 Crosby Road North, Waterloo, L22 4QD. 0151 920 2727 Mob : 07850 088 916/ Website
Laxman and Geeta looked very stressed out when they opened Da Mount Gurkha. But 12 months later there are only smiles coming out of this growing family run restaurant - mostly from the punters. Waterloo is blessed with three Nepalese restaurants and this is not to be confused with Da Gurkha (below) where Laxman was the chef until, er, 12 months ago. Highly recommended. No takeaways.
Bigging up: Tiger Prawn Kholi Tirema (£12.95). Chicken Dhede Khursani (£8.50).
Read: Restaurant review | Da Mount Gurkha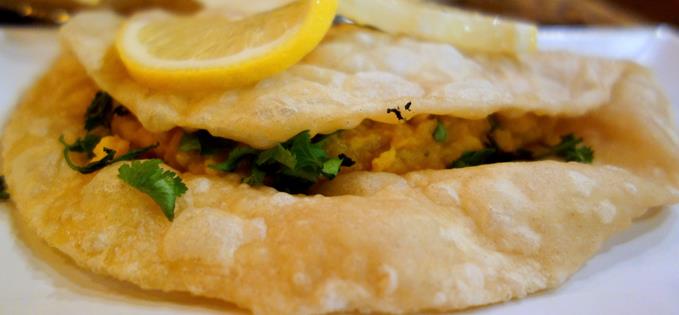 Dhal puri at Remora
THE BASEMENT BARGAIN
Remora, 4 South Hunter Street, Liverpool 1. 0151 352 6389. Website
Hidden in a cellar down a side street near the Flute and Firkin pub, Remora bills itself as Bangladeshi street food. The dad and lad team come from a long line of Manchester curry stalwarts but the 2016 take brings modernity and student appeal with a juice and smoothie bar and a timbered shack feel which they constructed themselves. No alcohol licence. Take your own booze.
Bigging up: Excellent dhal puri (£3.50) The head-numbing Lamb Chef's Challenge (£8.45)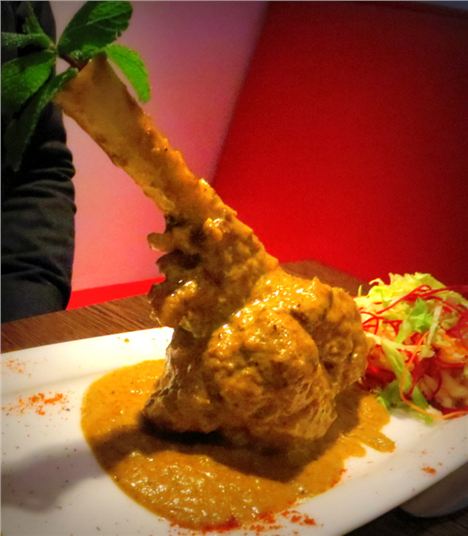 Because they can: Da Gurka
THE FINE DINING CURRY
Da Gurkha, 114 South Rd, Waterloo, Liverpool L22 0ND. 0151 949 0312.
There are flourishes and squiggles on the plate at Da Gurkha, Netra Kharel's sophisticated looking restaurant which was one of the first to give Waterloo's South Road a good name. Despite Laxman's departure to Da Mount Gurkha (see above), and the feeling that it might be better to drop the fine dining pretensions and show the food off to its best in some earthenware, diligent preparation and big flavours are still at the heart of things and it remains a hotly tipped stop on the Northern Line.
Bigging up: Himalayan chicken curry with pickled spices (£8). Special lamb (£12) for those who enjoy their meat with a bone in it.
*Read: Restaurant review | Da Gurkha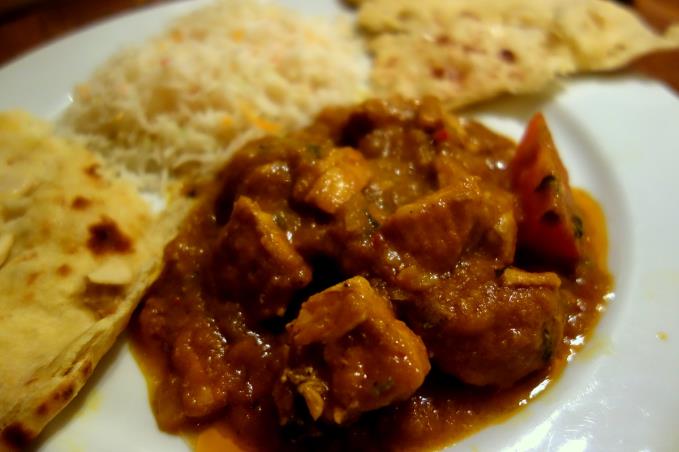 An innocuous looking but flavour-packed chicken vindaloo from U n I
THE THROWBACK
UnI, 67 Renshaw Street, Liverpool, L1 2SJ. 0151 709 6587
Renshaw Street was never going to rival the Rusholme curry mile but for many years it was the place to go for a spicy fix especially late at night. The UnI still looks every inch the stereotype with curtained off booths for added footsie fun after the last 86 has whizzed on by.
But still, if you know what you are ordering beyond a pint of Kingfisher, there are rewards. Ask an Indian waiter in any restaurant about where they go to eat and more often than not they will say the UnI.
With a chef who's been there since the 1980s you'll be singing "I love U just the way U are", come chucking out time. Maybe don't.
Bigging up: Lamb Saagwala (£7.95), and Chicken Vindaloo (£7.95)
Read: Restaurant review | The UnI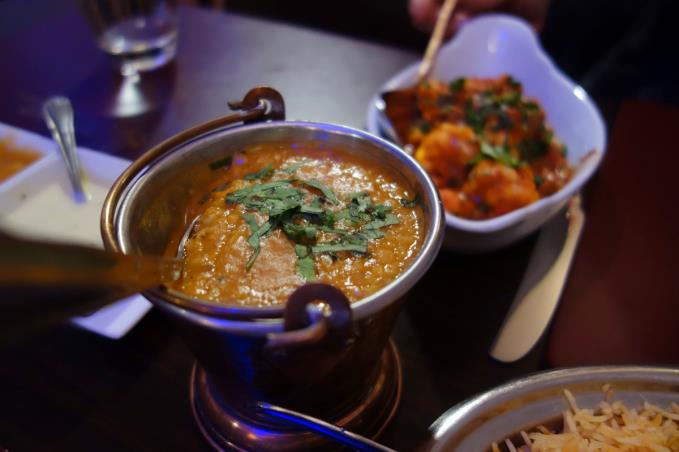 Saffron's splendid Tarka Daal
THE BRUM DO
Saffron, 92 St John's Road, Waterloo, Liverpool, L22 9QQ. Tel: 0151 920 8398. Website
"There are many things to recommend living in Liverpool. An abundance of excellent Indian restaurants is not one of them. Sorry."
That was the start of our glowing review about Saffron, Liverpool's first Indian/Nepalese restaurant. Saffron brought all the verve and vigour of Kathmandu via the Black Country - a breath of fresh air when it opened in 2009. A recent revisit elicited sighs of relief. A plethora of dishes, some familiar, others not, are presented with unwavering exemplary skill and care.
Bigging up: Chicken Garlic Resunga: (£9.95); Mangolian Fish Curry £9.95. A splendid Tarka Daal (£4.50)
READ: Restaurant Review | Saffron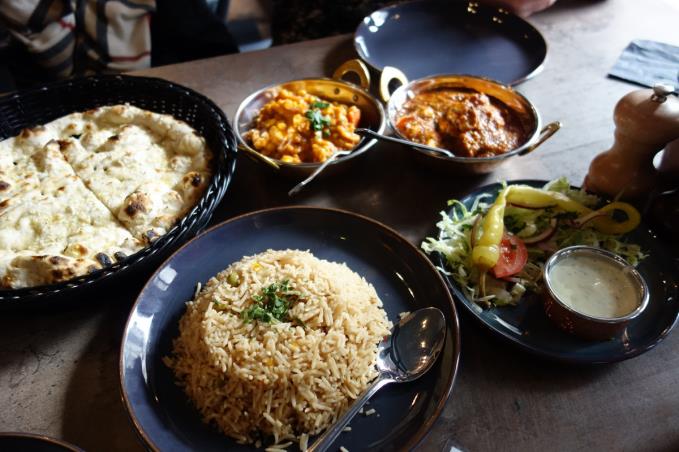 A feast for under £25 at KO Grill
STREET SPICE
KO Grill, Bold Street, 23 Bold Street, Liverpool L1 4HR. 0151 708 8822. Website
The hipster Ropewalks child of Kebabish Original, KO Grill opened last December bringing real fire to the belly of Bold Street. It's a light, bright and airy with a window-side view of a searing barbecue turning out wings and things to greedily grab and gorge, all washed down with one of their dozens of non-alcoholic cocktails and cooling lassis.
The two curries we sampled were everything they should be - each bursting with distinctive flavours, meat slow cooked and tender and substantial servings too. KO all round.
Bigging up: Super lamb bhuna (£9); Fish karahi (£9).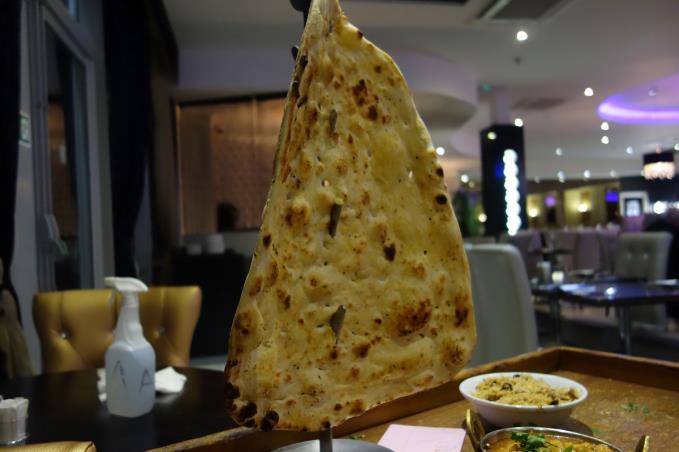 Swinging naan at EastzEast
POSH SPICE
EastzEast, Keel Wharf, Kings Dock, Liverpool L3 4FN. 0151 707 9377. Website
Manchester/Leeds outfit EastzEast launched next to the arena in 2010 promising and delivering an upmarket Indian dining experience. Its flamboyant style became a "handi" place for concert crowds and the captive market of south docks residents.
EastzEast Liverpool has branched away from its other North West siblings, same branding but a more extensive menu than you'll find in the other outlets and a different website (see above).
Its exceptional curries and sundries and classy decor remain fit for an exiled maharaja - if not an exiled conference delegate .
Bigging up: Saag Murgh Tikka Handi (£12.95); Tiger King Prawns Dopiaza (£15.95). Those dangling naan breads.
Read: Restaurant review | EastzEast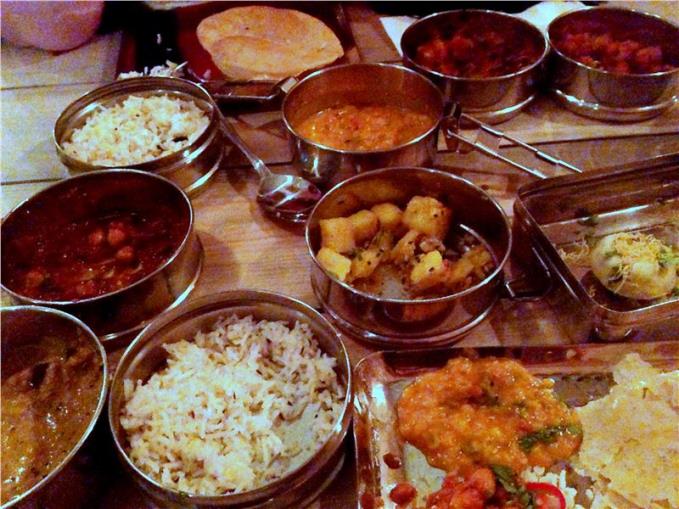 The contents of a couple of Tiffin boxes at Mowgli
ON TREND
Mowgli Street Food, 69 Bold Street, Liverpool L1 4EZ. 0151 708 9356
Less than a year after barrister Nisha Katona's charismatic take on Indian street food opened on Bold Street, Mowgli had spread to Manchester.
And at least in Liverpool - Mowgli is rammed most nights, a Ropewalks place to be seen, and you might be told to come back. Expect the current small plate ethos which won't get in the way of the many cocktails. Thus, if you are hungry or don't want the rum to do its worst, stoke up on a meat or vegetarian Tiffin box (£14 and £12) with four tiers of tasty curry, dahl, rice and all sorts of other pot luck stuff.
Also bigging up: House lamb curry (£6.95) and Bunny Chow (£8.50)