LAST TIME I was in the subterranean Uni Stylus venue I nearly passed out from overheating. Entirely my own fault, having chosen to wear a denim boiler suit (more utility-chic than disco-Ghostbuster) during the sticky height of summer.
They were recently credited amongst the raft of contributors on Beyoncé's Lemonade
Nevertheless, the thought of having my brain noodled by a band that make music 'that is like listening to three CDs at once' (as one Guardian commenter put it), in this particular venue will be a sensory workout worth the risk.
I've enjoyed Animal Collective as both a collective and in their respective solo guises, taking each new instalment of their galactic oeuvre as it comes, expecting to be as equally frustrated as satisfied.
Richly imbued with cultural motifs, these musical Willy Wonka's have nurtured a colourful, psychedelic landscape. Their particular brand of electro-pop is saturated with layers of avant-garde ruffles and general busyness which has fluctuated over time from the heavily lauded Merriweather Post Pavillion to more polarising newer releases like this year's Painting With.
Throughout the band's timeline they've created their own eclectic universe; from the early days of Shamanistic masks and primitive existentialism to swirling psychedelia that ponders the agony and ecstasy of modern life.
Abundant offerings from their discography and an interchangeable line-up means that it's almost impossible to predict how their live show will play out, but we can certainly hope for their usual medley of strobe lights, stage theatrics and the general unexpected.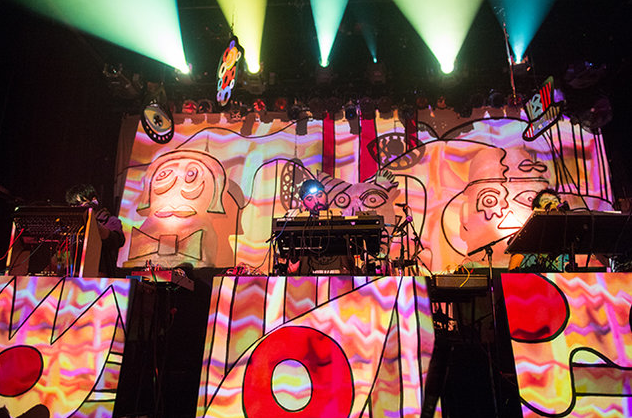 Painting With release party, Irving Plaza, NY
Fifteen years is an impressive run for such imaginative, maximalist sounds. A band committed to doing their own thing often regardless of critics, they still continue to beguile and stimulate musical dialogue. They were recently credited amongst the raft of contributors in Beyoncé's 2016 record, Lemonade, for perhaps a trifling - if not accidental - allusion to a line from their track My Girls. Lawsuits aside, Animal Collective's influence no doubt transcends genres, making them attractive musical associates.
Warming up on the night is Rattle, a heady mix of Kogumaza's Katherine Brown and Theresa Wrigley of Fists, who in the wake of Animal Collective's maximalism, pare the sound right down to a pair of drums and vocals. The presence of two sets of perhaps the noisiest of instruments is in reality much more disciplined; interlaced syncopations and breathy, harmonised vocals make for an understated, atmospheric sound.
This gig promises to be quite the eye-opener.
Animal Collective play Leeds University Stylus, Wednesday 7 September. Tickets £15 (No booking fee) from Dice
Written by Emma Chaplin