THOSE OF US sufficiently long in the tooth will have memories of a football club within our fair city celebrating success with and amongst its people. That club is Leeds United, just in case you thought I was referring to the many, many visiting teams who have strolled to victory at Elland Road before their adoring fans in the last 15 years.
While it is too simplistic to suggest a football club's fortunes directly mirror those of the city it resides in, there are clear parallels
On a sunny Sunday in April 1992 Leeds United paraded the First Division Championship title to an estimated 250,000 people lining the streets of the city and thronged together in a reverential mass outside the Town Hall.
By the turn of the Millennium, Leeds United were charging through Europe and dining at the top table, whilst the city itself was gaining a reputation for its burgeoning cosmopolitan bar culture and as a retail experience second only to London's most prosperous boroughs.
Since then the city's ambitious ardour and national prestige has barely dimmed, while its football club has toured the nine circles of hell seemingly in pursuit of the password to its own self-destruction.
It is true that Leeds United were raised in a city stoically entrenched in a passion for rugby league, and indeed it took 49 years – still over half of their existence - for them to win a major trophy. Perhaps the greatest feat of Don Revie, their greatest manager, was his achievement in raising Leeds United's profile not only on a national scale but also as one of the most feared club teams in Europe in the 1960s and 1970s.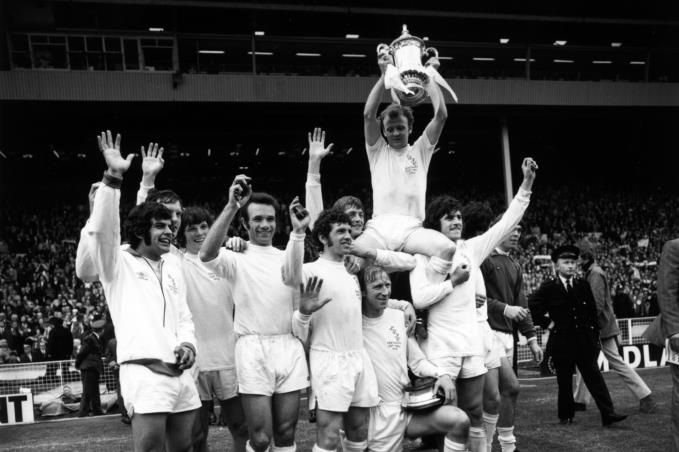 1972 FA Cup Champions Leeds United
At the same time the city of Leeds was enjoying a post-war boom period with mushrooming inner-city living and the symbolic construction of the M1, the M621 and the inner ring road, suggesting all roads led to Leeds. It was dubbed the 'motorway city of the 70s' and it welcomed that title, but ambitions and circumstances can dramatically change.
Leeds was recently voted the 'best city to live in the UK' by the Arcadis Sustainable Cities Index, an influential and trusted barometer for businesses and investors. This endorsed a quality of life that includes the fourth biggest urban economy in the UK, has the third busiest rail station outside London and attracts an estimated 26 million tourists per year. And while entertainment, retail, business and culinary names are still attracted to the city, do the economic prospects and opportunities match the excitement and eagerness of what we expect?
While it is too simplistic to suggest a football club's fortunes directly mirror those of the city it resides in, there are clear parallels. Or at least there were. Football's identity in the city of Leeds is almost entirely based on memories; a sepia-tinted life-support machine offering us cine film testimonials to happier times. Leeds was once proud of its football club; businesses and the local council supported it financially, it had a presence in the city, there was a buzz on match days and everybody knew 'something' was happening. Today there is a feeling that the city has lost patience with an estranged relative.
We rightly boast about our Olympians' success, our new Rail Station Southern Entrance, our retail expansion with Trinity and Victoria Gate, and our plans for more skyscrapers and the South Bank Development. Leeds may be ranked as a 'Gamma World City' (linking a smaller economic region into the world economy) and it may be brimming with promise, but is it fulfilling its potential?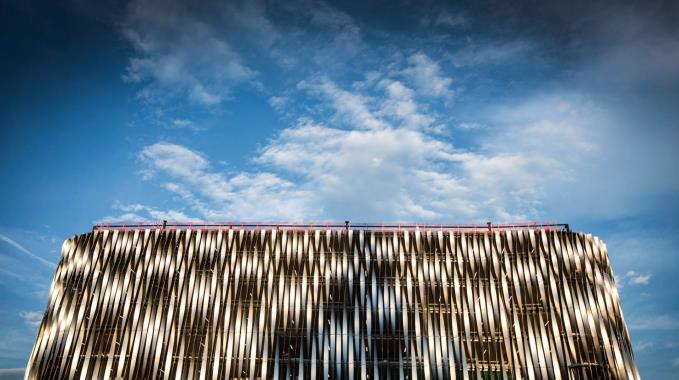 Clear skies ahead? Can investments like the £165m Victoria Gate be sustained?
However, we sometimes forget we have no rapid urban transport network after over 20 years of talking about it, we have only just built an Arena after several failed projects, and we are still exposed to severe flooding and depressing levels of inner-city poverty and crime. Some neutral observers describe Leeds as a 'world class city' but the truth is it could be so much more. Since 2002 its economic growth has actually been slower than in the rest of the UK, and that's an interesting timeline to consider.
It is estimated that Manchester as a city benefits to the tune of £330 million per year as a result of having two clubs in the Premier League. Naturally, those two being amongst the richest clubs in the world certainly helps that, but when you look at the global wealth and exposure the Premier League affords a city, Leeds is somehow still competing with Manchester as a leisure and business hub with a leg in plaster and its arms tied behind its back.
At Leeds United, there is a similar short-sightedness at what can be achieved; an echoey abyss of unfulfilled potential. For a city with a population of 750,000 to see its football club outside the Premier League since 2004 is illogical and baffling.
A succession of failed owners at Leeds United have alienated a business community that once rallied round to help buy players for Leeds United in order to bring success to the city. The club should be attracting big names with big money and offering big opportunities, instead they have low profile sponsors, a conveyor belt of PR disasters and no visibility or presence in the city.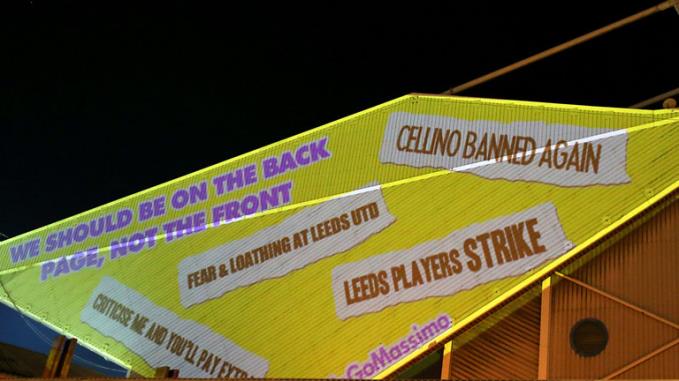 Tensions between owners and supporters are highly publicised
Leeds Rhinos have grabbed that sporting identity of local pride and integrity, and Leeds United continue to exist in their own geographical bubble at an Elland Road stadium that frankly could be anywhere.
While it may seem at this moment in time like Leeds - enjoying its current status - has outgrown its underperforming team, questions have to be asked about the city's status. Is the current success of Leeds as a city sustainable? Is it long term? Can the fertile growth of retail, bar, and restaurant ventures continue? You suspect the saturation point is already being felt with some new ventures unable to compete and premises seeing a rapid turnover in clients.
A Leeds United in the Premier League would bring people and money and profile; an empire not built on sand. It could bridge that gap and give Leeds a viable and workable future, to make it a truly world class city - in that sense, we need Leeds united.
Jon Howe has been writing about Leeds United through thick and thin for over twenty years. His second book ;The Only Place For Us: An A-Z History of Elland Road; can be purchased online via Waterstones, or from the Club shop at Elland Road