JUST OVER a fortnight ago, independent station KMAH Radio - who since starting in 2014 have worked with names such as The Warehouse Project, Boiler Room and Butter Side Up - was broken into, with around £5,000 worth of DJ and broadcast equipment stolen.
this has put things into perspective: there are worse fates than having your radio station disrupted
Earlier this week the perpetrator was caught by police while attempting a similar break-in and found to be a homeless drug addict. The owners of KMAH took to social media to post a very dignified and measured response, backed up by a generous offer:
"We have news. Sad news. Avoidable news. Predictable news. The thief has been caught. You won't be shocked to learn he is a homeless drug addict who was busted whilst doing another job in Leeds this week. He exchanged our gear for his gear, and that's that."
The statement continues in a very level-headed, empathetic way:
"He'll go to prison for a few months, then come out again with no prospects and a criminal record, only to repeat the cycle again. What he needs is treatment, not internment."
Rather than lashing out, the people behind KMAH took an understanding approach and offer condolences towards the fact that a person could be driven to such actions - at least twice in the space of two weeks - by addiction.
"We could get angry, we could call him names, we could chastise him to make ourselves feel better, but really this has put things in perspective: there are worse fates than having your radio station disrupted for a bit."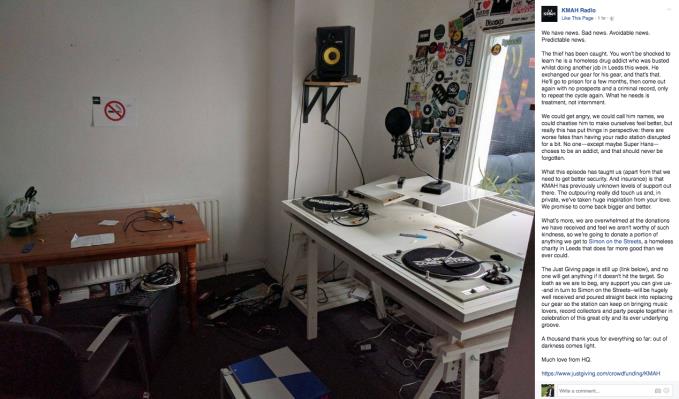 The ransacked station
Following the burglary, a JustGiving page was set up allowing fans of the radio station to pledge funds to help replace the stolen equipment. At the time of writing, the total stands at £2,965 - 59% of the target - an outpouring of support that KMAH says "really did touch us...and we've taken huge inspiration from your love. We promise to come back bigger and better."
In an altruistic move, KMAH have pledged to donate a portion of all the money received to Leeds homeless charity Simon on the Streets, which in their own words "does far more good than we ever could".
Fifteen days of the JustGiving campaign remain, if you'd like to donate then you can do so here. Due to the way JustGiving operates, no donations will be accepted if the full target isn't met in 30 days.
For more information on Simon on the Streets head to simononthestreets.co.uk, or to follow KMAH Radio's progress following the burglary, check out their Facebook page.