The contrasting sectors of Leeds' vibrant culture is displayed in all it's glory in the sliver of town increasingly referred to as Leeds Northern Quarter. As the geometric marble slabs of John Lewis and Victoria Gate (let's say they're the rich popular kids at school) receive their final polishes, ready to further Leeds' reputation for swanky cocktails and even swankier designer outlets, the hip arty kids are having their own fun on neighbouring Vicar Lane.
the workshop looks to remedy the slight disconnect between the current independent creative scene and uninitiated, would-be creatives
At one end sits East Street Art's Art Hostel, which has recently opened its doors to creatives from far and wide. On the other - still almost sticky to the touch and air heavy with the solvent hum of fresh paint - is the first ever public space dedicated to printing, Leeds Print Workshop.
What is the Leeds Print Workshop?
Housed within a new cultural city-centre space managed by East Street Arts - one of the city's leading visual arts charity organisations - LPW is designed to provide accessible printing facilities to those who might not have the resources to create and display work. Leeds is teeming with creative talent, but these final facets of the creative process are often hidden or off-limits to those not in the know.
Run by a not-for-profit cooperative, the venture is founded on the admirable principles of accessibility, sustainability and community, aimed at providing a welcoming space that doesn't cost the earth or require an undergrad degree to be a part of. It is reiterated that the future is based around remaining not-for-profit and providing resource and time to anyone who has an interest in print - meaning that even the most novice of us can get our hands dirty.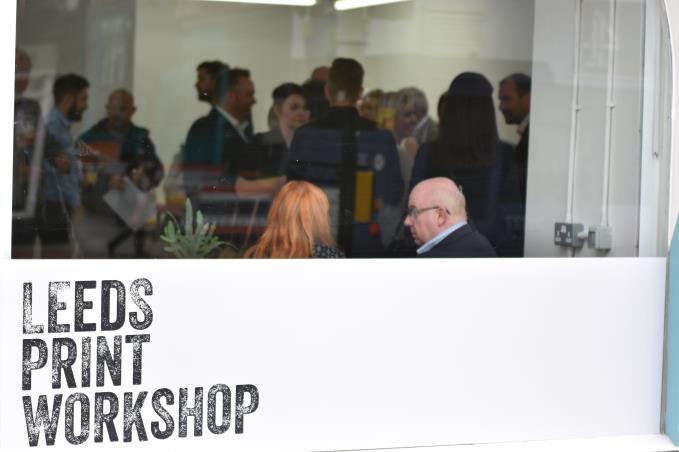 Credit: Mark Harrison
What kind of printing does LPW offer?
A range of classes and workshops are on offer to cater for many different interests and levels of expertise. Monoprinting, for example, can include work with wood, where a design is etched into it, coated and used to print onto another surface. Bookbinding - fairly self-explanatory - teaches DIY book craft, and the most abundant form that we constantly see but don't always identify is screen-printing. Used on papers and fabrics alike; most of us and our homes are adorned in this craft without realising.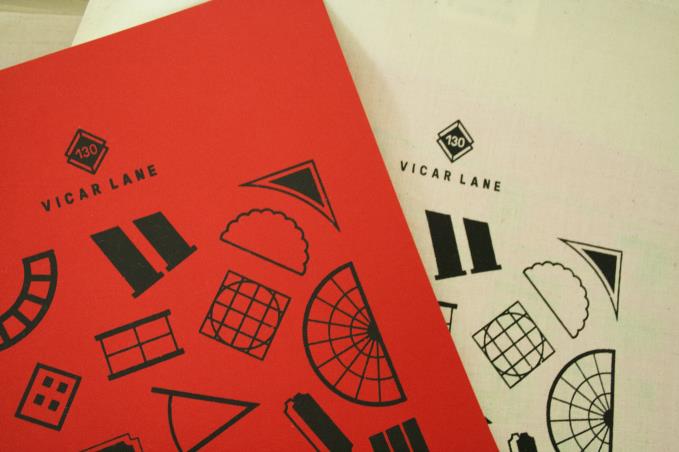 Screen-printed Prints and Totes
Hammerson - the contractors behind the elegant, gargantuan Victoria Gate structure - are also actually the legal owners of the Vicar Lane property, letting out the space to East Street Arts on a manageably low contract. In a relationship reminiscent of a Victorian benefactor, Hammerson's benevolent gesture ensures investment and nurturing in the community that they now own a large, lucrative stake of. They too are investing in the local culture, allowing independence, artistic expression and freedom to flourish.
Hard to miss when passing, the building in question- 130 Vicar Lane- is now decked out in an eye-catching, pastel-hued mural, visually unlike anything else in the city. Owed to a group of recent Leeds College of Art grads that go by the moniker 'Goat Collective' the mural was commissioned by East Street Arts to celebrate the space as a place of collaboration and creativity- two favourite's in the Leeds lexicon. Ellie Heywood of Goat Collective describes the mural as an accentuation of the importance of the surrounding historical architecture;
"We deconstructed the windows, doorways, frames and appearance of the buildings surrounding 130 Vicar Lane and recreated them as clean, geometric forms in a balanced composition". And it sure entices some curiosity as you pass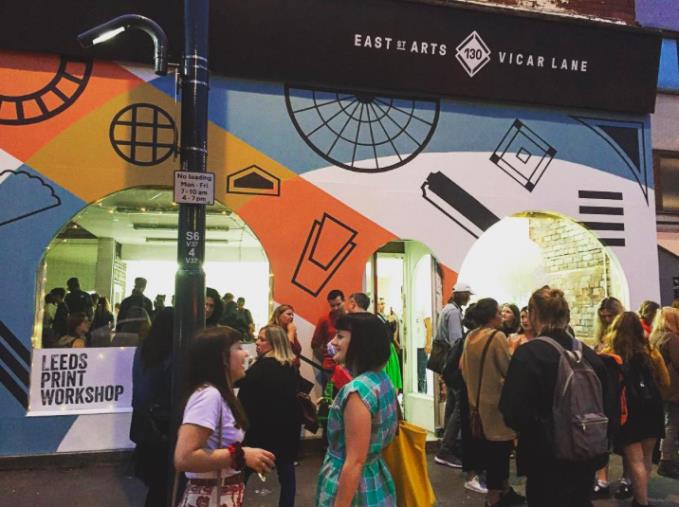 Richard Marsden, one of Leeds Print Workshop's founding members, is a recent design graduate of Leeds Beckett with a penchant for print. For Richard, graduating presented a deficit of facilities to practice this craft; but meeting printmakers Mick Welbourn and Kirstie Williams, who had recently acquired some all important equipment (and the building itself) began the sequence of events that would eventually Leeds Print Workshop a reality.
And that is no mean feat. As Richard put's it "there is a lot of large, heavy and expensive equipment required to be able to open a workshop that offers a range of printmaking techniques. With institutions such as Leeds College of Art running such fantastic workshops I guess that has always reduced the demand for such a space."
Whether you are already into printing or not, the workshop looks to remedy the slight disconnect between the current independent creative scene and uninitiated, would-be creatives. Even if it's just dipping your toe into a festive class - your nan would love a Christmas card with a personalised touch, and I don't mean from Funky Pigeon - the space is expanding upon the opportunities that places like The Bowery in Headingley already offer, emphasising the importance of working with different local businesses and projects.
The grand opening of Leeds Print Workshop is on Friday 14 October, but until then there's a fundraising campaign to deck out the workshop with the all-important facilities which rewards donations with a selection of prints and perks.
Leeds Print Workshop, 130 Vicar Lane, LS2 7NL
Scheduled Workshops
Heat Transfer Textile Printing. Sunday 23 October 11-4pm
Beginner's Bookbinding. Saturday 29 October 11-4pm
Textile Screen Printing. Friday 11 November 11-4pm
Natural Dyeing. Sunday 13 November 11-4pm
Monoprinting. Sunday 20 November 11-4pm
Screen Printing Christmas Cards. Saturday 26 November 11-4pm
Beginner's Bookbinding. Saturday 3 December 11-4pm
Lino Printing. Sunday 4 December 11-4pm
Emma Chaplin for Leeds Confidential