WE'RE NOT going to sit here behind our computer screen and tell you how important it is to eat a healthy diet and exercise regularly - especially when part of our job is to tell you where best to stuff your face in Leeds.
We know it's important, but unless you're the type of masochist who enjoys the feeling of walking upstairs after leg day or sneezing a few days after doing sit-ups, working out is a real chore.
Our resident Unfit-But-Knows-It writer spent a day hunting Pokemon recently, and covered more kilometres than in a week's worth of unenthusiastic treadmill sessions. So off we sent him on a mission around Leeds looking for more ways to get fit without realising it...
Fore-Fore-Two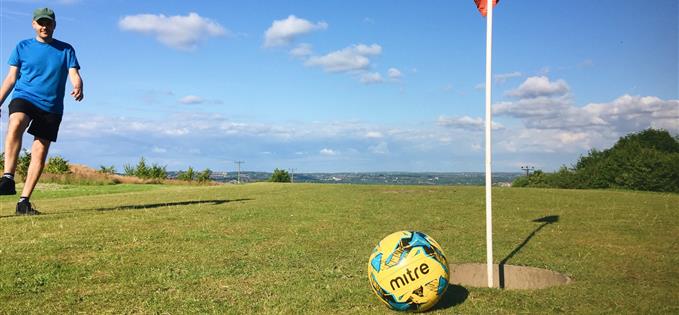 Combining all the relaxing aspects of golf with the thrill of scoring a 30-yard screamer, Footgolf is a much more casual affair than regular golf - with all its rules and etiquette and slacks. This means you won't get half as many dirty looks as you fall to your knees with your shirt pulled over your head, Ravanelli-style, after chipping in a Birdie from outside the green.
Calverley Golf Club has a nine-hole course set up, with a variety of terrain and landscaping, including some pretty tricky slanted greens, sand-traps and long grass to test even the most proficient of Sunday league show-offs. We gave it a go and scored a mighty... 30 over par (possibly the worst score ever). Still, we clocked up a good few KMs on the FitBit.
UK Footgolf, Calverley Golf Club, Woodhall Hills, Calverley, Pudsey LS28 5QY
Ale Trail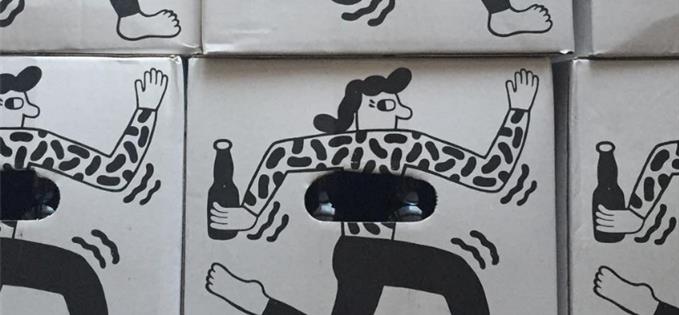 If you're anything like us, two things will put you off going for a run: Firstly, all that's waiting at the finishing line is chaffed thighs and burning lungs - where's the motivation there? Secondly, all the other joggers are bound to be better looking and in much better shape.
So we've found one tidy solution to both of those setbacks.
Bundobust and Northern Monk have each set up their own running clubs, so not only can you jog along with like-minded people (rather than psychopaths who weigh each broccoli floret), there's also motivation to get to the finish line as quickly as possible, in the form of booze. Sweet, restorative booze.
Northern Monk offer all runners a free half of Northern Monk beer and 20% off food, and Bundobust give runners a free dish from the menu for every half-pint of Mikkeller bought. If running's not your thing, every Tuesday at 12:15pm Northern Monk host a lunchtime Yoga session for £5 per person.
Mikkeller Running Club - Bundobust, Every other Sunday, 11:45am (Next one July 24th), 6 Mill Hill, Leeds LS1 5DQ // Northern Monk Running Club, Every Tuesday, 5:30pm, Marshall St, Saw Mill St, Leeds LS11 9YJ
Roll With It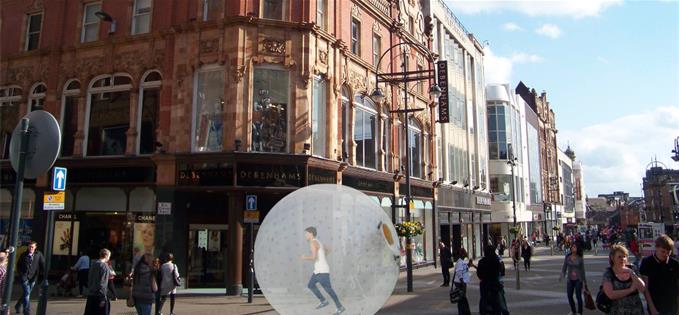 There's no end to the activities that can be improved just by doing them while stood inside a giant, inflatable hamster ball; football, sumo wrestling, British bulldogs, even just lobbing yourself down a hill. Simple pleasures, eh? There are a few places near Leeds that offer Zorbing opportunities - a long time stag-do favourite - including Zorb Football UK, and Harrogate outdoor adventure centre, Live For Today Adventures.
If that's a little out of the way, consider taking part in The Bounce Zorbathon, a competitive Zorbing marathon taking place on Briggate on July 23rd and 24th, which sees participants go through a specially constructed course, and sees the people of Leeds go up against London and Birmingham for the title of 'UK's Most Unstoppable City'.
Zorb Football UK, Redcote Ln, Leeds LS4 2AW // Live For Today, Hazlewood Castle, Paradise Ln, Tadcaster LS24 9NJ // Bounce Zorbathon - Leeds, Briggate, July 23rd & 24th
Jump Around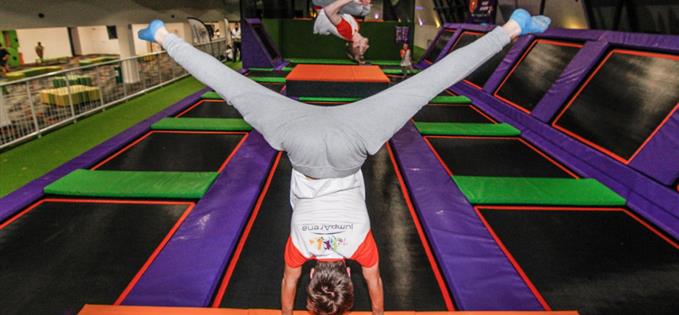 Trampolining is a great cardio workout which can also hone your balance and agility. Though as much fun as it can be trying to perfect a perfect backflip, Olympic-style trampolining can be a little monotonous. That's where Jumparena comes in - a recent £800,000, 20,000sq ft indoor arena with over 80 interconnected trampolines all over the floor and attached to walls at a 40-degree angle for lateral bounces.
As well as freestyle, open-jump sessions, dodgeball and FitJump classes, there's foam-pits for when you're not confident about landing maneuvers, a non-trampolining parkour training area, and a Ninja Warrior-style obstacle course.
Jumparena, Redcote Ln, Leeds LS4 2AL
Rock With You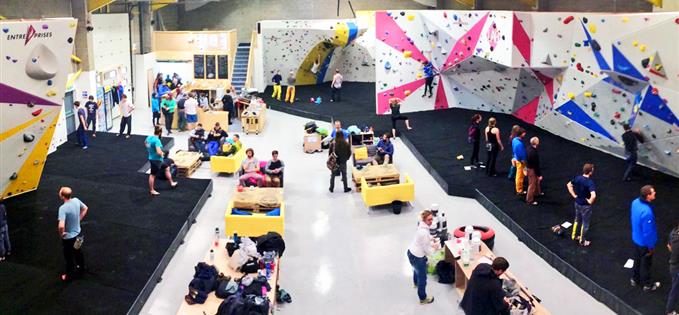 Tom Cruise in Mission Impossible 2, Mackenzie Crook as Orell in Game of Thrones, Wolf in Gladiators. If pop-culture has taught us one thing, it's that no matter who you are - scientologist, Gareth from The Office, or a man who wears a bandana - you can still look cool while scaling a great big wall.
It's also an incredible workout for your upper body and core, and forces you to think strategically about your route, body placement and the maneuvers you'll need in order to reach the peak. The Climbing Lab offers a range of routes for climbers of all abilities - from introducing newbies to experienced boulderers - including one of Yorkshire's only top-out boulders and an S-shaped face which challenges you to work backwards and inverted, ending up clinging to the underside of a rock-face before working your way up and over again.
The Climbing Lab, Unit 14, Kirkstall Ind. Park, Leeds LS4 2AZ
Set Phasers To Fun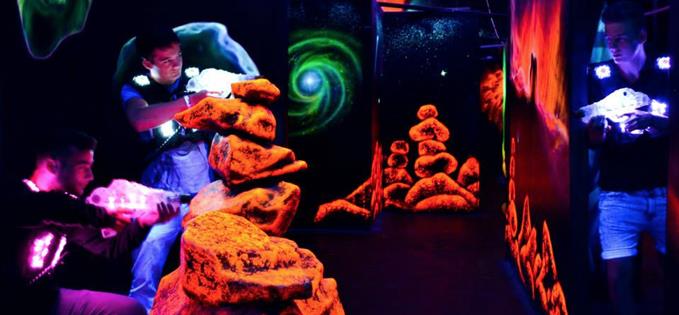 Now, the rules clearly and strictly state absolutely no running. We can't stress that enough. Safety first and all that. However, they don't say anything about strafing, combat-rolling or even doing that thing where you jump backwards in slow motion while firing your weapon indiscriminately.
Even without running, navigating our way around the nooks, crannies, hideouts, watch-towers and selfie-booths (yep) of Lazerzone for two 20-minute games is some of the most intense interval training we've ever done, and getting caught off-guard and laser-ambushed by a group of kids had us shrieking way more than any set of burpees.
LazerZone, Cross Cardigan Terrace, Leeds LS4 2DG
Take The Piste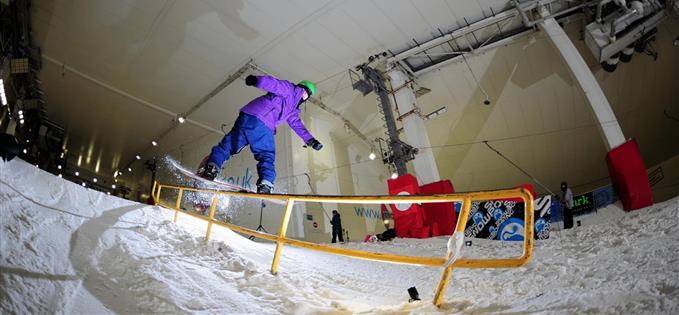 Gone are the days when artificial slopes meant hurtling down dirty great broom-bristles, ready to take off the top three layers of skin as soon as you fall over on it. Snozone has over 1700 tonnes of real snow covering its 170m main slope with slalom courses for skiing and snowboarding, as well as jumps, boxes and rails for grinds and tricks.
If you're not quite at that level yet, there's a dedicated learning slope where trained instructors will give you an introduction to the skills and techniques to help build your confidence.
Snozone - Xscape, Colorado Way, Castleford WF10 4TA