Post-Brexit British Produce
Ahh Brexit. The 2016 hangover that no amount of Bloody Marys and Deliveroo orders will be able to cure. The political equivalent of babysitting a boisterous cousin; you didn't ask for it, you don't even like it, but members of your extended family decided they wanted it, and now they expect you deal with the repercussions.
According to The Change Group, Brexit will likely prompt "a renaissance in British food and ingredients" with customers looking to support local, British producers and farmers. This will extend to wine, according to RSM consulting's head of leisure and hospitality Paul Newman
Where to get it now: The Reliance (review) - Locally-sourced produce has been gathering momentum since the BSE scares of the 1990s, so it's hardly a new trend for 2017, but when import costs skyrocket menus will start revolving around what's in season. Of course, plenty of restaurants already do that, anyway; our pick of them would have to be old favourite The Reliance.
The Reliance, 76-78 North Street, Leeds LS2 7PN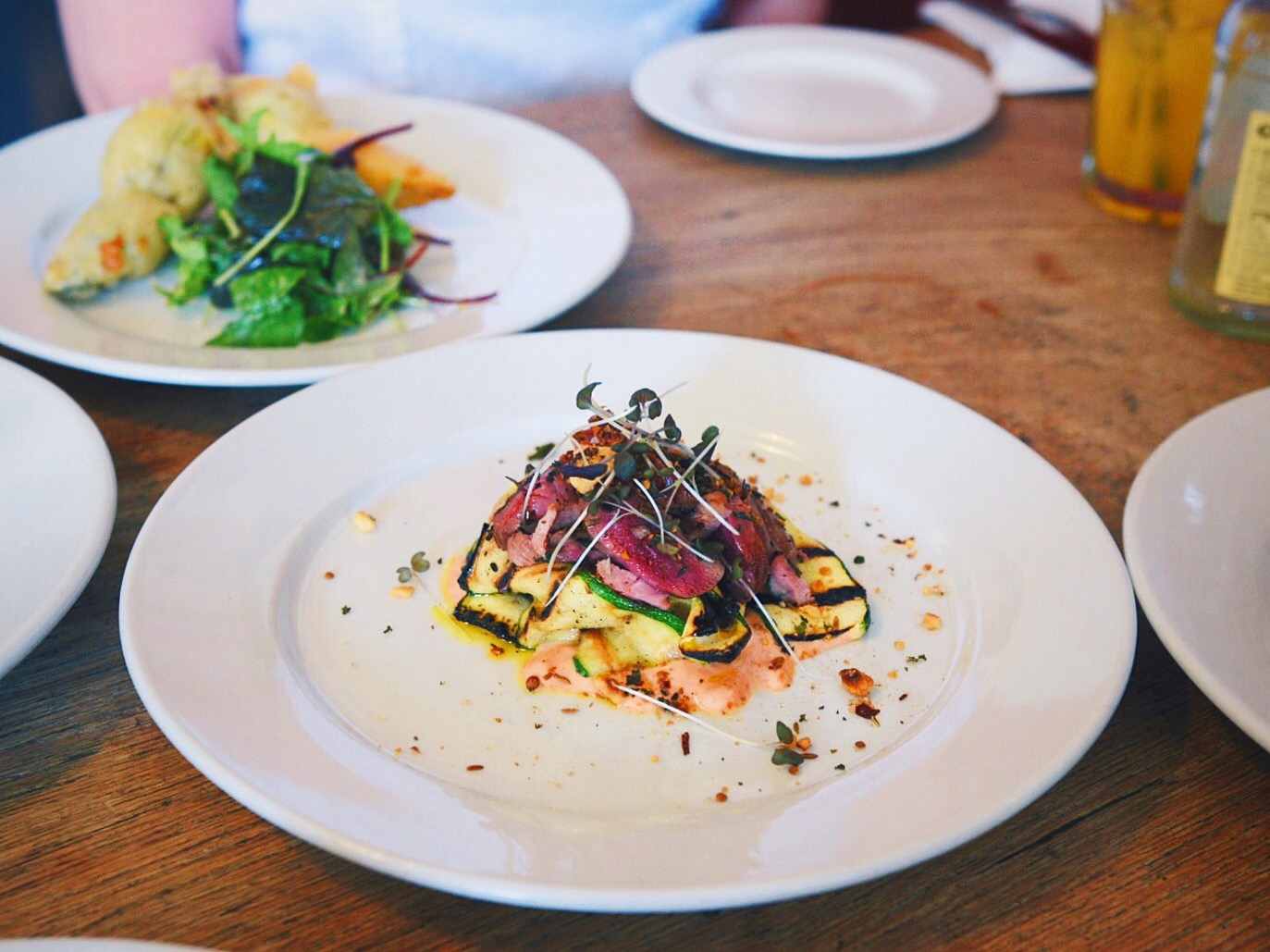 Smoked Pigeon & Charred Courgette, The Reliance
---
In a bit of a pickle
...And I'm not referring to the Brexit situation again, ho ho! No, DIY food processing is garnering some momentum, with pickling, curing, and fermenting all reflecting a general consensus of wanting to be more self-sufficient, sustainable, and less-wasteful. Look out for preserves, sauerkraut, kimchi, kombucha and all of their preserved pals popping their heads up more in the next year.
Where to get it now: Norse (review) - Scandinavian countries aren't exactly known for their year-round, bountiful harvests so in an attempt to make a little last a long time, preserved ingredients feature heavily in their national diets. Trendy Danish restaurants like Noma and Relae helped bring these ingredients into the forefront of contemporary dining, as has Harrogate's nordic-inspired Norse.
Norse at Baltzersens, 22 Oxford St, Harrogate HG1 1PU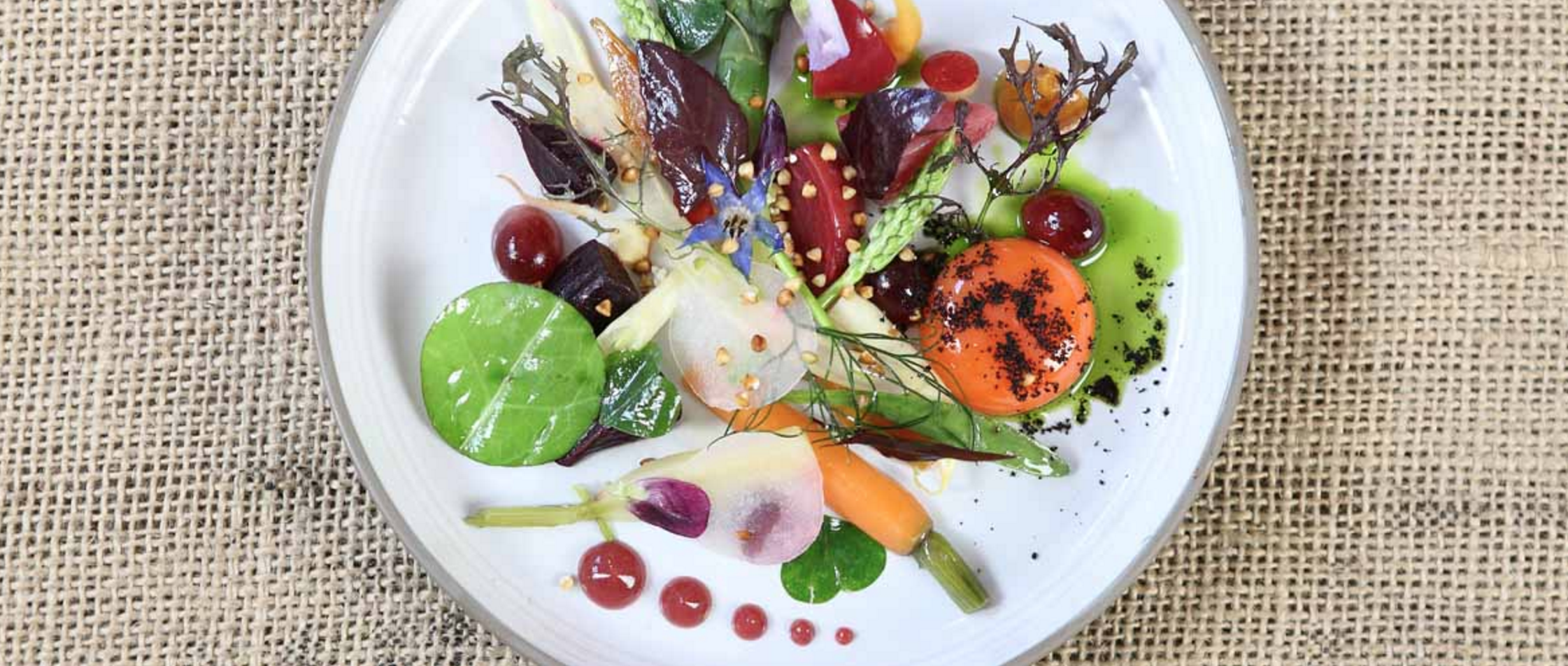 Norse, Harrogate
---
Better Healthy and Vegetarian Options
Despite 2016 in Leeds seeing off several healthier options such as Filmore & Union and Nourish, healthy eating, vegetarian, and vegan options are set to soar in 2017.
Vegetables might even push meat off some menus entirely, according to international food consultancy Baum + Whiteman. Consumers in general are now eating noticeably less meat, with vegetarian and vegan diets being seen as a more viable, less alternative option.
Allergen-aware dishes and menus are likely to feature alongside healthy choices as well, with the NPD group suggesting that, even if they don't order these dishes themselves, customers will see their inclusion as a sign of a high quality restaurant.
Where to get it now: The Swine That Dines (review) - Despite what the name suggests, we reckon The Swine cooks the best vegetarian food in the city; highlighting the innate qualities of vegetables and pulses, rather than simply trying to recreate the sensation of eating meat-protein. 2 Oxford Place's regular menu is completely gluten-free, and they offer vegetarian, vegan, and dairy-free versions of it, too.
The Swine That Dines, The Greedy Pig, 58 North Street, LS2 7PN
2 Oxford Place, Leeds, LS1 3AX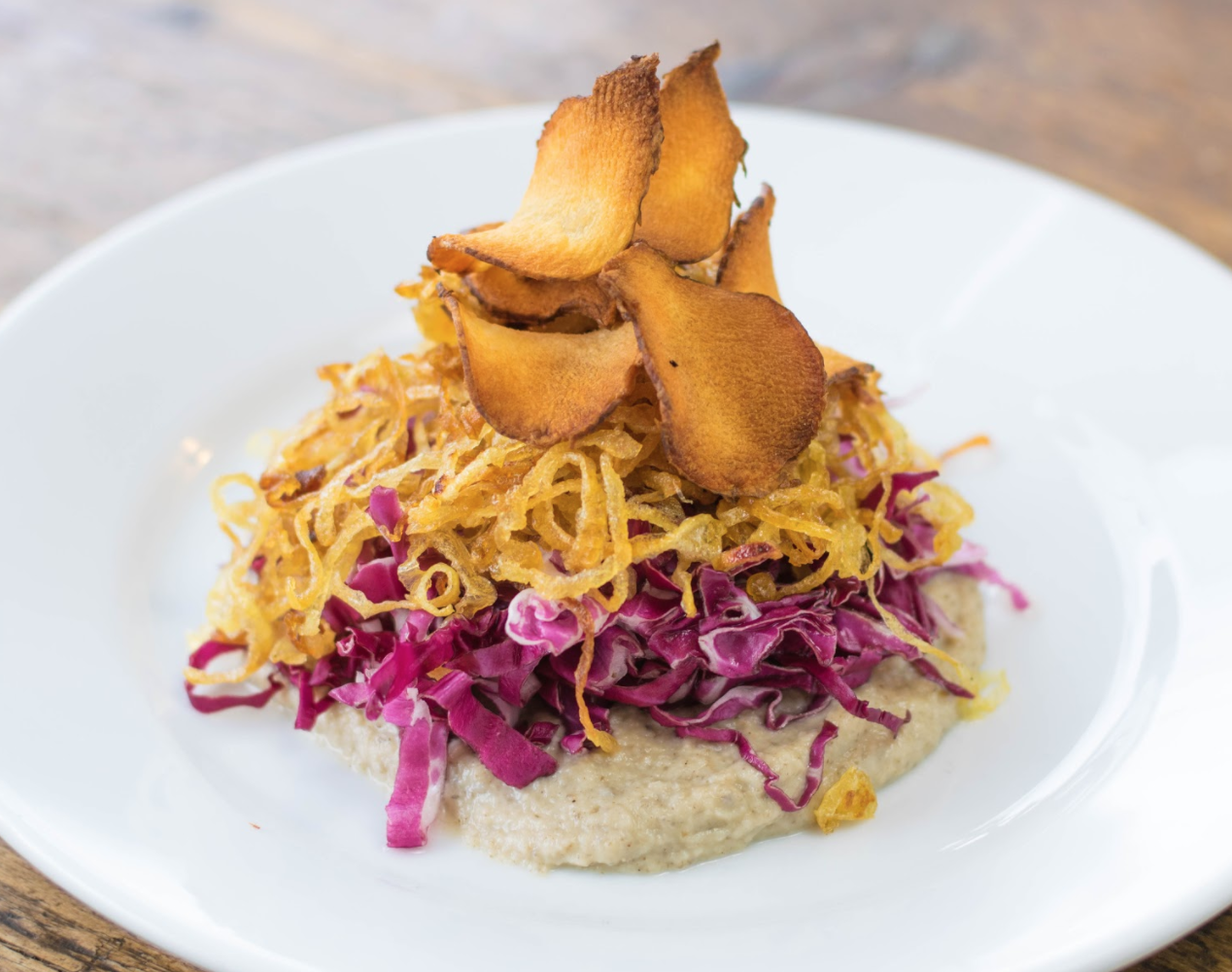 The Swine That Dines
---
Peak Kale
It's been the punchline to hipster food-fad jokes for ages now, and 2017 is apparently the year kale's becomes a bit passe and declines in popularity. Another green leaf is positioned to take its place, though - no, not that one… - nutrient-rich seaweed, which is seen as somewhat exotic, and comes in many varieties.
Where to get it now: HanaMatsuri (review) - Any decent Japanese restaurant offers their version of seaweed - or Wakame - salad. Our favourite is HanaMatsuri's, which contrasts the subtly-sweet natural flavour of seaweed with eye-popping fresh yuzu, which we're yet to find anywhere else in the city.
HanaMatsuri, 580 Meanwood Road, LS6 4AZ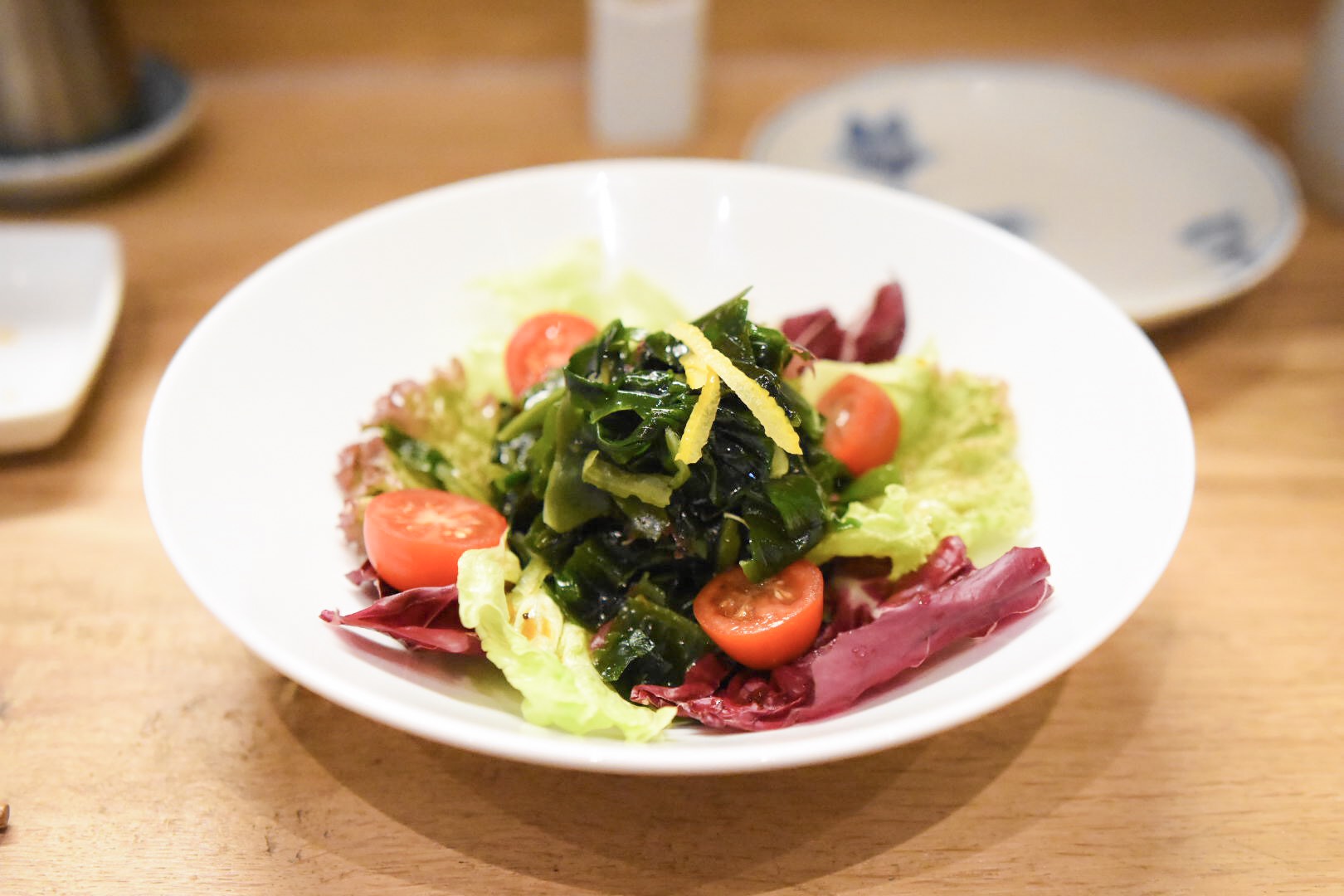 Wakame & Ponzu Salad, HanaMatsuri
---
Breakfast gets serious
Could 2017 be the 2016 of food-trends, and see off kale and avocado toast? Baum + Whiteman think it's possible, predicting a change from "smooth foods" like scrambled eggs and acaia bowls to bold flavours and textures like fried chicken, crispy chorizo, cheddar cheese and carnitas.
Where to get it now: Ox Club (review) - As well as being one of the finest mid-range restaurants in Leeds, Ox Club are no slouches when it comes to brunch. Whether it's the inimitable, velvet cheddar eggs that accompany flat iron steak, Korean fried chicken with kimchi and crispy eggs, or the occasional huevos rancheros special, this is flavour with getting out of bed for at the weekend.
Ox Club at Headrow House, The Headrow, Leeds, LS1 6PU.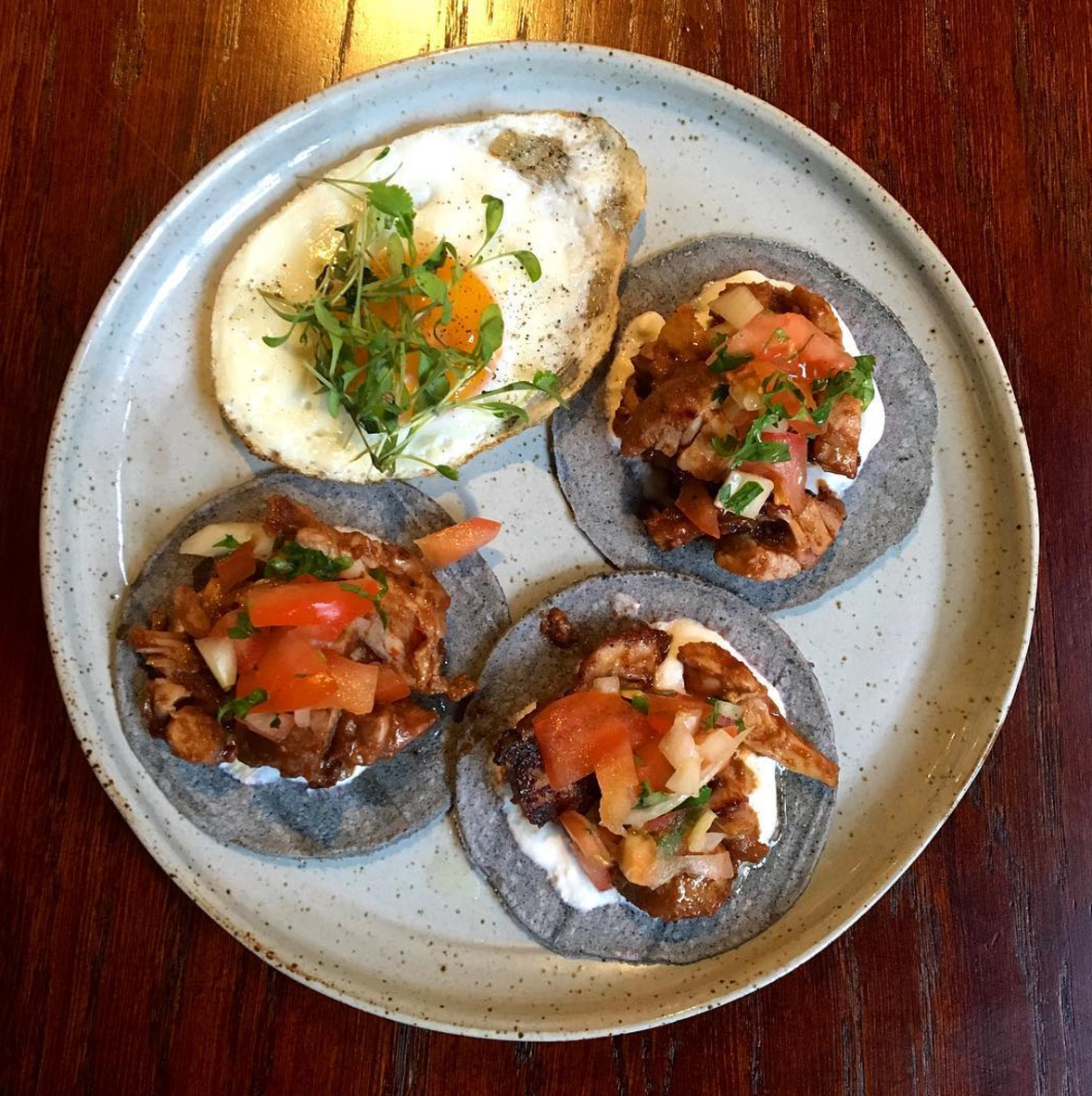 Huevos Rancheros, Ox Club
---
Spice up your life
Middle-eastern spices like coriander, cumin, fennel, caraway, and saffron are set to be popular, according to McCormick & Company's "flavour forecast", as well as other global spices such as cayenne, lemongrass, and ginger.
While you might be used to a sweaty hum of cumin in your falafel wraps, expect to see it popping up in more unexpected places this year, such as breakfasts and even desserts.
Where to get it now: Bundobust - Fresh-squeezed lemonade is the last place you'd expect to find back-notes of cumin, but that's exactly what you get from a sip of their Nimbu Pani. If you haven't started your day off with Egg Bhurj - curried scrambled eggs flavoured with cumin, turmeric, ginger, and chilli - then you're missing out.
Bundobust, 6 Mill Hill, LS1 5DQ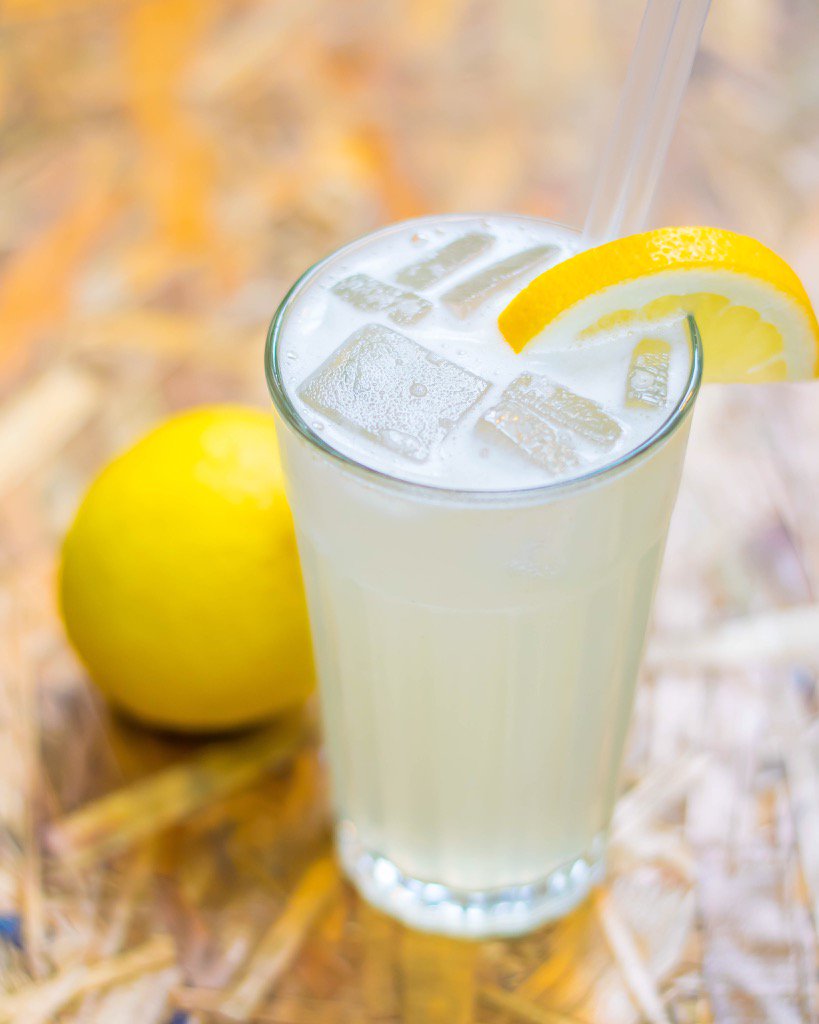 Nimbu Pani, Bundobust
---
Not Just Desserts
"Oddball ice creams" are due to be a big story in 2017, according to Baum + Whiteman; over the top, everything-but-the-kitchen-sink desserts designed with Instagram in mind, rather than incidentals like "How or why would anybody eat such a monstrosity?".
The vegetarian trend might spread its influence onto the end of menus as well, with vegetal ice cream flavours like beetroot, sweetcorn, pumpkin, sweet potato, and black sesame becoming more prevalent.
Where to get it now: Northern Bloc - This is Leeds. We're not daft,Freakshakes can stay in places like Bristol, where they belong. If we want something a bit different from our ice cream we'll do it with dignity and stock up on some of Northern Bloc's all-natural flavours, like Strawberry & Black Pepper, White Chocolate & Popcorn, or Chestnut & Orange Peel, ta very much.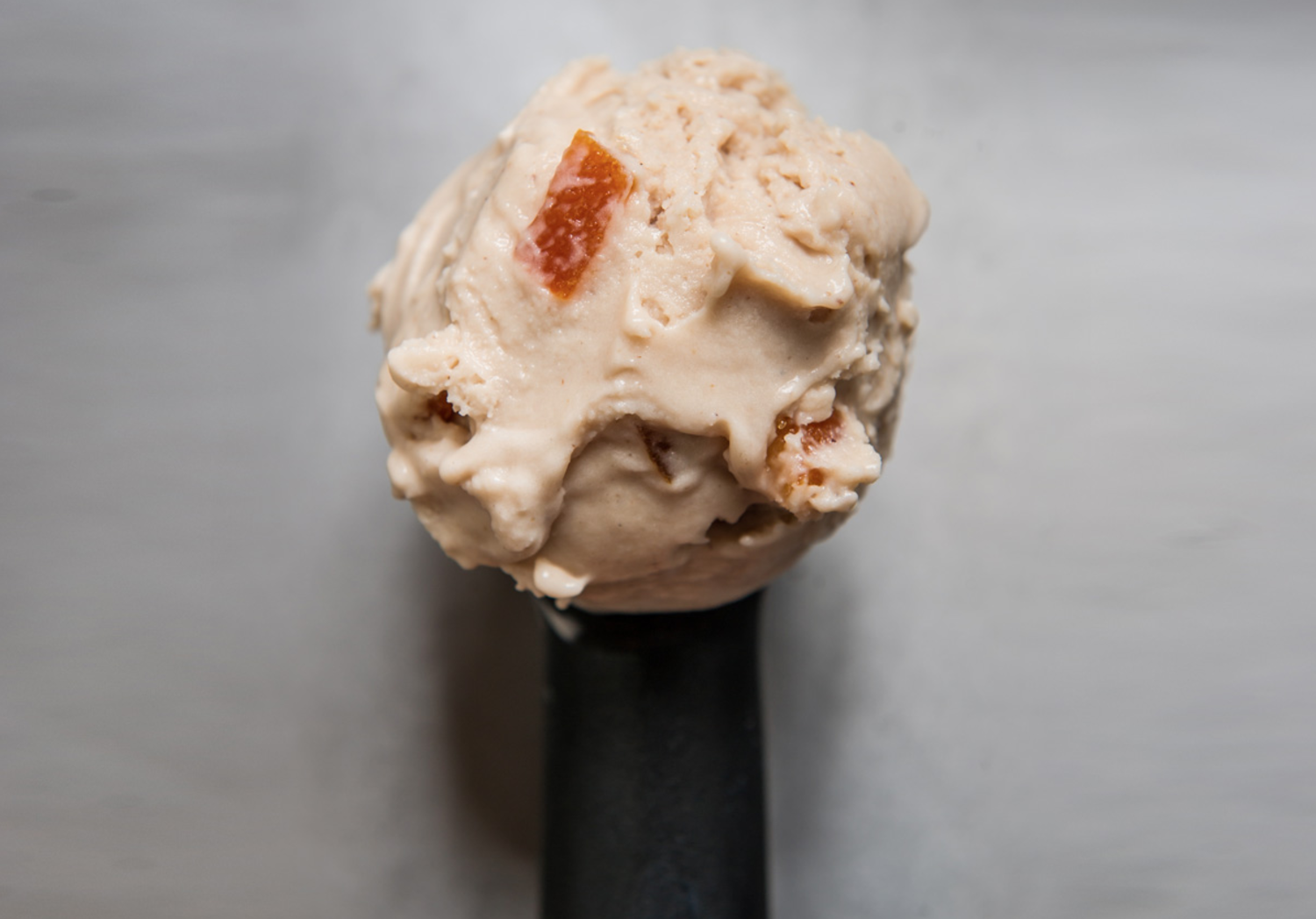 Chestnut & Orange Peel Ice Cream, Northern Bloc
---
Sugar, we're going down
Sugar has taken over fat in the collective conscious as the bad-guy of diets. Gary Taubes' recent book "The Case Against Sugar" calls sugar "the tobacco of the new Millennium: backed by powerful lobbies, entrenched in our lives, and making us very sick.", and recently-unearthed Harvard research from 1967 shows that the Sugar Research Foundation paid scientists to "minimise the link between sugar and heart health, and cast aspersions on the role of saturated fat". Thanks guys.
Look out for natural sweeteners like honey, agave, and plant sugars taking refined white sugar's place in the coming years, as attitudes continue to change.
Where to get it now: Noisette Bakehouse - A bakery is probably the last place you'd expect to be sugar-free, yet Noisette (and mobile spin-off Madeleine Express) make a conscious effort to consider what type of sweetener goes into their bakes; choosing from the likes of carob, maple, date syrup and coconut sugar, depending on what effect they'll have on the final flavour and texture.
"Honey is a big part of what we do" says Noisette boss-lady Sara Lemanski, who uses honey in place of granulated sugars and refined syrups where possible "less for its perceived health benefit and more because it offers so much flavour, and changes throughout the year so it offers lots of opportunities to play with different flavour combinations. At the risk of sounding all that...It's a reflection of the terroir, like wine, cocoa, and coffee."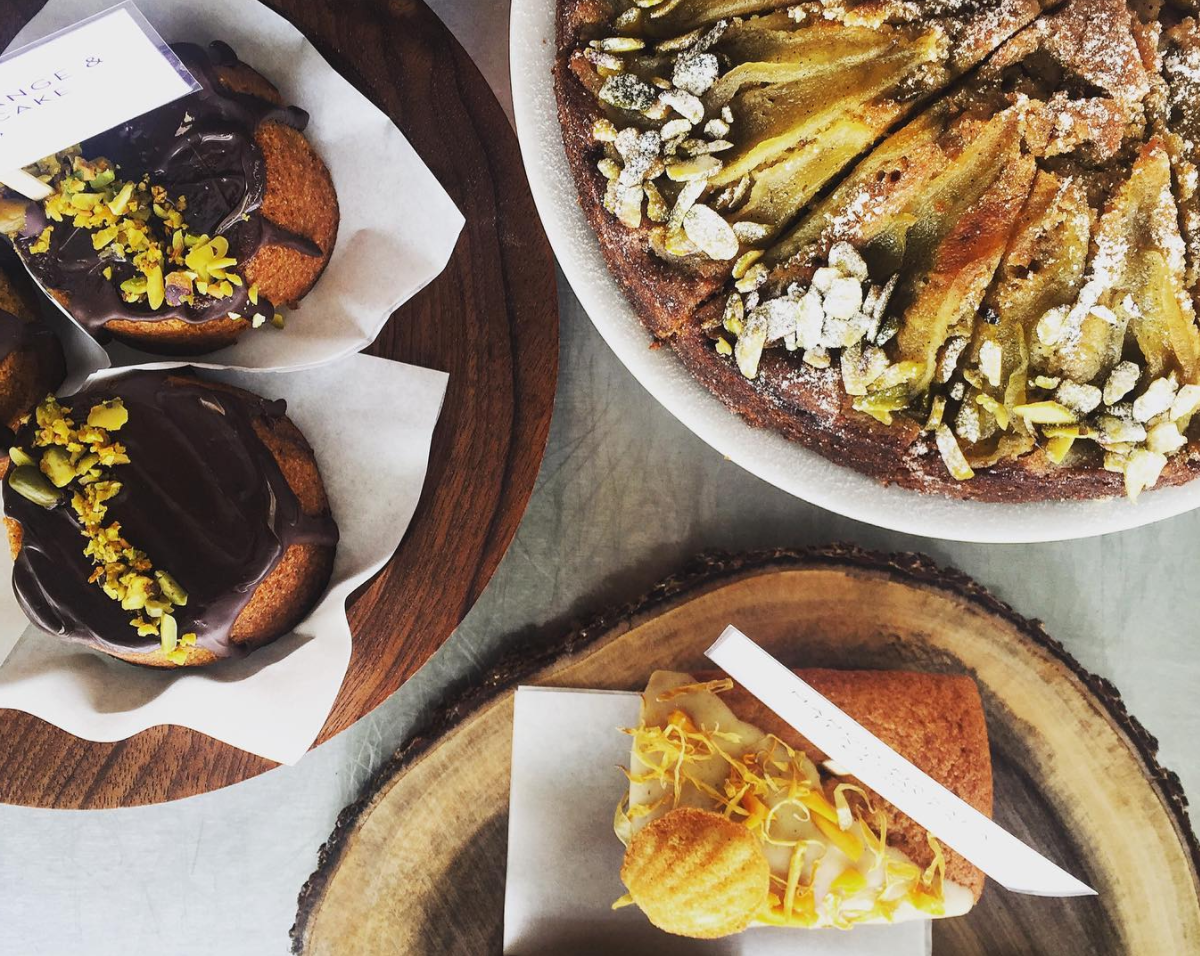 Noisette Bakehouse
---
Purple reign
If rainbow bagels have told us anything, it's that we're suckers for novelty and bright colours. While bright purple food might ring all sorts of artificial colour & E number alarm-bells, it's actually naturally occurring in heritage produce like radishes, sweet potatoes, and corn.
In America these ingredients have been used to colour everything from tortillas to doughnuts to ice cream with spectacular effect; expect to see more of it on home shores this year.
Where to get it now: Sing Kee Oriental Supermarket - While this is new and novel to the West, Asia has been flavouring and colouring things with vegetables like Ube and Taro for ages. Sing Kee does a Taro bubble tea, which has a kind of mildly sweet, custardy flavour. You didn't think Man Behind The Curtain came up with the idea for potato custard all on their own, did you?...
Sing Kee, 44 Woodhouse Lane, LS2 8LX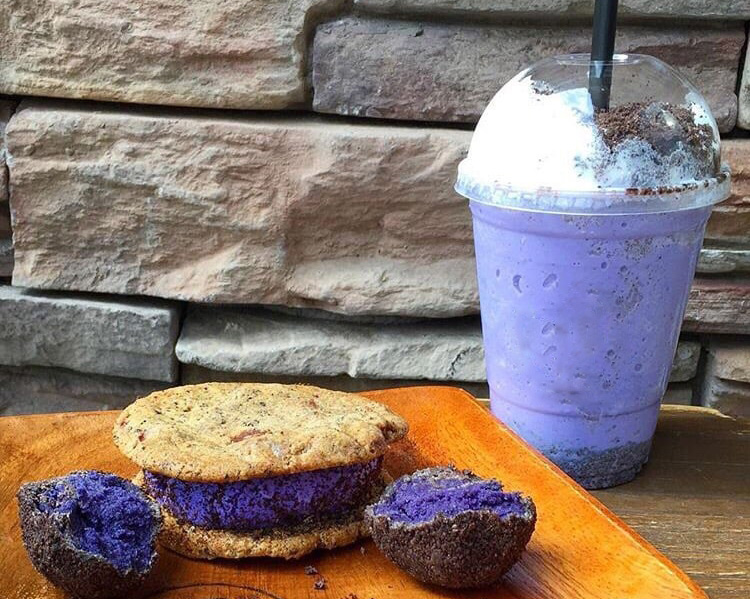 Taro & Ube Treats
---
Outside-in design
It's not just what's on a menu that counts; looks matter too. Cheshire-based design group Style Matters reckon that 2017 design will be inspired by natural and rustic finishes and materials - wood, clay, copper, leather, and autumnal, earthy hues. Metallic accents and retro-inspired monochrome with bright pops of colour are also expected to be a big look this year. Might be nice to go to a restaurant and not constantly have a neon sign flickering away in the corner of your eye…
Where to get it now: The Botanist - Straddling the boundaries between what's inside or outdoors, The Botanist's open kitchen looks directly out onto a covered outdoor area, and inside the building is decked out like a ballroom on an allotment - like something out of an Enid Blyton book, but with better booze.
The Botanist, 67 Boar Lane, LS1 6HW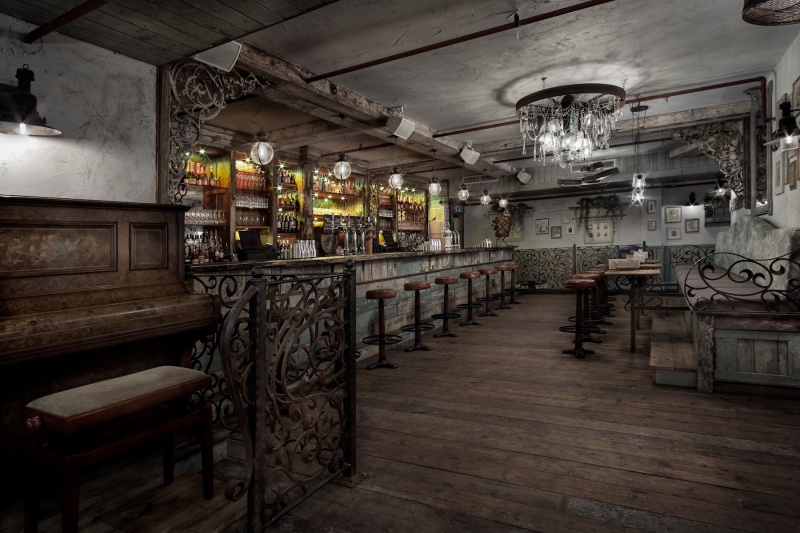 The Botanist