TUESDAY June 3, 6pm. Liverpool Confidential is once again prowling the streets of the city centre.
The mission? To sniff out a new taste sensation. Just for you.
One of our number is a hot and sexy new camera, born to shoot incognito pictures in shady places.
The remaining two are very thirsty.
They aren't afraid to chuck huge halves of baked aubergine, stuffed with parmesan, over a crimson heap of intense tomato risotto. The result is like a big, fat, unexpected kiss
Bold Street and Renshaw Street yield three places ripe with potential. Two have closed for the day; a third has no drinks licence, the owner still pondering the notion of "BYO".
Crestfallen, we meet Dave from The Dispensary in the street. We might be parched, but not so parched as to abandon the whole quest for a bag of Quavers and four pints of White Rat.
Dave waves towards Berry Street and says there must be something new for the camera to feast its micro four-thirds lens on. We discuss how we have been there and done it all. We tell him also that dining forays around the so-called Ropewalks have left us completely burgered.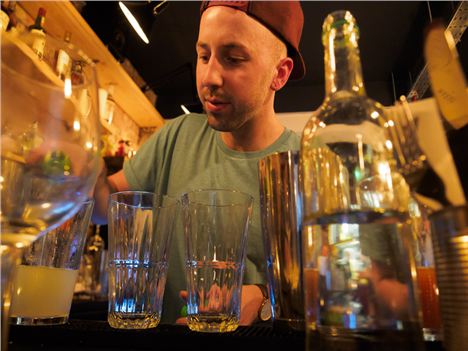 Tom
Dave has not a good word to say about several places, especially those that serve less than huge portions, and bidding our farewells we slope off back down Bold Street, Planet Pulled Pork.
It calls itself Maray, and announces itself, in etched plate glass, as "Falafel, Cocktails, Small Plates".
"Are you a bar? Are you a restaurant? Or are you what?" we wonder, peering in.
"We are all those things," a young lady smiles, waving a menu.
By now we are firmly ensconced at the bar, twirling upon wrought iron, height adjustable stools, reclaimed, alongside many more fittings, from a salvage yard in France. There are plants, there is exposed brickwork, there are battered old trunks and an old spindle. There are those muted, pendulous LED lights you get, swinging low over a continuous wooden trestle table down the centre of the small room. There is jazz oozing like sweet woodsmoke from a speaker next to our ear. Can we still talk? Yes we can.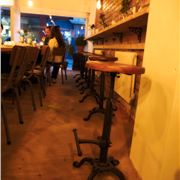 Liquid refreshment is being poured for fashionable types in their twenties by Dom Jones and Tom White, two parts of Maray's trinity of young owners. The other being James Bates.
"When did you open?"
"About seven hours ago," Dom replies, filling our wine glasses from a bottle of Jarrah Wood chardonnay (£15.90, the sauv blanc was £24.) kept on ice on his side.
"No. When did you open for business?"
"Tonight is our first proper night. It's a bit nerve-wracking to be honest."
There is plenty of meat in the building, but Maray has a selling point that at the moment is unique – to Merseyside at least.
It looks to the Parisian Marais district and to the ultimate kosher/middle eastern fast food that is falafel. These blitzed chickpea balls are to the jumped up 4th arrondissement what artisan brioche buns are to dude dives here.
"But why the spelling? Why not call yourselves Marais and be done with it?"
Arabic flatbreads and dips
"Everyone would think we were French," they say.
In the interests of our reconnoitre, it is decided to write absolutely nothing more about falafel. This review is a falafel fail. It'll keep.
We turn our attention, instead, to the rest of the menu, much of which is similarly Moorish.
Arabic flatbread and three dips (£3.50) is excellent value. Soft, light khoubz and pittas straight from the ovens of the Lebanese El Ammar bakery in Manchester. Everything else, from this point on, is made in-house, they say, in a visible kitchen chock full of chefs and activity. The green chilli sauce is as clean and as fresh as its oppo (an aubergine babaganoush) is velvet, charry mystery. And in the middle a dense, lemony, well judged hummus, balancing light and dark.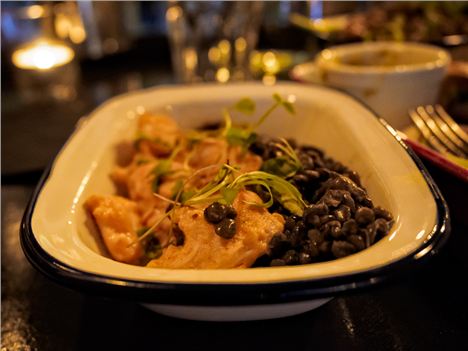 Chicken and puy lentils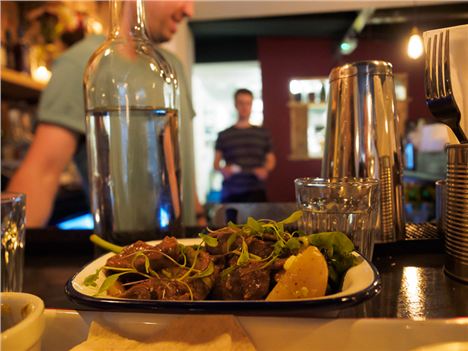 Lamb
Poached, luscious chunks of marinated chicken (£5,50) are as pleasing as the generous pillow of of silky puy lentils they rest on. Lamb, slow cooked, results in tender slices and would be even better if they got hold of some mutton. Just an idea. Here it comes in a verdant lacing of young spinach and underneath, buried treasure, a surprise layer of turmeric potatoes (£5.90).
We will forgive the fact that all this food is served in those sodding ubiquitous enamel mess tins because someone has taken a lot of care devising this menu - and care in its execution - and they have taken a little bit of risk.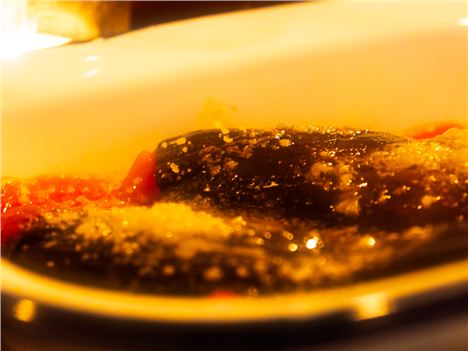 Aubergine and parmesan
Thus, they aren't afraid to chuck huge halves of baked aubergine, stuffed with parmesan, over a crimson heap of intense tomato risotto (£5.10). The result is like a big, fat, unexpected kiss.
The vegetarians are going to be all over this place like grateful spaniels and a delicious roast veg couscous with plenty of solid wedges of chargrilled halloumi (£4.70) will keep them coming back for more.
There was textbook, flour-dusted calamari, too (£5.20), with an A-star creamy mayo, though you may not feel the need to fall back on squid rings when there are so many other little adventures to pick and choose.
Such as a cocktail or two. There are 10 in all, devised in-house and mixed with a flourish for plenty of takers. "Rum Come Save Me": gold rum, spiced rum, lime, passion fruit and Campari, topped up with Ting (and it don't mean a thing if it ain't got that Ting) was served in an embarrasingly generous glass. No sneaky displacing of the booze with Titanic quantities of ice either. A clever, refreshing way to present rum and at £6.50 a go, the only thing coming to save you at closing time might be a paramedic.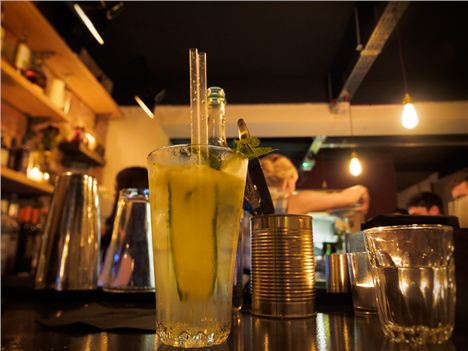 Aloe Vera Gin Fizz
Other concoctions include a Maray Whiskey Sour with marmalade in the mix (£6) and Agent Cooper (£7) – vodka, Patron XO, Frangelico, espresso coffee and chocolate bitters. Crikey, who needs pudding?
An Aloe Vera Gin Fizz (£6) is the perfect way to drench a warm summer evening – a treat in store for Bold Street's bearded hipsters – and that's just the women.
One senses the staff will be be pouring themselves a stiff one when the shutters come down - saluting the first day of this hip, hip Maray.
The business has been open for about 10 hours by the time we leave. Maybe it's the vibe, maybe it's the verve, but there is something... something about Maray that convinces us it has been here for 10 years. We just haven't noticed it before.
---
Angie Sammons, twitter @twangeee


All scored Confidential reviews are paid for by the company, never the restaurant or a PR company, and critics dine unannounced.


Maray,
91 Bold Street,
Liverpool, L1. Tel: 0151 709 5820 Twitter @marayLiverpool
---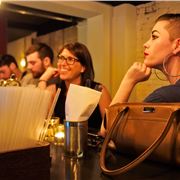 Rating: 17/20
Food: 8/10
Service: 4/5
Ambience: 5/5


Venues are rated against the best examples of their kind: fine dining against the best fine dining, bars against other bars etc.
Following on from this the scores represent:
1-5: Straight in the dog bowl
6-9: Get to the chippy
10-11: In an emergency
12-13: If you happen to be passing
14-15: Worth a trip out
16-17: Very good to exceptional
18-20: As good as it gets