HE'S painted scenery for blockbusters during a spell in Hollywood film studios and worked on decorative pillars at the Trafford Centre.
And this week an exhibition in Liverpool opens to show off the thought-provoking art of Liverpool-born Carl Fletcher.
Carl's exhibition, The Gappalioness Monkey Project, opened last night at the View Two Gallery, Mathew Street, and continues until the end of the month.
Carl Fletcher's work has been described as 'powerful pop art', a description he is happy to embrace.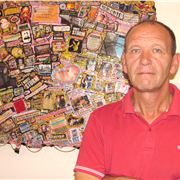 CarlThe new exhibition consists of a series of works inspired by the current situation of the world.
His artistic flair was spotted by Mr Roberts, his art master at Alsop Comp in Walton. When he went home and told his late father the teacher had suggested him going to art college, there was one of those 'Billy Elliott moments'.
 "My dad just said he didn't want to see a son of his painting pictures outside Walton Church wearing a velvet cap and a smock. Apart from that he wanted me to work in the family haulage business," said Carl.
He never did get to join the haulage firm. He never did go to art college, and instead worked in and around the fringes of art, perfecting his art as he went along.
"I spent some time on the west coast of America and worked painting scenery at some of the big studios. I'm a people watcher and an observer of life and the thing that struck me about America was the disparity between the wealthy and the poor. Such contrasts in what was supposed to be a land of opportunity.
"A lot of my work is drawn from political and social issues of the day, things none of us can escape. It's a study of human nature."
Carl uses every day objects in his work which are transformed into statements on the current state of affairs.
The exhibition includes a collection from his centerpiece – The Gappalioness  - to his own take on flashcracks – the colourful impacts when algorithms go haywire.
Carl explained: "The title is inspired by the Galapagos Islands and the work there of Charles Darwin, as well as the contribution his visit made to his work on the theory of evolution."
*The Gappalioness Monkey Project, View Two Gallery, 23 Mathew Street, L2, until September 28.