IN 1975, as a callow 17 year old, I found myself in rather inebriated conversation with Pete Postlethwaite telling me "Stanley was here earlier".
I was sorry I missed him. I only met Stanley Reynolds, who passed away on the 27th November, through words.
It was at O'Halligan's in Mathew Street – I'm not sure if it had become the Liverpool School of Language, Music, Dream and Pun yet – and I'd just seen Pete in Desolation Angel, an Everyman production of Stanley's play about Jack Kerouac.
'Liverpool is no longer a proper city,' he wrote in 1984. 'It is a museum. The Museum of Horrifying Example'
It had been fairly shambolic to be honest – an under-rehearsed performance of scenes from Kerouac's novels – but I was in the middle of my Kerouac and all-things-beat obsession, so I'd gone out of curiosity, because the fact that Stanley had written it was just as intriguing.
Stanley had entranced and delighted me with his columns that used to appear on Saturdays in The Guardian. It's hard to give a flavour of them now, they don't seem to have been preserved online anywhere. Kerouac featured regularly, which was probably the initial attraction – and Stanley himself was an exotic American transplanted to Menlove Avenue, originally from Massachusetts.
But there were also, if my memory is correct, fanciful, whimsical, fantastical pieces which featured, by turns, Dostoyevsky and a cricket groundsman called Cedric. They often gave him a whole page to indulge in this sort of stuff.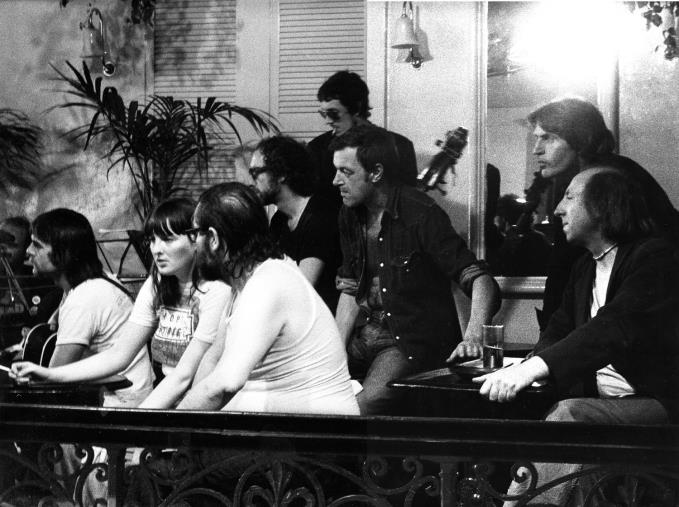 Beat generation: Stan is flanked by the three members of The Scaffold - Roger McGough, Mike McCartney and John Gorman - with Andy Roberts, current Poet Laureate Carol Ann Duffy and Adrian Henri to the front in Kirklands, 1977. At the back with the ciggie, Bernie Carroll. Picture by Lesley Kazan-Pinfield
In my corner of suburban Liverpool it was like a call from another world, more colourful, more vibrant and more alive than what surrounded me, a hint that somewhere in those rarely visited and mostly unknown streets out of town past the University there was still some sort of Liverpool scene, bohemian and arty, un-provincial and apologetic to nobody.
Stanley (then married to Gilian Reynolds, the Telegraph radio critic) was very much a jobbing journalist as well, with regular book and theatre reviews.
At school we were doing O'Casey's plays for A level, and the cutting I kept of his crit of the Everyman production of Juno and the Paycock was more evocative than any of the probably rather dull essays I managed. To be honest he did have the wonderful Antony Sher to write about though.
Stanley on a deadline in Mossley Hill where he lived with his then wife, journalist Gillian Reynolds, and their three sons, Ambrose, Alexander and Abel
He also wrote a column for the Liverpool Daily Post – occasional pieces on whatever took his fancy, rambling stories of the sort you might hear (and he probably told) in the pub, but neatly crafted, with splendid little touches such as dropping in words like "satori" in an article about a shop changing hands. (Well Kerouac had had a "Satori in Paris" when he discovered his French roots, so why not one on Lord Street?)
And while everything he did was infused with a knowing literariness in which his wide and deep reading of the great Americans and Russians and Irish was often the measure and the context, he wasn't afraid to get stuck in.
"To research an article on attitudes to homosexuality," tweeted Liverpool-born novelist Linda Grant, "he bought a Glad to Be Gay badge and embarked on a pub crawl on Liverpool dock road."
RIP that great rabble rouser Stanley Reynolds, a journalist of the hard-drinking school.

— Linda Grant (@lindasgrant) November 29, 2016
@lindasgrant Me and Abel liked the time Dad chased Knopov with a broken milk bottle and Knopov screamed, "No Stan, no, not the face!"

— alexander reynolds (@alexperdurabo) November 29, 2016
It hasn't been recorded how his badge went down on the Dock Road, but his son Alexander recalls that Stanley ended up getting into a fight at Streets bar, in Maryland Street, for his pains.
One of his other sons, Ambrose (he of St Luke's, the bombed out church), was in a duo with Ian Broudie, later of Big in Japan and the Lightning Seeds, and I remember another of Stanley's columns leading me again to O'Halligan's to see them perform. So he also had a minor input into the growing punk scene that was later to evolve around Eric's.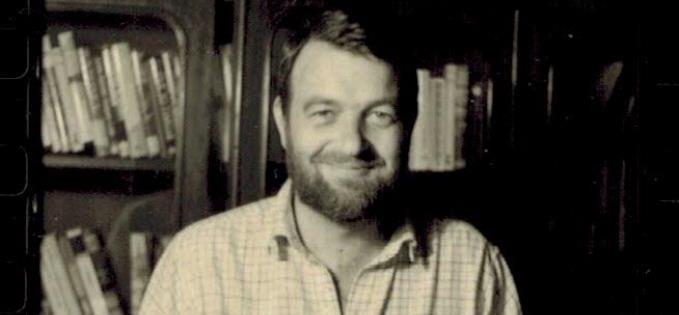 But he was to leave Liverpool a few years later, returning for one final Guardian piece on the city in 1984, which aroused some notoriety at the time.
"Liverpool is no longer a proper city," he wrote. "It is a museum. The Museum of Horrifying Example."
In a lengthy semi-rant, by turns despairing and angry about the city he had clearly come to love, a paean to its former glories and a lament for the state it had fallen into in the early eighties, Stanley was on top form. While he may have been guilty to some extent of starting the 'whingeing scouser' motif, which was later to become a journalistic staple, his genuine affection for the place was just beneath the surface as he riffed on various themes: ungrateful scorn for Heseltine's Garden Festival as a post-riots sop, dole kids taking all day to dress up for a night out, the drink and the drugs.
Stanley in 2009
In later years he moved to Somerset, edited the humorous magazine Punch for a while, married again and focused on writing murder mystery novels.
Failing health did not stop his output and he took to the digital age while at the same time wryly lamenting it: "I supported three sons and several bartenders writing this sort of stuff. I now give away free in these blogs."
Stanley wasn't simply a Liverpool figure. But like many other non-natives – Roger Eagle, Fritz Spiegl – he made the place his home for a while, made an impact, made it feel like a special place to be.
As he wrote in the final paragraph of his "Horrifying Example" article, despite all the shortcomings he had identified, Liverpool was really "this beautiful city with the sandstone of the cathedral and the buildings all around changing colours as the sky turned a hungry sort of pink over the river...a sight to see and to put under glass in any museum."
Stanley Ambrose Harrington Reynolds, November 27th 1934 - November 28th 2016.