IT is Liverpool's best kept secret: a pub where the booze is FREE - and, unsurprisingly, the small handful of people who know about it are saying nothing.
But it's about to be scooped - throwing open its doors for the first time to everyone - giving people the chance to see for themselves the most unusual bar in Britain.
Situated in Bedford Street South, this looks like any pub in any town or city, but there is one big difference: this pub is a university research laboratory, and was the first of its kind in Britain.
It has a fully-stocked bar, with beers, wines and spirits as well as snacks such as pork scratchings and nuts, and punters never have to reach into their pockets. But they are being monitored.
The pub is used to carry out crucial research work in a real-setting by academics and students from the University of Liverpool's Department of Psychological Sciences. The department also runs the UK Centre for Tobacco and Alcohol Studies.
The Pub Lab, in the Eleanor Rathbone Building will finally become a public house, in every sense, during the Medical Research Council's first annual Festival of Medical Research taking place here from June 18 to 26.
The Pub Lab, is an official laboratory, equipped to give the appearance of a 'pub', to help increase the ecological validity of experimental research. It is used for experimental studies funded by Economic and Social Research Council (ESRC), Medical Research Council (MRC), the Wellcome Trust, and Alcohol Research UK.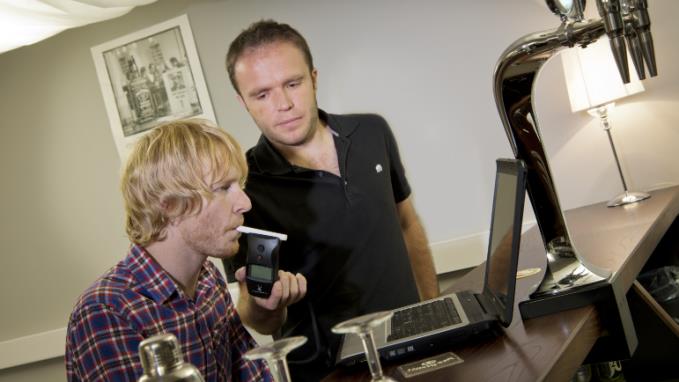 Just blow into this, Sir
The lab is used for research investigating contextual influences on drinking behaviour, and the acute effects of alcohol on cognitive processes such as the automatic processing of drug-related cues, behavioral control and impulsivity.
Arguably they could just have found themselves a table in Ye Cracke or the Blob Shop and got out their notepads, but department head, Prof. Matt Field, who also leads the addiction research group at the university, approaches it with more clinical eye.
"We opened the Pub Lab a few years ago, after one of our senior lecturers Dr Abbi Rose, suggested a life-like pub setting for our research work," he said.
"We use it to carry out serious research studies. This will be the first time we have allowed the public in to view what must be the most unusual pub in Liverpool.
"We do a whole range of tests and experiments, such as measuring alcoholic intake under different circumstances. One example would be whether people tend to want more alcohol if they eat bar snacks. We did one experiment which measured whether typical anti-drink posters on the walls around the bar influenced whether people drank as much."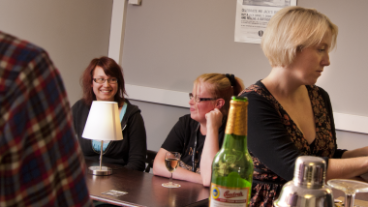 A bar like any other. Not.
For safety reasons customers are not allowed to consume large quantities of alcohol during their visits to their 'local'.
Prof Field added: "Until now the only members of the public to come in are people helping us with our research. We do serve real alcoholic drinks to them and typical bar snacks, and we are able to take various measurements and reactions in what is a real-life setting.
"And yes, the beer is always on the house. We don't charge our 'customers' for their drinks. In fact we are grateful to our volunteers who help in vital research work."
But don't always expect to get tanked up for nothing in the interests of "research".
"One of the things we have learned to do is to create placebo drinks when we need to measure reactions from people given alcoholic and non-alcoholic drinks. We have been able to create a vodka tasting drink that doesn't contain any vodka, for instance.
Prof Field said: "The Pub Lab is well known around the university, but few outsiders have ever heard of its existence. We thought that as the MSC partly funds our work we should open the doors to the public as part of our Science Week events.
The bar is open for visitors on Monday and Tuesday of next week. Visitors have to be aged 12 or over. Tickets for the tour available from here.
Powered by Wakelet