IT'S the ultimate symbol of Liverpool and now it's being put up for sale for the very first time.
The Grade I-listed Royal Liver Building - complete with two giant clocks, a couple of birds and an asking price of £40 million - has been the "family seat" of Royal London Mutual Insurance since it was built 105 years ago by its ancestors, The Royal Liver Friendly Society.
But it remains to be seen if the Liver Birds will remain in Liverpool hands. This is no municipal quid deal and the sale is expected to attract interest from around the globe, say estate agents CBRE, describing the move as an extremely rare opportunity to acquire a unique part of the city's heritage.
Designed by Walter Aubrey Thomas and built in 1911, the Royal Liver Building is arguably the most dominating of the Three Graces at the Pier Head.
At 330,000 square feet and standing almost 300 ft high, it was, in its moment, seen as the biggest and most striking office building in Great Britain, defying any architectural convention.
It was far too large for one insurance company - even one which by now had 900 staff around the country. So abundant lettable space was rented out from the start - the building also serving as an advertisement to a worldwide public.
However, it was not without its critics. Near neighbours the Mersey Docks and Harbour Board resented its attention grabbing design, hoping for something more in keeping with its own HQ, the Port of Liverpool Building.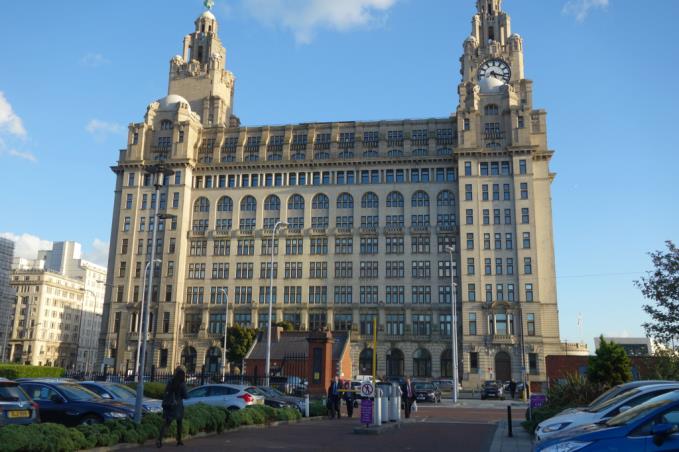 Today, the 10 storey high ferro-concrete and granite structure - with clock faces bigger than Big Ben's - is used contains events spaces and plenty of big name commercial occupiers including Princes Foods, ITV, HSBC, Mott MacDonald and Grant Thornton.
Colin Thomasson, executive director at CBRE, said: "The Royal Liver Building is known worldwide and we expect the sale to attract strong interest from investors in the UK and around the globe. Our clients have been great custodians of this building for over 100 years, and this sale presents an extremely rare opportunity to acquire a unique part of Liverpool's heritage."
The Liverpool Lyver Burial Society was founded by a group of working men - including the great, great grandfather of our very own Liverpool Confidential editor - on 24 July 1850 to "provide for the decent interment of deceased members".
By 1857, it had moved to its fourth head office and had expanded throughout the United Kingdom. By the end of the 1890s a decision was taken to build what would become the Royal Liver Building; it opened on 19 July 1911.