A SIDE project of the Liverpool International Music Festival, From Eric's to Evol was a short series of events to mark the 40th anniversary of the opening of Eric's, to celebrate the cultural explosion of 1976 and its effect on Liverpool culture to this day. The events were curated by Marc Jones, his brother, Jason, and Doreen Allen whose contribution to local music is incalculable.
Sunday night: the O2 Academy was dedicated to Liverpool music and it was fitting that Sugarmen should get things under way. They have been steadily building a reputation as Merseyside's best young band and as their support slots for The Who and Blur testify, they are now a formidable live act. The first song, Our Gallows builds slowly before detonating into glorious shades of fractured, angular sonic fragments. Chay Heaney's guitar carves out great swathes of chords sharp enough to cleave granite. Sold, It's Sold is a hugely impressive centrepiece to the set with its mid-song change of pace. By the time of the final song, This Is My Life And It's All Right, the few lucky people who had been there at for the start had become a sizeable crowd. The tardy souls will all want to be there on time for the next Sugarmen gig.
The Clang Group is Clive Langer's latest project and he was joined by Deaf School band-mates Gregg Braden on drums and Dieter Scharft (aka Rev Max Ripple) on keyboard, with Cath Roberts on a baritone sax, which almost dwarfed her, and the extraordinary Paul Tadman on bass.
Oddly, Dieter seems even more eccentric when he steps out of his Deaf School persona, like Alan Bennett's weirder brother.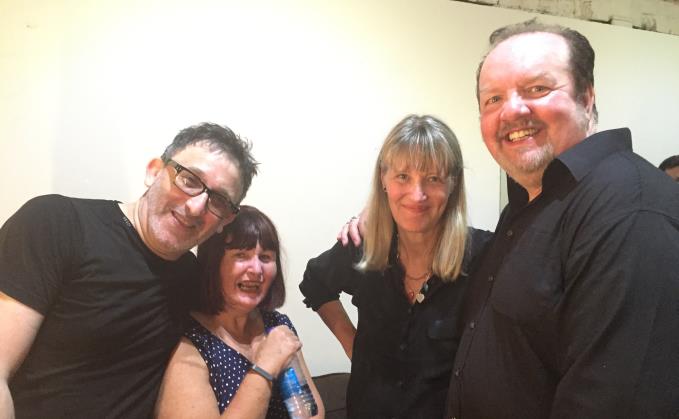 Ian Broudie and Pete Wylie geg in on our snap of Doreen Allen and her mate, Hilary Steele. Pic: Angie Sammons
Langer was previewing songs from his new album, Practice, due out in September. They are tuneful and literate, as you would expect from the co-composer of Shipbuilding, included here, as chilling and relevant as ever in the wake of the decision to renew Trident. There were welcome outings for older songs such as Splash (A Tear Goes Rolling Down) and The Whole World.
Ok, so Pete Wylie is not everybody's cup of Earl Grey, and every gig can seem like a comeback, but there is no doubting he engenders a sense of occasion and is the perfect man for a night such as this.
The photographers pit suddenly became a feeding frenzy His between-songs banter was severely sub-edited to fit in more songs and it was a set full of trademark Wylie anthems beginning with Come Back, before striking up the familiar chords of Better Scream, Wah! Heat's debut and still the song that best sums up the Wylie ethos: "Better choose which side you're on".
Sinful is preceded by a poignant snatch of Johnny Thunders' You Can't Put Your Arms Around A Memory. There was just one newer song here, Free Fallin' is from the eternally forthcoming Pete Sounds and is dedicated to his wife, Kate.
Wylie's daughter Mersey, a talented singer-songwriter, joins the band for Heart As Big As Liverpool, the ultimate Wah! anthem, the Hillsborough families campaigners receive a heartfelt tribute. Story Of The Blues closes the set and an ecstatic reception ensues. It's a triumph, the old bugger's gone and done it again.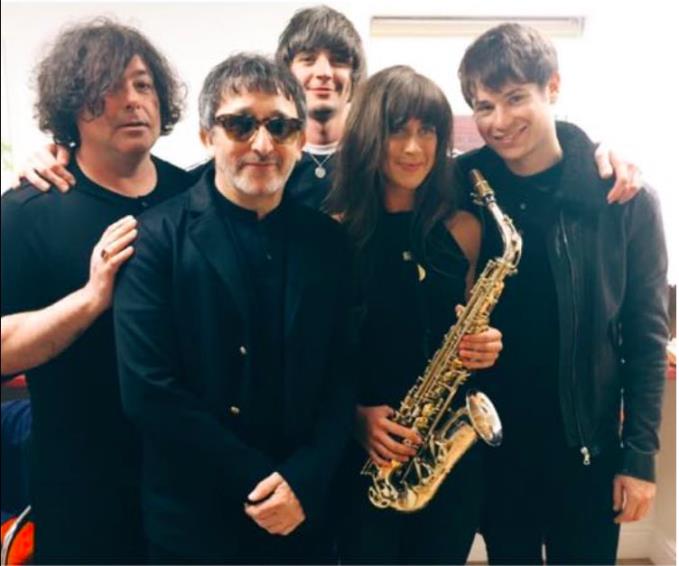 Familiar faces in The Lightning Seeds line-up beckstage at the O2 Academy

Ian Broudie has been a ubiquitous musical presence in Liverpool since the early days of Big In Japan. Add to that The Original Mirrors, Bette Bright and the Illuminations, Care and the rarely mentioned Godot, it adds up to a formidable career, even without his multifarious production credits as Kingbird. However, he has remained modest and unassuming thorough it all.
The Lightning Seeds are the perfect act to round off the evening. As ever, Broudie is joined by faithful bass-playing sidekick Martyn Campbell, also part of the band is The Zutons' Abi Harding on saxophone and keyboards. Broudie's son Riley plays guitar (Playing The Life Of Riley must seem quite surreal to him).
It barely seems possible that it is now 27 years since the release of the debut single Pure, during that time The Lightning Seeds have amassed an impressive back catalogue. They open with All I Want and Lucky You and immediately, the crowd are bouncing and singing along. Then there is a touching cover of You Showed Me, written by Roger McGuinn and Gene Clark of The Byrds, and a 1968 hit for The Turtles'. It is a cascade of gleeful hits right up to the set closing Sugar Coated Iceberg. After an encore of Ready Or Not and Pure, the house lights went up on hundreds of smiling faces.
Pure joy wins out again.
9/10
Powered by Wakelet