THE desire to be different is written all over its fascia.
A sign over an inconspicuous doorway announces "Neon Jamon" – two words you don't expect to see hanging out together. Anymore than, say, "chairs tennis". Or, for that matter, "caring Tories".
Why Neon Jamon? I had no idea and this worried me. Was I displaying ignorance and a profound lack of sophistication? Again?
The bream, simply floured and seared, then finished in the oven, proved a masterclass in preparing fish – the skin crunching, the just-cooked flesh soft, succulent and shining – and we tore at it greedily with forks
I google it and, other than a diminutive tapas place on a familiar bend in Penny Lane (next door to the well-regarded Spire restaurant), there is nothing. Nada.
So I enquire of the owner and discover that Neon Jamon is neither an obscure porcine delicacy, nor some kind of new angle on search engine optimisation. Instead it's the result of his desire for a name that was "Spanish and foodie, but not boring".
It's different in other ways too. By being lively, and attractive, and not boring, by playing groovy music, by employing staff who know their stuff, and by turning out some very good food.
The look is smart casual with shades of dilapidated. There are the usual low hanging bulbs, but these are in their own little enclosures. One wall, lumps of grout missing, bits of plaster clinging on, has been roughly knocked back to the bare brick in that couldn't-quite-be-arsed way that interior designers demand fortunes for.
And there is the physical embodiment of their name – spelled out in neon, hanging with the hams, in a giant, gracefully corroding metal cage.
From noon till 5pm, Monday to Friday, you can get any two tapas for £8, which is great value if the food is any good, which it is, so no wonder they were doing a roaring trade at one o'clock on a Thursday lunchtime.

Like the hams, the staff hang loose, and their easy-going approach was infectious - apart from one hiatus when we waited so long between courses that we had pretty much decided to give up and go.
Male diners are addressed as "man" and "fella", the latter a form that requires to be delivered with a certain charm if you want the punters to hand over their money without feeling mildly irritated. Let's just say it sounded better coming from some than others.
Honorifics aside, they are a pleasant, helpful lot. Informative too. And exuding a confidence that comes from knowing the kitchen will, largely speaking, deliver on its promises.
The food actually wasn't so great to begin with (but stick with me): decent enough sourdough bread and olive oil (£2.50), black and Manila olives in lemon oil (£3.55), no better than the supermarket shelf could provide (a good bowlful, but I would have preferred fewer, better specimens), and a disappointingly bland tomato, chilli and mint salad (£4.95).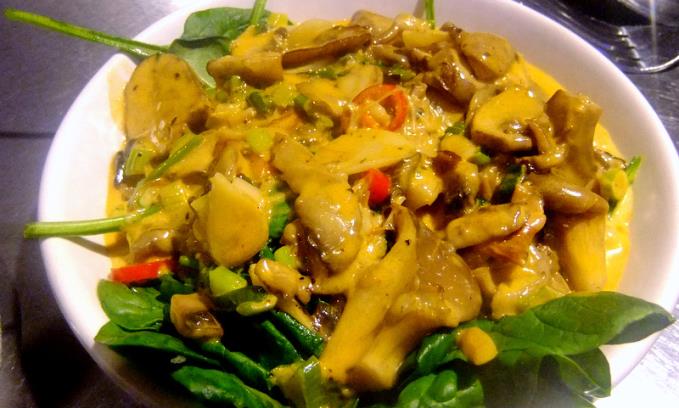 Mushrooms with spinach instead of sourdough
Venison and pork white sausage was nothing to write home about, and came with picos de aceite (mini breadsticks) heaped on the side, which I'm assuming were out of a packet. Other than a space-filler for the stomach, they had nothing to contribute. They should make their own or not bother.
Then it got better. Much, much better, starting with a expertly balanced dish of sauteed wild mushrooms, garlic and herb cream and paprika (£5.55). Normally, it comes with toasted sourdough, but we didn't want more bread so, at their suggestion, had it on a bed of spinach leaves. It worked a treat.
A pile of tiny padron peppers (£4.95) were seriously moreish, their charry sweetness sharpened with a pile of sea salt.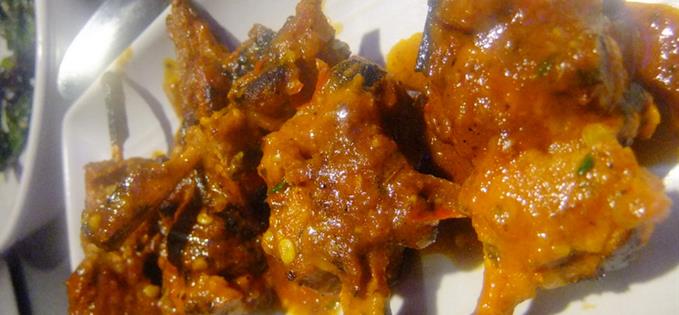 Pork pintos with a Romesco sauce dark and hot, like a summer night in Tarragona
Off the specials menu, bite-size chunks of chicken thigh, chosen for its flavour and texture, threaded on to skewers, and served with a sweet and spicy pepper sauce. And more skewers, this time chargrilled pork pinxtos (£5.95), tender flesh from the shoulder, marinated in paprika and served with a Romesco sauce that was dark and hot, like a summer night in Tarragona, with the chilli seeds left in for added excitement.
As the sauce smouldered around our palates, Light My Fire by The Doors started up on the music system, and I really hoped they'd planned it that way.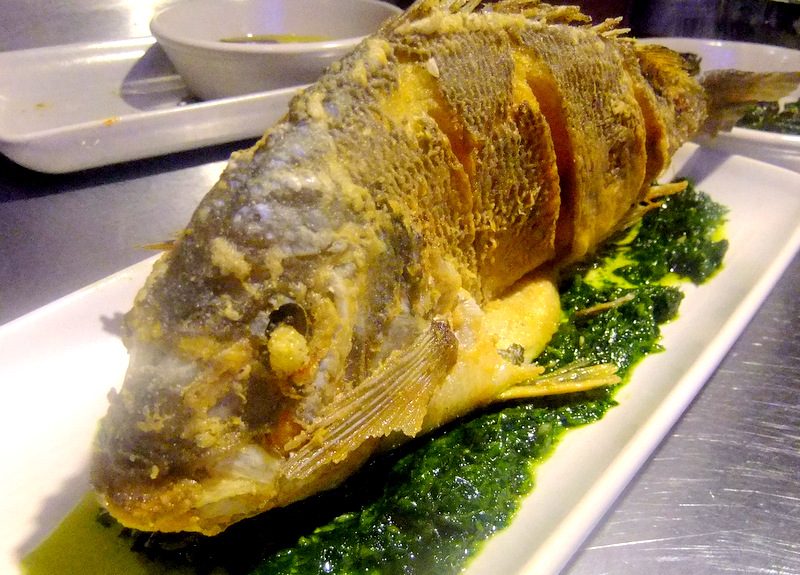 Bream with joy
Whole gilt head bream (£7.55) was presented upright, as if in motion, amidst a pool of Canarian mojo sauce: lemon, parsley and garlic blitzed to a loose, sea-green salsa – a fittingly dramatic entrance for the star turn.
The bream, simply floured and seared, then finished in the oven, proved a masterclass in preparing fish – the skin crunching and greaseless, the just-cooked flesh soft, succulent and shining – and we tore at it greedily with forks.
I don't see it on the menu now, perhaps because people don't fancy it, not being your common or garden tapas offering. I implore you, go in, demand they give it to you, it's too good to lose.
A friend of Confidential says that for this food, he would "walk 200 miles". And I would walk 500 more.
________________________________________________________________________________________________
Neon Jamon, 12 Smithdown Place, Liverpool, L15 9EH. 0151 734 3840. Website
Rating: 17/20
Food: 8/10 (despite those bloody breadsticks)
Ambience: 5/5
Service 4/5
All scored Confidential reviews are paid for by the company, never the restaurant or a PR outfit. Critics dine unannounced.
Venues are rated against the best examples of their kind: takeaways
against the best takeaways, fine dining against the best fine dining, etc.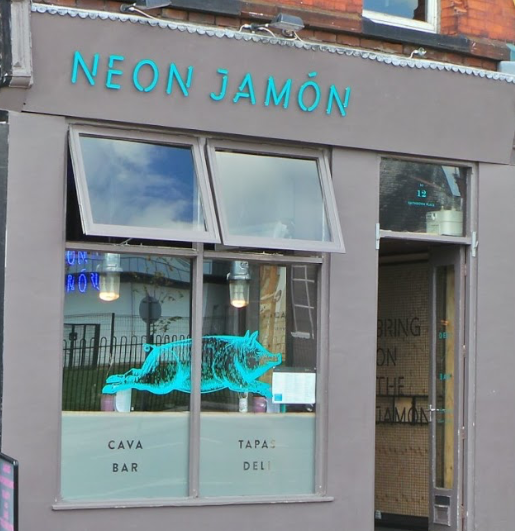 Following on from this the scores represent:
1-5: Straight into the dog bowl
6-9: Raid the freezer
10-11: In an emergency
12-13: If you happen to be passing
14-15: Worth a trip out
16-17: Very good to exceptional
18-20: As good as it gets