"Could you finish it?"
"Nobody ever has," says Simon Whitter. "Somebody almost did it, once, but that was before we ramped it up to four hash browns and four black puddings. And even then they left the toast."
The Full House is the name of a beast with a boast: a gargantuan breakfast, very possibly Liverpool's biggest.
Where?
You will find it in The Courtroom, one of Liverpool's more unusual cafes. It's the house-mate of Liverpool's most unusual moviedrome, the Small Cinema, which makes up for scant funding and a miniscule auditorium with a wealth of big ideas.
In a former life, this was Liverpool Magistrates Court. But following a familiar story of abandonment, the substantial Victoria Street landmark was found. Three years ago Crown Buildings became an enclave for people who create things: now its corridors bear witness to sculptors, poets, photographers, tattooists, dressmakers, crafters and grafters.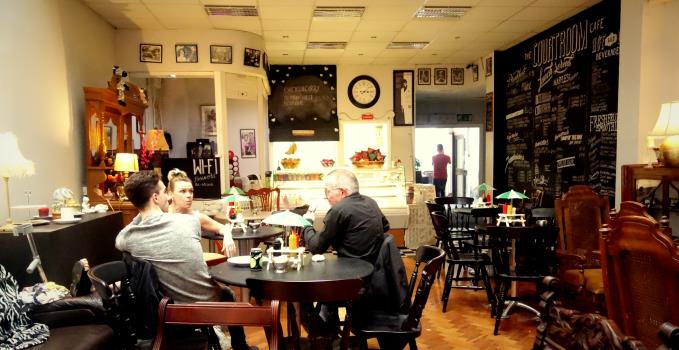 Food with bells on
They will obviously all need feeding, not to mention entertaining, and The Courtroom provides. You may find well known singer Alicia Rose strumming her guitar, behind the counter, in between serving coffee and cakes. It's cafe food for all with tinkly bells on. Like an outpost of Hebden Bridge - but with pork products.
All fours
The Full House breakfast comprises four of everything: so along with the four hash browns and black pudding rings, expect four bacon rashers, four fat sausages, four fried eggs, four tomatoes, four helpings of baked beans, four huge slabs of toast and four handfuls of mushrooms. There is also unlimited tea in a sturdy pot with four bags. It will cost you £11.95.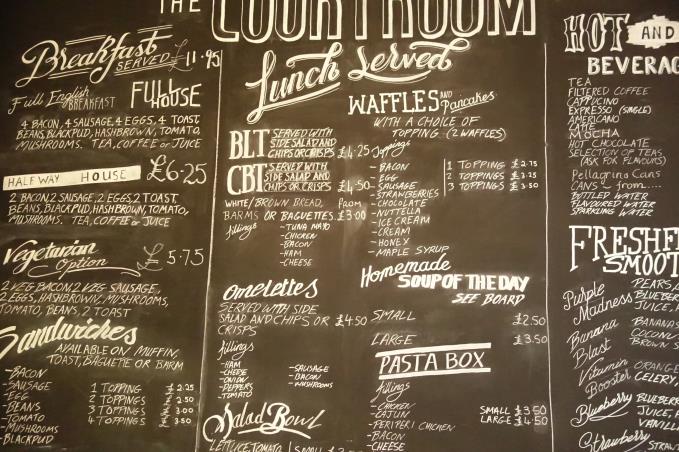 Taking the Mickey
Such a formidable challenge on the digestive tract takes time to construct and in the 20 minutes The Full House takes to arrive - on a groaning board - there is plenty to pique the interest.
Tables and chairs are mismatched from house clearances. There are shelves of board games, fairy lights adorn Welsh dressers and artists frequently exhibit.
However all eyes return, time and again, to the Courtroom's piece de resistance: an entire leather sofa crammed with Disney Mickeys and Minnies.
Are they meant to be some sort of cuddly jury? 12 Angry Mice perhaps?. Alternatively, are they the accused? After all, there are only nine of them and they are all grinning broadly at a massive polar bear. The judge? Who knows. The jury is out.


Mickey Mouse jury
Sing for your supper
The Courtroom is more than a place to eat. Open until late in the evening with a licensed bar, activities include open mic nights, poetry and storytelling. There is even a psychic night coming up: "Dead Live".
By day, an expansive glass ceiling beams in natural light from the well of this barrack down onto a bowed and beaten oak parquet floor that could spill a few beans of its own.
Curry along
The one night everyone looks forward to is Tuesday's "Curry-oke". You turn, up, you sing, and if your vocals are any good you earn a vindaloo.
"In truth, everyone gets a free curry," says Simon who hit the headlines last Christmas Day when he cooked breakfast at the Courtroom for 120 homeless all-comers. The dad-of-three lived on the streets himself for many years. Now he is bringing home the bacon by helping out in a cafe with community at its heart.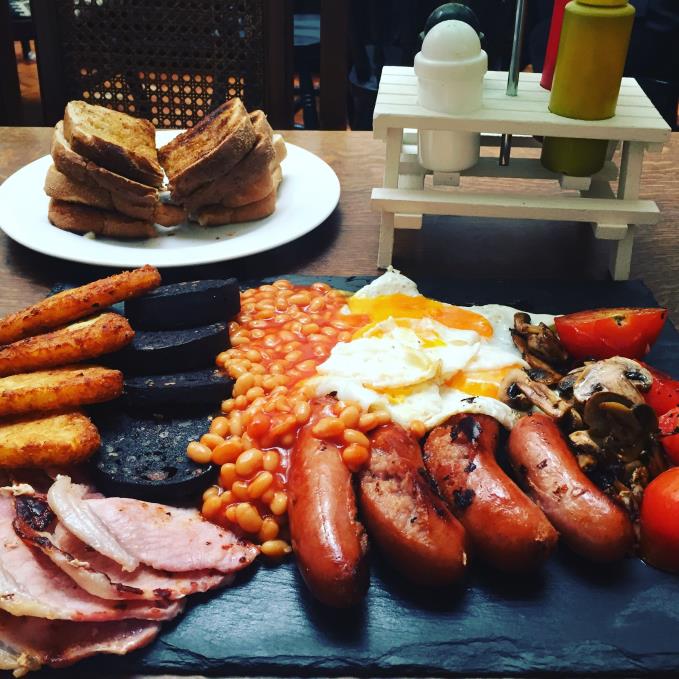 Here it is again
Bootle breakfast
Mostly sourced from the old established Lockwood's butchers in Bootle, the many meat components in The Full House are never going to win any awards from Hugh Fearnley Whittingstall. Nor are the eggs free range. But let's face it, any individual sincerely interested in downing a meal this size has already left their conscience on the Northern Line.
It delivered, it was cooked with care and attention. Neverthless a dish with beans has no place on a slate and by the time The Full House arrived, the rashers were beginning to lose their sizzle.
Need assistance? Phone a friend
A 12-year-old helper was enlisted, but his alpha swagger noticeably slowed 10 minutes after tucking in.
"You get a free cake if you polish it off," Simon offered, very unhelpfully.
"I feel like I've been shot," came the muttered reply.
Welcome to the world of food reviewing, sonny.
Verdict
A man v food challenge made for Instagram posts, stag dos and redeemed Linda McDermott guests.
Did we manage it?
Sadly not guilty, your honour.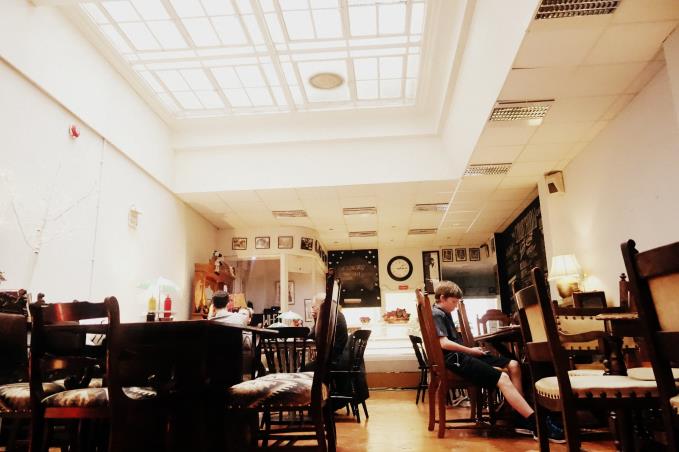 All scored Confidential reviews are paid for by the company, never the restaurant or a PR outfit. Critics dine unannounced and their opinions are completely independent of any commercial relationships.
The Court Room Cafe, Crown Buildings 57-59 Victoria Street, Liverpool. Tel: 07751 741131

Overall score: 14/20
Breakfast: 6/10
Ambience: 4/5
Service: 4/5
Venues are rated against the best examples of their kind: gastropubs against the best gastropubs, takeaways against the best takeaways, etc. On this basis, the scores represent...1-5: Straight into the dog's bowl; 6-9: Netflix and chill; 10-11: In an emergency; 12-13: If you happen to be passing; 14-15: Worth a trip out; 16-17: Very good to exceptional; 18-20: As good as it gets.
Powered by Wakelet