LIVERPOOL is to become home to Britain's own "Ellis Island", with an ambitious project to create a National Migration Museum here in the city.
Revealed by the government today, the centre will tell the story of the leaving of Liverpool by nine million people across Britain, Europe and beyond in the 19th and 20th centuries as they sailed to the New World.
It will also chart the history of the thousands more who came from China, Ireland, and more - and stayed.
The ambitious plan was unveiled as part of a package to create an elected metro mayor, putting arts and culture at the heart of Liverpool's devolution deal. It was described by the city's culture boss as "transformational".
The package will also mean massive changes for National Museums Liverpool, the national body running museums and galleries across Liverpool.
The city region's cultural assets – ranging from the Walker Art Gallery to the Lady Lever Gallery and the Museum of Liverpool – will return to local control for the first time in 30 years. NML, which has seen its public funding decimated by austerity measures, will now have to come up with a "sustainable and viable business model" by the end of the financial year. Quite what that will mean in practice is yet to be seen.
Today's
announcement
takes Liverpool
to a different
level and will be
transformational
- Claire
McColgan,
culture chief
Nevertheless, the measures were welcomed by Liverpool's director of culture, Claire McColgan, one of the key figures behind Liverpool's year in 2008 as European Capital of Culture.
Speaking to Liverpool Confidential, she said: "It is brilliant that Liverpool City Region is the only area of the country to have culture at the heart of its devolution deal.
"The future for our culture, and our museums and galleries is bright. It is a nationally recognised collection and we will not lose the title of 'national' under this deal.
"We have shown in Liverpool how we recognise the importance of culture, with our events, our growing tourism and things like the cruise terminal.
"Today's announcement takes Liverpool to a different level and will be transformational.
"There has been talk for some time about a National Migration Museum, and it is great the Government recognises Liverpool as the natural home for such a museum. It needs to be in Liverpool, which was the gateway to the world for so many people, and links us with Ellis Island (the early 20th century immigration processing facility in New York).
"The story needs to be told of how important Liverpool has been in the lives of so many."
It has not yet been decided whether the museum will be housed in an existing museum or building, or will have its own standalone home, but a national venue is bound to have international appeal for the descendants of the millions who left the European shores for the US, Canada, Australia and New Zealand.
But with plans already in hand for celebrations in 2018 to mark 10 years of the 2008 legacy, it is possible there will be a bid to have it ready for opening around that time.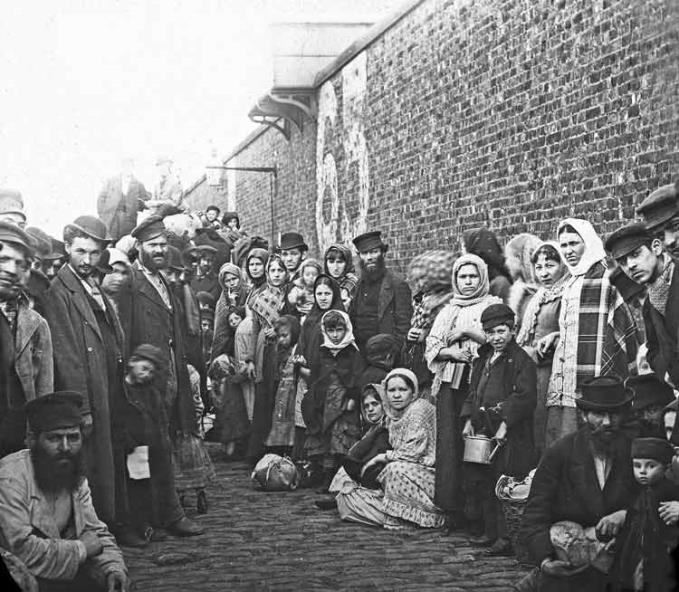 Nine million emigrants and refugees came from across Europe to Liverpool looking for a better life in the New World
No new money has been announced today and talks will take place about how Merseyside's cultural assets will be paid for in future years.
Ms McColgan said discussions will involve all parties currently running and funding the collections, from the Government to the National Lottery.
"We are proud of our cultural assets and we want to make sure they are looked after and preserved for future generations over the next 100 or 200 years," she said.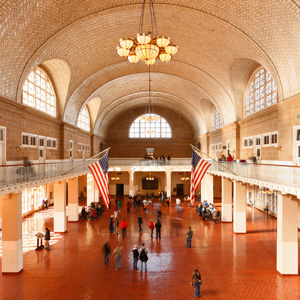 The great hall at Ellis Island: the first New World soil for
millions who last stood on dry land in Liverpool
In its document spelling out details of Liverpool's devo package, the Treasury says it recognises the city region's plans to place culture and creativity at the heart of its strategy to accelerate economic growth, improve skills and further develop its distinctive visitor offer.
"The Government will work with Liverpool City Region to support a place-based strategy and the city region's plans for a Local Cultural Partnership (LCP)," it says.
It adds the city region will engage with the Government to explore options around a "sustainable and viable business model for National Museums Liverpool" by the end of the current financial year.
"This will ensure that National Museums Liverpool continues to make a strong and sustainable contribution to the city region's cultural infrastructure and visitor economy offer. Any future National Museums Liverpool change of business model will remain subject to Ministerial approval.
"The Government notes that Liverpool city region will work to realise Liverpool's ambition to develop a National Migration Museum to reflect its international heritage and contemporary future."
The leaders of the six city region councils gathered at One Mann Island today to sign an historic deal with Communities Secretary Greg Clark that will pave the way for a directly elected metro mayor from 2017. The six councils – Liverpool, Wirral, Sefton, Knowsley, St Helens and Halton, will be holding special meetings later this week to agree to the devo-deal.