IF you are only here for the beer - then good news: Liverpool sells the cheapest beer in Britain, according to a worldwide annual league table of 75 cities published today.
The Beer Price Index 2015, from travel price comparison site GoEuro.co.uk, found that those living by or visiting the shores of the Mersey can sup almost twice as much as their counterparts on the banks of Thames, with the price of a scoop in London almost double that of Liverpool (£2.66 v £4.74 for a 33cl bottle).
Just 40 miles up the road, in Manchester, there is a world of difference. Neer prices in bars are the second MOST expensive in the UK, claims the survey. There, the party might not be as hard as the bashing on wallet: bar drinkers are expected to pay £4 for a scoop - a whopping 50 percent more than here, according to the table..
For readers in Warrington, right slap bang in the middle of both, choosing a city for a night out might have suddenly become a no-brainer in more ways than one. You'll have to get the last train home though. Outside London, accommodation in Liverpool is the most EXPENSIVE in the UK, according to GoEurope*.
Research for the 2015 Beer Price Index combines data from 75 cities around the world, including the five most commonly imported beers as well as the main local beer.
It took the mean price of beer bought in a supermarket in each city and combined it with the bar tab that drinkers can expect to pick up for the same 33cl bottle or draught equivalent. For an even picture across the board, GoEuro says it used price lists provided by bars in several worldwide hotel chains.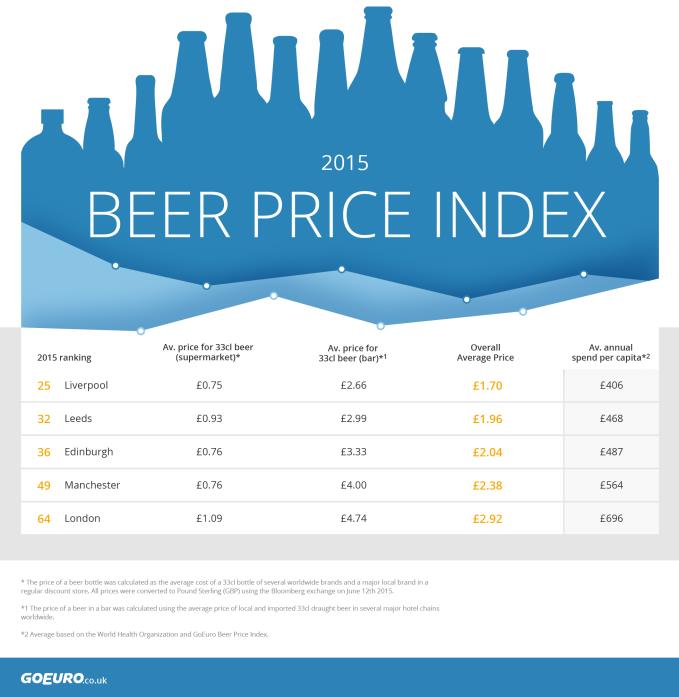 Liverpool's keen figures also beat that of Leeds and Edinburgh. Not only does Liverpool sell the best value bevvy of any major UK tourist destination but globally it ranks the 25th cheapest, the table shows.
Worldwide, the top three sweet spots are Krakow, in Poland, Kiev in the Ukraine and Bratislavia, the Slovakia capital.
Catering for millions of beer swilling holidaymakers, the sunny Spanish resort of Malaga comes in fourth and Delhi, the Indian capital, fifth cheapest
But ehere a tenner in Krakow will get you just over nine bottles of beer, it will only cover two and a bit in Geneva.
The Swiss city, along with Hong Kong, serve up the most expensive scoops, with a 33cl bottle taking you back £6.95 and £7 respectively.
Although prices of beer were almost double in London, it doesn't appear to have led to Liverpool drinkers doubling up at closing or any other time. Annual beer consumption per capita was the same in both London and Liverpool - 79 litres, according to figures provided by the World Health Organisation.
'It's all well and good finding a bargain holiday – but if you end up heading somewhere super costly once you are on the ground, then the savings will soon disappear – and the trip can sometimes even work out more expensive," it says here.
"Travellers remaining loyal to England when choosing a weekend away, will find their pound will go further in cities such as Liverpool, where the average beer is just under half the cost of what city-dwellers pay in London."
The Manchester figures aren't included in the graphic below. Confidential went back and asked them (see table above).
*According to Go Europe's figures, a stay at a 1-4 star hotel in Liverpool averages out at £82 a night, Manchester, £67, London, £91. So you choose. Then again it depends on where you least mind waking up with a headache.