AS romantic propositions go, "let me treat you to brunch in an abandoned building the wrong side of the Baltic Triangle" isn't a sentence set to make my husband's - or many other people's - hearts flutter.
But never let it be said that I don't know how to treat my loved ones, even if I do make them spend their Sunday afternoon wandering through something resembling an abandoned horror movie set instead of watching the Formula One.
A bacon fat and caraway seed bloody Mary isn't so much a cocktail as a vibrant smack around the chops - punchy and chunky with bacon bits and unremittingly savoury
Xiringuito (pronounced chi-rin-guito) isn't your average, run-of-the-mill brunch spot. The work of two young, exiled Liverpool schoolfriends, Conor Sheehan and chef Jackson Berg, it is named after the restaurants that pop up up on the beaches of Catalonia during the summer months. This is - almost literally - a moveable feast, designed to be packed up and carted around from location to location. After a few months in Margate, it has now taken up residence in a shed on the site of the former Cain's brewery.
A super cool pop-up serving "modern, seasonal dishes with a British influence" run by two people who have worked at some of the UK's best restaurants? On paper, it sounds like the kind of place other cities would give their left bum cheek for.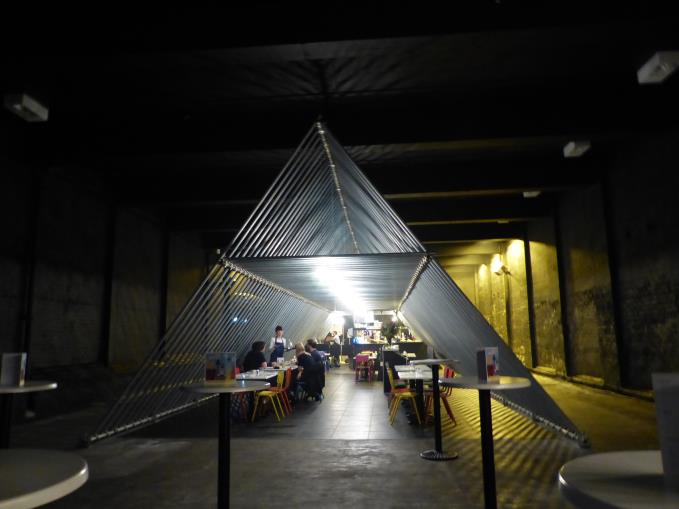 Designed by award-winning architect Asif Khan – who's won a Cannes Lion Grand Prix for Innovation (for the MegaFaces Pavillion at the Sochi 2014 Winter Olympics) and a D&AD Award (for his West Beach Café) - Xiringuito is singular, resembling a giant teepee made of scaffolding poles. The sensation is a bit like eating your brunch on the set of Tron. And, in keeping with Xiringuito's impressively innovative ethos, the food's pretty thought-provoking too.
A bacon fat and caraway seed bloody Mary (£8.00) isn't so much a cocktail as a vibrant smack around the chops - punchy and chunky with bacon bits and unremittingly savoury (which may be why it's featured on the brunch menu instead of the wine list). Bloody Marys have never really done it for me but I love this. My husband gamely tries it and pronounces it to be 'interesting' in a manner that conveys 'I never want to taste that again'.
We fare better with the wild loaf sourdough with brown crab butter (£3.00) which is some of best I've ever eaten in a restaurant; it works perfectly with the almost overwhelmingly rich flavour of the brown crab butter, which could perhaps have benefitted from a spike of lemon juice to level things out a bit.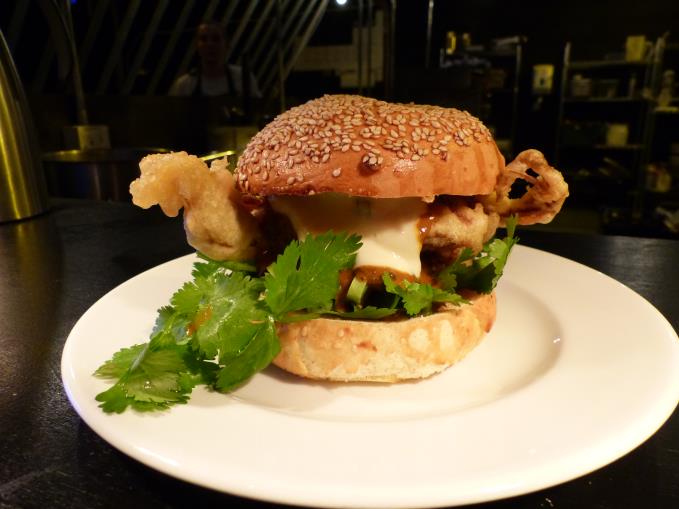 Soft shell crab burger with curry sauce
Our mains are equally divisive. My husband picks delicately at his soft shell crab burger (£14.50), as though not entirely sure what to do with it. Encompassing a battered and deep fried crab, smothered in a curry sauce and encased in a brioche bun, it's like a cross between a katsu curry and Spongebob Squarepants' infamous krabby patty. I keep surreptitiously sneaking bits of it off his plate as it looks - and tastes - utterly remarkable, a glorious cacophony of soft bun, sweet crunchy crustacean and spice.
Compared with this artful use of flavour, my truffled duck egg, nduja, anchovy and toast (£8.00) feels a bit heavy-handed. The nduja - a spicy Calabrian sausage - clashes with the salty umami smack of anchovy and you long for something sharp to provide a bit of balance. It's difficult to tell how this supposedly truffled egg differs to your bog standard boiled version as, in terms of taste and appearance, they're pretty much the same. I'd have liked the yolk to be a bit softer so I could dip my toast into it, but that's a personal preference.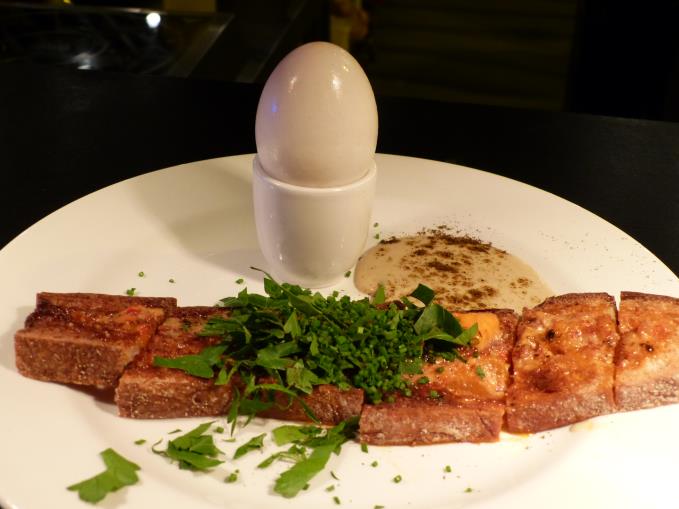 Truffled duck egg, nduja, anchovy and toast
At this point, Xiringuito is starting to feel like the restaurant equivalent of Marmite. While I'm wowed by the big, bold flavours they're unafraid of using, the only dish my husband has raved over was a portion of fries served with an unapologetically garlicky dollop of aioli on the side (£4.50). I'm hoping that some kind of consensus can be forged on the dessert menu.
Created by American chef Julia Howe, it is both sublime and ridiculous. Buckwheat cannoli with pear and bourbon spiced anglaise (£6.50) is the former. Spiked with cinnamon and nutmeg, it is creamy, crunchy and demolished almost instantly.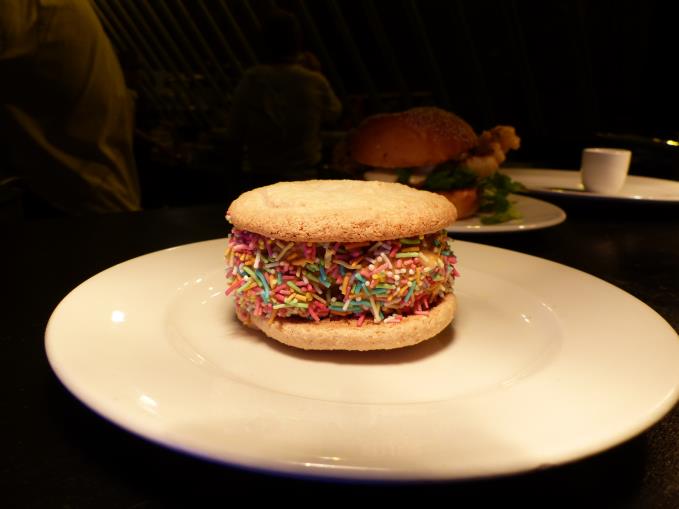 The ridiculous is represented by their dulce de leche ice cream sandwich (£6, above). It isn't so much an ice cream as a gigantic wodge of frozen caramel sandwiched between two sugar cookies and rolled in hundreds and thousands. It is alarmingly, obscenely good - on tasting it you immediately understand why the Uruguayan football team took 39kg of dulce de leche with them to the last World Cup.
Special mention should also go to Xiringuito's signature cocktail, the Baltic Blitz (£8.00) - a bright, zingy, gin-spiked concoction that goes some way towards reinvigorating your overloaded tastebuds.
Xiringuito is a restaurant for those of us who like their beef tartare'd, their eggs gooey and their avocado in ice cream form. It is not for the faint of appetite - or of wallet, given that brunch for two cost £68.
But if you're looking for a bit of adventure, have sturdy shoes and a hankering for some of the best desserts in Liverpool, you're in for a treat.
It's weird, it's wonderful and boy oh boy, I'm glad it's here.
All scored Confidential reviews are paid for by the company, never the restaurant or a PR outfit. Critics dine unannounced and their opinions are completely independent of any commercial relationships.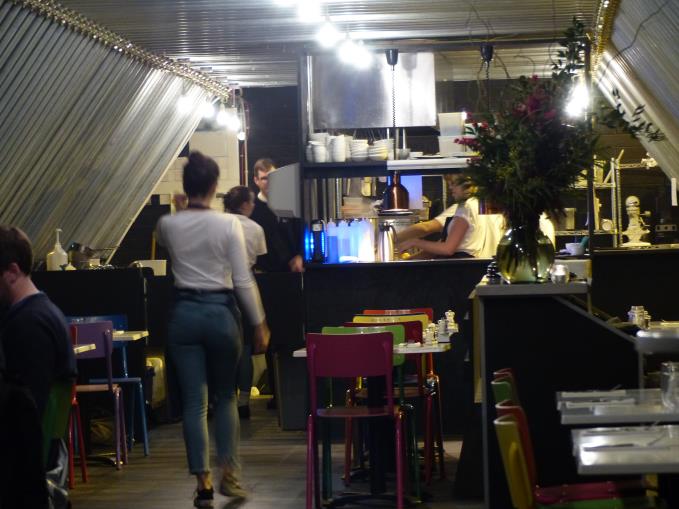 Xiringuito,


Mann St,




Liverpool L8 5SX




07767 074316

OVERALL SCORE: 15/20
Ambience: 4/5
Service: 4/5
Food: 7/10
(bloody mary: 6/10; sourdough, 7/10; crab burger: 7/10; truffled duck egg 7/10; fries with aioli: 9/10; buckwheat cannoli, 8/10; Dulce de leche: 9/10)
Venues are rated against the best examples of their kind: gastropubs against the best gastropubs, takeaways against the best takeaways, etc. On this basis, the scores represent...
1-5: Straight into the dog's bowl; 6-9: Netflix and chill; 10-11: In an emergency; 12-13: If you happen to be passing; 14-15: Worth a trip out; 16-17: Very good to exceptional; 18-20: As good as it gets