VEGETARIANS have wicked, shifty eyes and laugh in a cold, calculating manner. They pinch little children, steal stamps, drink water and grow beards.
And that's just the women.
Cutlet of Chelford black pork with lemon thyme, chanterelles, puy lentils and caramelised Braeburn apples was very nearly a fabulous vegetarian dish, except for a manly piece of pigginess in the middle.

Knowing Chef Patron of The Art School, Paul 'Porky' Askew, Gordo, had he been arsed to ask, would probably have found that Porky caters for the strange ones. They are, after all, still a revenue stream.
But you can be sure of one thing with Chef Askew; Porky knows how to treat a piece of meat. More of that later.
For those of you who aren't familiar with Porky, let Gordo explain. Here is a chef who sits bubbling under the Michelin starred stars of the North West, having been the gaffer at the Hope Street Hotel and The London Carriage Works in Liverpool. This place lost its way just before the recession hit. The shift of focus to rooms - which inevitably means the dumbing down of food - didn't fit with Porky's ambitions.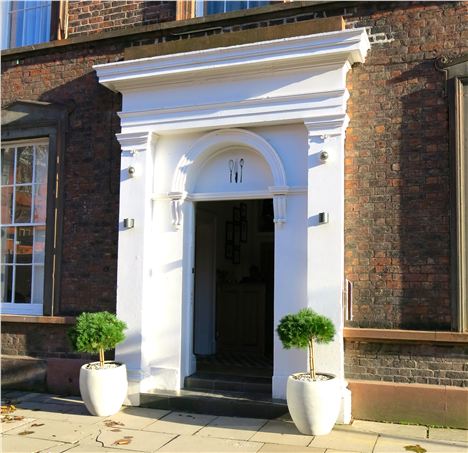 The Art House exterior
Some years later and Gordo finds himself in a taxi outside Lime Street Station.
"The Art House Restaurant please Mr. Driver," says Gordo, remembering to put 'Mr.' in the title following a bollocking he received from the now curiously absent Eleanor Wotherspoon.
"Eh?" replies Mr. Driver
"He means The Art School," interjects Wother's replacement, Lottie Moore.
"Don't know that either," came a dead pan reply. "I'll just check with Scouse Google". Winding down his window he shouts across the road to a line of black cabs. "Eh, lads, does anyone know where The Art School is?"
Even then we nearly missed it. The entrance is an imposing Georgian affair, painted white with a couple of small trees in white plant pots, but no name. There's a fella in a bowler looking shifty outside the building with no name. Even Scotts in Mayfair, with its shifty bowler-hatted tip-jockey stood outside, still maintains signage.
Inside the front of house boss guides Gordo to a couple of very comfortable armchairs by a welcome wood fire; it's rather charming.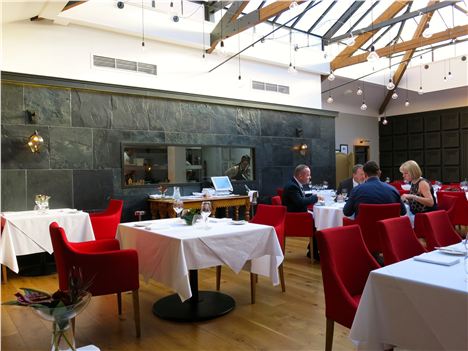 The Art House interior
Gordo, because he is an arrogant and overbearing arse, too eager to pay attention to a charming young lady, orders a bottle of Nyetimber Classic Cuvee 2009 - a sparkling white wine from the southern downs of England (£59.00). This stands up to any Champagne from across the channel; try it, you'll be surprised, and probably get the sommelier on side.
Though Gordo, if he wasn't such an arrogant and overbearing arse, would have realized that a glass of Charles Heidsieck was supplied free of charge with the Menu Excellence (£59.00) he had chosen.
Canapés arrived, a spoonful of steak tartare, along with treacle cured salmon on an interestingly tough and crunchy base. Both of these showed a nod to Nordic flavours, sparse but obviously sharp. Feta cheese and half a cherry tomato was a lazy finish, though the feta was a banger.
Focaccia comes from the kitchen sprinkled with rock salt and fennel seeds. Its good stuff, with yellow, creamy jersey butter partnered up with salt and black pepper on the side.
The Art School dining room is graceful, with a glassed-in kitchen where the diners can watch the brigade at work. Red chairs show off to a background of grey slate on the kitchen wall, supremely comfortable. This, like most fine dining rooms in the North West, is designed to feel sexy, comfortable and cosy. It succeeds. The lunch lasted for four and a half hours and felt like twenty minutes.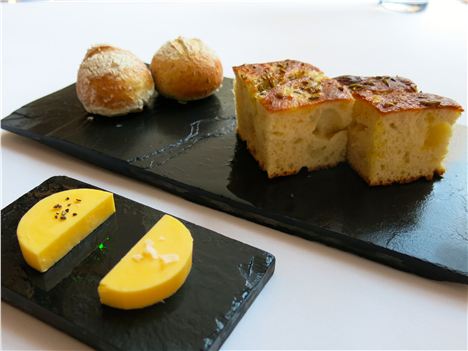 Focaccia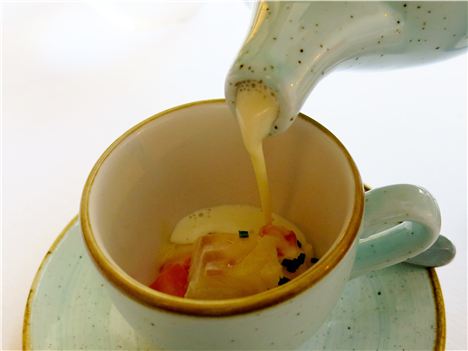 Smoked Haddock Chowder
The front of house are a mixture of old school pros and youngsters handpicked carefully from catering colleges. Chef Askew is one of two or three in the North West who give their time, experience and advice freely to bring on people in the industry. His enthusiasm for training shines through in his staff. He should be proud of them; they are professional whilst being utterly charming. Katy, who took our order; Octavio, the very special sommelier; James Campbell, the gaffer; and the utterly charming Giovanella are all great finds.
A small teacup arrived at the table with the makings of smoked haddock chowder, the liquid being poured from a teapot at the table. Big heady aromas from this amuse-bouche. The local duck salad (main image) with roast figs, squash, chicory and ginger starter for Gordo was a knock out, mainly because the flesh had been treated well. Not overcooked, still blushing and tender to the bite, the roast figs matched the richness of the meat whilst a nutmeggy duck skin 'crackling' stood to attention in the middle of the action.
Gordo did a deal with young Katy to take an extra dish in lieu of the glass of Heidsieck; this was the twice baked cheese soufflé, which were deeply lovely, classic skills with a light touch.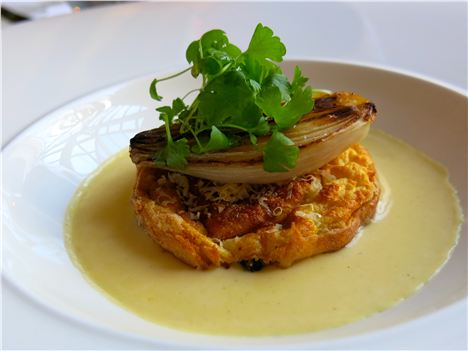 Cheese Soufflé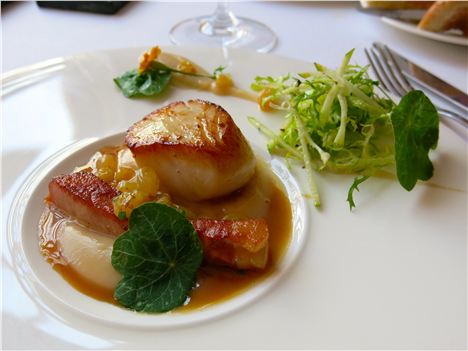 Scallop
The seared king scallop with caramelised celeriac puree and smoked pork loin and sauternes dressing shouted for attention. Gordo didn't like the pairing, but oh my, that scallop was gorgeous. Marilyn Monroe once quipped, "It's not true I had nothing on. I had the radio on". That scallop should have been treated the same.
Cutlet of Chelford black pork with lemon thyme, chanterelles, puy lentils and caramelised Braeburn apples was very nearly a fabulous vegetarian dish, except for a manly piece of pigginess in the middle. Massive flavours, with great pork beautifully and sympathetically handled. Gordo would have welcomed more fat on the cut, one more minute in the heat and the meat would have dried out.
Across the table, Northop red leg partridge with cox apple tatin, cabbage parcel and Claremont farm potato gateau was another carefully handled meat, poultry in this case. Cooked to a very pale blush, thus leaving a moist and sexy feel to the mouth, taking on the flavours of the jus perfectly. This kitchen understands heat.
Chelford Black Pork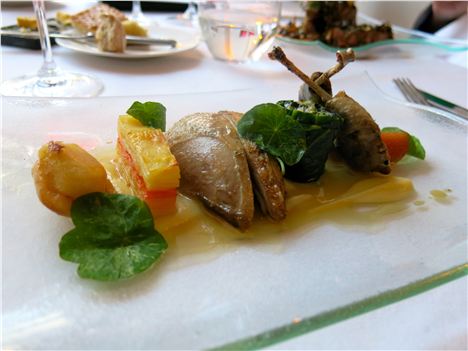 Red Leg Partridge
The cheese board (£12.50 extra for five pieces) is on a par with Fraiche, the Chester Grosvenor, Manchester House and The French. Simple home made biscuits, chutney that doesn't frolic about and a beautiful blue which made Gordo purr.
The wine list here is the pick of three different suppliers, the versatility shines through. The sommelier, Octavio, knows his stuff. Gordo chose a Red Burgundy from an extensive list, Lucien Le Moine Vosne-Romanée Aux Réas 2010 (£145).
This fella's wines are not well known, but are handled gently to bring out very feminine Burgundies that develop in the glass. The sommelier decanted one half of this one to show the difference; it is superb and weirdly different, one a match for the hard-core pork, another for the partridge. Not an everyday wine, mind. Once a year and worth it.
Theme on caramel for dessert with tatin, ice cream, sponge and sesame roll was showing promise. Perhaps the sponge should have been more interesting. The Gateau St. Honore with lime, blackberry and liquorice was outstanding. Light, nearly crunchy, perfumed. Yup, truly a good 'un.
Cheese board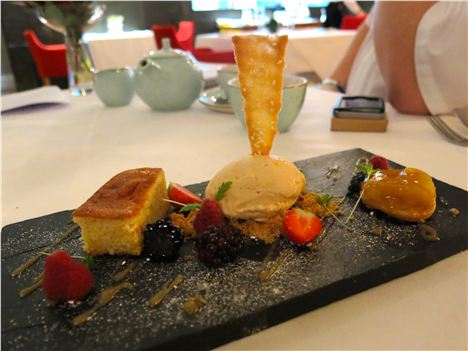 Theme On Caramel
Porky has thought this place through. It's an occasion restaurant, one well worth travelling to. One of Gordo's colleagues, the respected food blogger Hungry Hoss, commented to him that he was disappointed with The Art School. Gordo wasn't, but thinks he understands. There were a few misses at this sitting, but it is clear that everyone is here to learn.
It's the first time in years that Chef Askew has had the reins firmly in hand, and it's an almost certainty that this place will only get better.
In the meantime, it's still a lovely place to be.
It's a Gordo Go.
Follow @GordoManchester on twitter.
All scored reviews are unannounced, impartial, paid for by Confidential and completely independent of any commerical relationship.
The Art School Restaurant, 1 Sugnall Street, Liverpool, L7 7DX. 0151 230 8600. eat@theartschoolrestaurant.co.uk
Rating 17.5/20
Food: 8.5/10 (Canapés 8, Bread 7, Chowder 9, Duck 8, Scallops 8, Soufflé 8.5, Piggy 8, Partridge 9, Cheese 9, Caramel 7.5, St Honore 9)
Ambience: 4.5/5
Service: 4.5/5
Gordo recommends: Wine list, cheese and Porky himself
PLEASE NOTE: Venues are rated against the best examples of their kind: fine dining against the best fine dining, cafes against the best cafes. Following on from this the scores represent: 1-5 saw your leg off and eat it, 6-9 get a DVD, 10-11 if you must, 12-13 if you're passing, 14-15 worth a trip, 16-17 very good, 18 exceptional, 19 pure quality, 20 perfect. More than 20, we get carried away