WE had been cackling like lunatics when the man, who I had never met before in my life, offered to pick up the bill for our dinner at Shiraz. 
Very chivalrous, you may be thinking. Or perhaps your view is more a nudge-nudge, wink-wink emoticon like this ;)
---
It's simple, basic stuff but it is honest. Shiraz is a cheap date, but it's not a cheap and nasty date
---
However, the only spice in this story lies in the food. I really had never met London-based search engine optimisation expert "Stu" until about half an hour earlier. I almost certainly never will again and the only fumbling at the end of the night came in his vain search for the company credit card. 
"No, really, no. I must insist. This one's on me," said Stu with a flourish, immediately prior to the falling-through-the-door incident (him, not me). 
Whoopsie. And it was only Monday.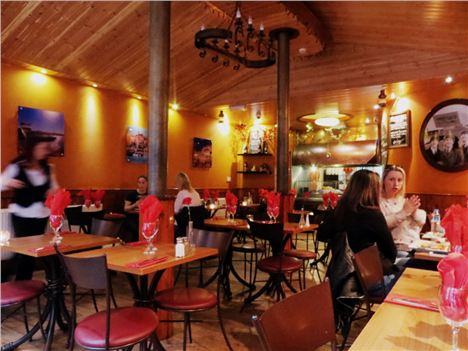 This late night largesse, from our very new friends who had joined us from the other side of the room (long story), was partly down to the steal of a meal deal I was attempting to settle up: £50.56p for three entrees, three main courses and a decent bottle of Grillo glug. Who wouldn't wrestle over the chip and PIN machine? 
That TV reality show thing they made about Liverpool? "Desperate WAGs," was it? You might expect that to be set in "Shiraz", a name which conjures images of a Mossley Hill wine bar frequented by the fragrant wives of equally fragrant Huyton businessmen. 
Not so. This Shiraz, in North John Street, is all things to all people. Step inside for a full English at eight in the morning, a toasted sandwich for lunch. Or be plied by piles of pizzas, burgers, jacket spuds and omelettes; a vast menu of dishes of which we will never speak again. 

Veggie Kebab
Physically, Shiraz could not be further from its namesake: in this case the ancient cultural capital of Iran and birthplace to an affable chap called Medhi, who has run this operation, and another in Williamson Square, for years. 
Like Liverpool, Shiraz is "the city of poets and, er, wine". Unlike Liverpool (at least last time I looked) it is also "the city of gardens, nightingales and flowers". 
Shiraz, in Iran, is proud to be home to Iran's first solar power plant. 
Shiraz, in Liverpool, is proud to be home to a 2013 Certificate of Excellence from Tripadvisor. It held the Number One spot for Mersey restaurants for quite some time, says our efficient waitress, Linda, beaming her own solar-powered smile. 
Yes, yes, I know: reviews on Tripadvisor can be nobbled by all sorts of people with all sorts of questionable agendas that can make or break a place. Then again, a stranger in the city has to start with someone's online bile somewhere.
Despite Shiraz's roots, there is no sign of Iranian fare (see above).
"It is not what's wanted," says Medhi, reminding me of the mantra of an editor in a former life, only less shrill.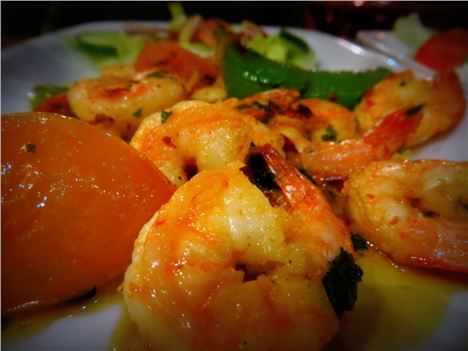 King prawns breaking the bank
What is wanted, apart from cheesy chips, is apparently a Turkish barbecue. The nearest competitor is miles away. 
First, your starters for a tenner. Try a ridiculously generous serving of excellent charcoaled halloumi that will set you back £3.20. Fat and juicy king prawns from the same grill at a bank-breaking £4.80. A refreshing bowl of Tarator, yoghurt flecked with verdant fresh spinach, a Manchester City striker at £2.20. 
Side salads, with everything, are an afterthought - tomatoes owe more to Tesco Value than Turkish voluptuousness - but who the hell is that going to deter? Otherwise there is absolutely nothing wrong with any of it.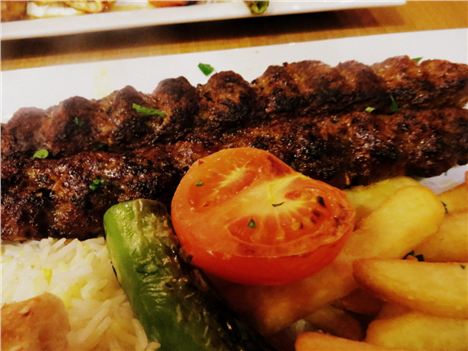 Adana
There is much kebabery to choose from (the most popular items on the menu, says Linda) although no sight of one without meat. On request came a heavy bough of aubergine, peppers, onions, mushrooms and more (£7.50), as smoky and bright as a bazaar. 
Adana (£7.50) a hearty sausage comprising chopped lamb, chilli and peppers was a great deal more succulent than its arid appearance suggested. 
Then there was Ali Nazik (£8.50) barbecued pieces of chicken served on a bed of smoked aubergine and garlic yoghurt. 
Easily missed, right at the end of the menu, is the fish. Seek it out, as I did a week later: a sweet and fleshy beast of a bass (£9.50) beneath a skin reduced to a snapping, searing frizzle over the coals. 
Everything, and I mean everything, is donned with the same rice and chips in varying proportions you can specify, or just more salad (no, ta) and a lusty flame grilled chilli and tomato.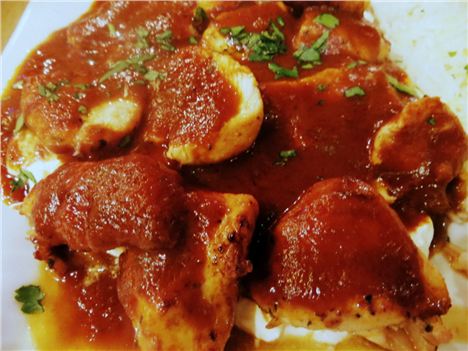 Ali Nazik
It's simple, basic stuff but it is honest. Shiraz is a cheap date, but it's not a cheap and nasty date. With its timbers, terracotta and yellow walls, spindly bistro chairs, muted lighting and candles, it's soul-warming - a priceless special not on every menu.
We stayed beyond the time that we should. Medhi patiently clearing the decks while we all got into a big conversation about all the things in the world. The best and worst places to eat in the city. That if you looked at this thing called Liverpool Confidential then you could find a recommendation where the food critics were independent and paid for their own tea out.
Maybe the staff heard a little of this. We've had a great night, we told waitress Linda as I handed back the card machine. 
Oh, she was so glad. Erm, just one thing: Would I mind posting a little comment on Tripadvisor? Just to say everything was OK? 
Might be able to do one better than that, I replied.
Brilliant!
Well, you never know ;) ;)
---
Follow Angie Sammons on twitter @twangeee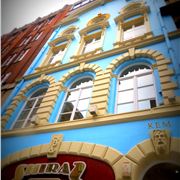 All scored Confidential reviews are paid for by the company, never the restaurant or a PR company, and critics dine unannounced. 
---
Shiraz Turkish BBQ
19 North John Street,
Liverpool L2 5QU.
0151 236 8325.
Open seven days 8am-10pm. 
www.shirazbbq.co.uk
---
Rating:      14.5/20
Food:         6.5/10
Service:    4/5
Ambience: 4/5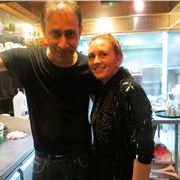 Chef Ali and LindaVenues are rated against the best examples of their kind: fine dining against the best fine dining, cafes against other cafes etc. 
Following on from this the scores represent: 
1-5:      Straight in the dog bowl
6-9:      Get to the chippy 
10-11:  In an emergency
12-13:  If you happen to be passing
14-15:  Worth a trip out 
16-17:  Very good to exceptional 
18-20:  As good as it gets