THE citizens of Smithdown Road might have noticed that revolution is happening in their midst. The New Naked Lunch Café's windows proudly declare that it is an independent collective.
In a press release, founder member Paul Tsanos says: "Naked Lunch was started by a group of people who are interested in an ethical and fair business model. The forty-five people in the cooperative are from all walks of life – doctors, roofers, electricians, builders, musicians, writers, poets, etc. A real mix of people who have come together to carry out the refurbishment, update all the equipment and re-open. They're the owners of the business."
A particularly unlucky pair of sausage sandwiches circulated the room five or six time before they gave up and drifted back to the kitchen
Being a collective is having a bit of a moment right now, after being out of fashion for a while. Still, it is not very specific about the model of collective ownership. Seeing as some of them live abroad, I'll assume they are not going the full kolkhoz.
The café, formerly known as Café Kerouac, was a taken over by a collective of 45 people when its owner became ill. The owner, Ged Brennan, sadly later died. His was called café Keraocu, it is said, because he was an avid reader and Keraouc was one of the only beat poets to visit Liverpool – inspiring McGough, Patten and Henri.
All of the new owners have carried on this literary ideal by naming their venture Naked Lunch, after the William Burroughs novel I presume. Either that or I was horribly overdressed when I visited one Sunday morning.
The interiors tick all the right hipster boxes – whitewashed brick, chalkboards, spinny chairs that look like they've been rescued from Bugsy Malone's barbershop, gentlemen with excellent beards, girls with t-shirts that graze the collarbone just so. All in all, it's a very pleasant place to while away a morning reading something on analogue print format and replenishing oneself both physically and mentally.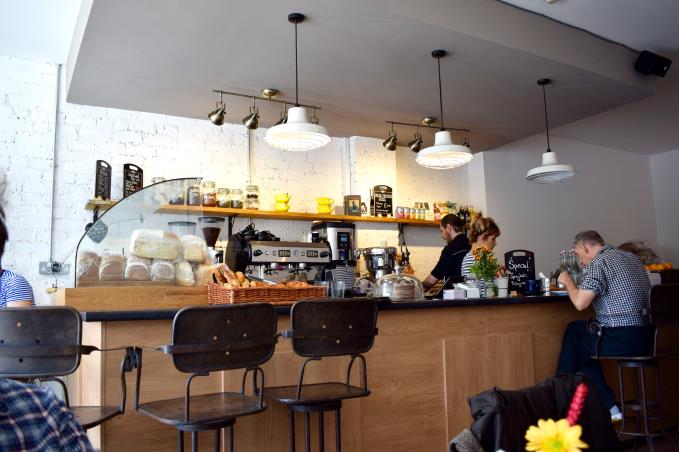 It was brunch o'clock so we ordered a breakfast (full English, £7) and a lunch (veg curry, £7) to make sure all bases were covered. This might be controversial but sometimes the full English is a bit too samey for me sometimes. I do look forward to it (especially in a hotel, hotel breakfasts will never stop feeling like a treat) and then it leaves me feeling a bit leaden afterwards. It's, dare I say it, just a bit too meaty when not prepared thoughtfully.
Of course when designing the ideal breakfast you still want all the wonderful gifts the incomparable pig has to offer, but there should be other notes in there too – a little nibble of this, a smattering of that. This is what the Naked Lunch version does really very well.
The usual protein elements are there and all of good quality but lifted by homemade beans (again, I'm a fan but I can understand how this might stray too far from cannon for some people) and a yummy sweet potato hash, just to change things up a bit.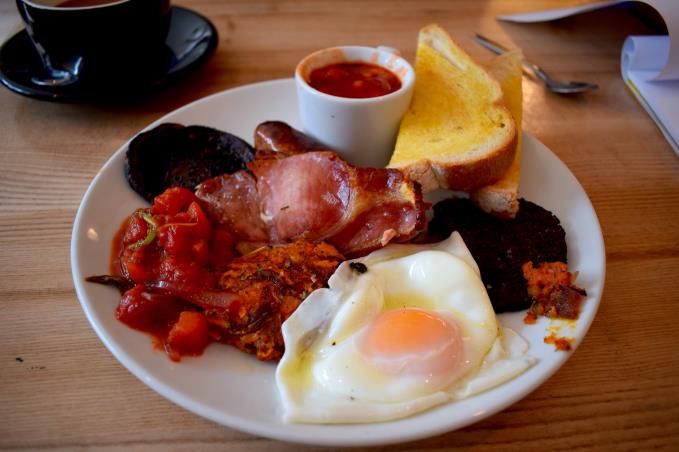 The vegetable curry (main pic, top) was an upgraded version of a classic student dish, more like a spiced vegetable stew than an actual curry, very creamy but with lots of fragrant flavours, and chunks of autumnally appropriate squash and potatoes. The only thing I wasn't a fan of was serving it with white bread (I think a flatbread would have been better) mainly because it was streaked with a quite bitter olive oil. We followed up with good coffee and a very creditable Victoria sponge (£3).
So, what was the problem? Well, it looked like the Naked Lunch was trying to prove the joke about too many co-owners spoiling the good intention-flavoured broth. The place was wildly disorganised. One meal of our order came out, after quite a long time. The next one didn't arrive for another half an hour, while the first sat and cooled.
And it wasn't just us. Waitresses wandered around forlornly, trying to figure out where things were meant to be going (a particularly unlucky pair of sausage sandwiches circulated the room five or six time before they gave up and drifted back to the kitchen).
A table of lads were told off by the waitress for moving to another table without informing anyone. They'd only moved a couple of tables and they had actually told someone about it. It might be old-fashioned but reprimanding your clientele isn't exactly coming from the "customer is always right" school of service.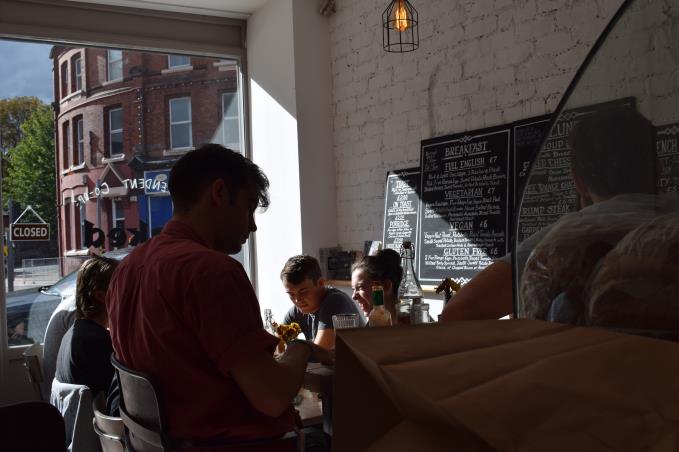 Eventually, after some hard stares, the manager came to apologise and did (full disclosure) offer us a refund for the whole meal, which was a very fine gesture compared to the puny free drink most places bung your way.
Really, it felt more like being in the set up for a Channel 4 sitcom or a Doris Lessing novel than real life, so it was hard to get too upset.
So, though the food was fine and the atmosphere very pleasant, the service let things down. Or perhaps that was just me being neo-liberal, corporate, atomistic fuddy-duddy in expecting my meal to arrive in a timely fashion. If you are more modern and hip than me, you could probably let it slide and otherwise enjoy the sunny vibes and decent coffee – to each according to his needs after all.
Seriously though, I hope they work out these problems – and move from collective disorganisation to socialist utopia. The aims of Naked Lunch are noble and it is an interesting and quirky addition to the area, as well as being a valuable alternative the increasing proliferation of chains. Power (and a decent breakfast) to the people!
All scored Confidential reviews are paid for by the company, never the restaurant or a PR outfit. Critics dine unannounced and their opinions are completely independent of any commercial relationships.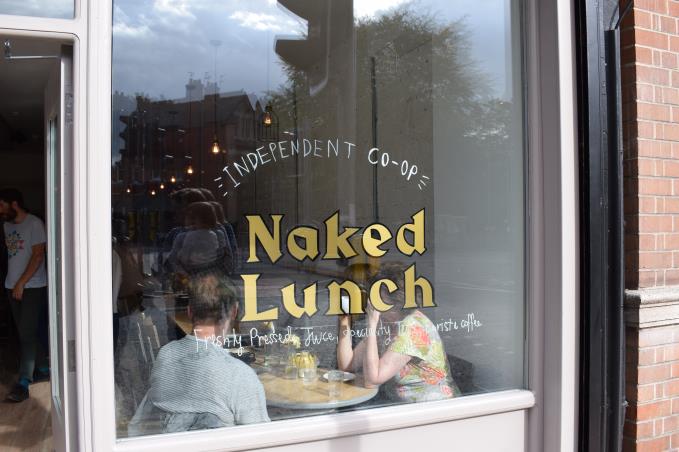 Naked Lunch, 431 Smithdown Road, L15 3JL.
Overall score: 12/20
Food 7/10
(breakfast 8, curry 6, cake 6)


Atmosphere 4/5




Service 1/5
Venues are rated against the best examples of their kind: gastropubs against the best gastropubs, takeaways against the best takeaways, etc. On this basis, the scores represent...
1-5: Straight into the dog's bowl
6-9: Netflix and chill
10-11: In an emergency
12-13: If you happen to be passing
14-15: Worth a trip out
16-17: Very good to exceptional
18-20: As good as it gets