It's a cross between a military academy and a boot camp, and thousands have been eager to enlist.
Merseyside's first Military Preparation College has opened its doors in Liverpool, taking ready aim at teenagers in one of the UK's youth unemployment black-spots.
Pupils, aged 14 to 19, learn core subjects like maths and English, but that is where the similarities with an ordinary school end.
Traditional grey flannels and blazers are replaced by fatigues. The day starts with a parade followed by several hours of PE. There are camps and field exercises in between.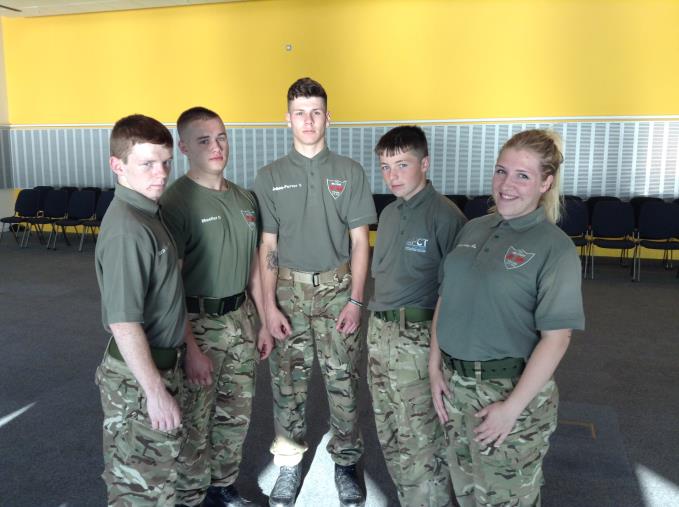 Some of the Liverpool recruits

It's a school for boys - and girls - who want to prepare for, or sample, life in the military - without actually signing up for the Army, Royal Navy or RAF.
Liverpool has always been a rich fertile recruiting ground for the forces, with three of the services have a permanent presence in the city.
The Liverpool Military Preparation College, based at the Alima Centre in Sefton Street, was officially launched at the Arena yesterday. It is the 17th UK operation in the private enterprise which was set up in 1999 and is run by ex military personnel.
Huw Lewis MBE, founder and managing director, said: "Recent statistics from the Department for Education show that Liverpool has the third highest number of young people not in education, employment or training in the UK."
He added: "We are determined to help change this.
"The opening of our new college in Liverpool will provide an opportunity to those that perhaps haven't been given sufficient guidance or support in the past to thrive and develop. We're looking forward to helping those young people from the region to unlock their potential, build their confidence and develop the core skills and values they need to succeed in life."
Tyler Roberts, 17: 'I've already got my application pending to join the Army'
About half of the teens who graduate from MPCT go on to join up, 80 percent of them male, that's 2,000 in the last 15 years.
MPCT, which is free to attend and does not have conventional term time dates, has earned top marks from Ofsted and seen as a perfect breeding ground for the fighters of the future.
Tyler Roberts, 17, from Wrexham, joined the college nine months ago after realising sixth-form college wasn't for him.
"It has given me bags of confidence and I am now much fitter. I've already got my application pending to join the Army." he said.