THEY tell us to remember, remember the 5th of November and, if plans for this year's Bonfire Night are anything to go by, it's set to be a memorable night indeed.
We're promised "a bang, a whizz and a fizz pop of extra proportions" - ooer - as the Mersey tranforms into a "River of Light; complete with waterside surprises, street theatre and evening entertainment aplenty.
The city's parks will NOT be staging displays this year. Instead, in collaboration with Wirral Council, all the roman candles have been put in one shared basket - and that basket is bang in front of Mayor Joe Anderson's office on the waterfront.
"If you can see the river, you'll be able to see it," said a Liverpool council spokesman.
Proceeedings will commence at 4pm with Bring The Fire - a collective of fire dancers, circus skills teachers and flow arts promoters - across four locations: Hamilton Square/Woodside Ferry Terminal, Albert Dock's Salthouse Quay, Mann Island and Princes Parade.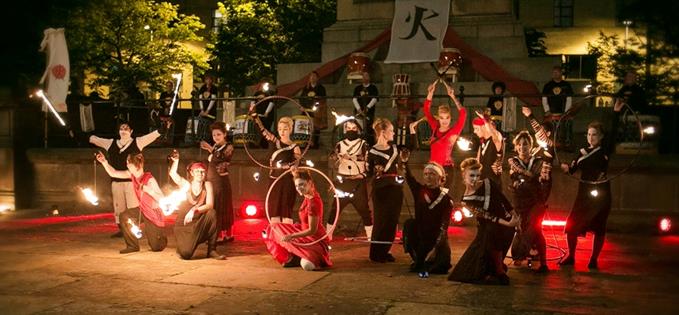 Les Commandos Percu and Deabru Beltzak
An hour later, world-renowned drummers Les Commandos Percu and Deabru Beltzak will wend their way through the city centre from Liverpool Town Hall to the waterfront; accompanied by music, lights and fireworks.
On the Liverpool side, people will have a great view from the waterfront running from Alexandra Tower on Princes Parade, along past the Arena and Convention Centre. Wirral spectactors, meanwhile, are advised to line the promenade right the way from New Brighton through to Seacombe and on to Woodside.
The fireworks display itself, to launch from three barges moored in the centre of the Mersey, is scheduled to start at 6:30pm and will last for around 20 minutes. There will be no official displays taking place in Sefton Park or Newsham Park.
This year's event is a collaboration between Liverpool City Council and Wirral Council and, with the help of partner funding, aims to be one of the most ambitious fireworks events in the country. Sponsors include Albert Dock Liverpool, Liverpool BID Company, Liverpool ONE, Radio City, Hotel Indigo, Merseyrail, Birkenhead First (a Wirral Chamber of Commerce initiative), Its Liverpool and DONG Energy.
Assistant Mayor and cabinet member for culture, tourism and events Councillor Wendy Simon said: "This year we are trying something very different, uniting both sides of the River Mersey with an event that we believe will be hugely popular.
"We're encouraging the whole family to come along beforehand, spend some time enjoying the top-quality street entertainment, watch the amazing fireworks display and then spend time perhaps having a meal afterwards.
"It's great that we've managed to secure sponsorship funding from a number of partners which is helping us deliver a fantastic event and a real economic boost for Liverpool and Wirral."
Wirral Council leader, Cllr Phil Davies, said: "We're delighted to be involved in this amazing event and are keen to make sure as many people as possible head down to the Wirral waterfront to enjoy it.
"Wirral's Mersey shoreline will offer some of the best viewing points and attractions for families of all ages and we look forward to welcoming the thousands of spectators from across the region for what will be one of the most spectacular bonfire night events anywhere in the country."