IF YOU thought a full English was something you ate to cure a hangover, then you really ought to question your novice approach to alcohol. It doesn't work.
For the rest of us, it's a protein-packed treat which doesn't have to kill you to make you stronger - and is all the better if you aren't cooking it.
We at Liverpool Confidential spent the entire month of October eating FEBs around Liverpool city centre, lots of them. We'll do the suburbs, we'll do other kinds of breakfast another time, when we've recovered.
Don't ever make the mistake of thinking this kind of exercise is fun. There are more than one or two glaring omissions in this list and that is because they were truly awful.
---
THE CONFIDENTIAL CRITERIA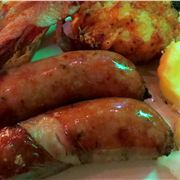 Sausages: Good juicy, meaty with well seasoned filler. None of that "99 per cent pure pork" nonsense that supermarkets and farmers markets dish out as "Finest" or "Gourmet". Those are the sort you pretend to like - even though, in reality, we are dealing with tough, flavourless mystery pork. And let's face it, dear friend, you have come too far on this earth to allow any sort of mystery pork a place in your mouth or anywhere else.
Black pudding: Rich, robust and sassy, please.
Eggs. Large, free range ideally. Fried, poached or scrambled. But, they must not be the miserly tiny variety.
Heinz Beans: Go on then, but be careful where you put them.
Toast: Ideally fried in dripping, but it's not going to happen. Instead, best cut by hand from a fresh, springy, gutsy bloomer, served hot and saturated in butter, or with a nice big ramekin of the stuff. No prepackaged catering pats, that's nanny state.
Hash browns: Yes, yes, we know they have no place in a traditional English fry up but they are here to stay. Resist the freezer cash n carry bag. How hard can it be to grate a spud, a bit of onion and lash it into a pan to go gold?
Mushrooms: Not stewed. Any big black-gilled variety, with plenty of attitude, fried off until most of the water has left and liberally seasoned.
Bacon: Can we have some flavour please? And most of the fat rendered crisp on the edges, instead of a flappy white reminder of last night's stomach surgery on Embarrassing Bodies? It can be smoked, it can be plain, but it can't reduce to the size of a postage stamp after the injected water has drained away. Mmm.
Tomatoes: If you must, but try to use your imagination and never, never, never from a tin.
---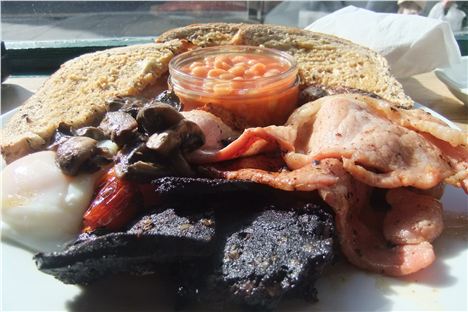 81a Renshaw Street: Lots of banger for your buck
Full English, £4.95, 81a Renshaw Street, L1. All day.
You get a goodly amount for your money at this cafe and arts venue, including tea or coffee (can't vouch for the former but the latter was so nice we had seconds). Good quality ingredients include two fine meaty sausages, lovely sweet cherry tomatoes, properly cooked button mushrooms. Beans were coralled in a ramekin. If the two bacon rashers could have been crisper, the toast (two rounds) fresher, any small criticism is washed away by thoroughly agreeable surroundings: furniture inspired by John Lennon's Aunt Mimi's back parlour mixed with a whiff of eccentricity and a general air of quiet contentment.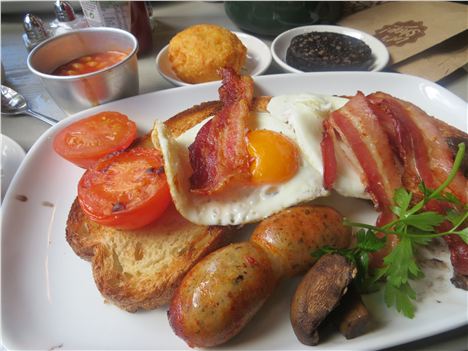 A big bill from Bill's
Bill's Breakfast, Bills, Thomas Steers Way, Liverpool 1, until noon. (Bill's Breakfast Basic: £7.95 - baked beans £1.00 - black pudding £1.50 - with crispy potato 1.25. Total: £11.50)
Sterling effort which will cost you lots of Sterling from the new kid on the block at Liverpool ONE. Four sweet n smoky rashers languish artlessly over two fried free range eggs which, in turn, weigh down big thick slices of buttered, toasted bloomer. Stand back, these short Cumberland sausage links are lethally juicy, fat and flavoursome.
Then the cost starts to ramp with beans, black pudding (two rings, unremarkable) and "crispy potato as add-ons, the latter a well cooked but not-overly-dominant hash brown cake which will see you through all your carb needs for 24 hours.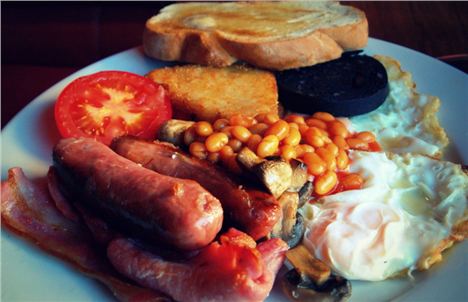 Cafe Tabac: More than acceptable
Full English, £6.50 - Half-sized serving: £4.50, Cafe Tabac, Bold Street, L1. All day.
The textbook fry up from the little cafe that has been nourishing ne'er do wells for decades.
Two fried, free range eggs, lacy crisp on the edges, two generous slices of sweet back bacon, two thick, meaty bangers straight out of the pan and easy on the fork. Hash browns from Costco, hmmm. Heinz beans, regulation black pudding, a generous amount of mushrooms, expertly fried off, and a tomato which was better than most. The great thick slab of toast, dripping with hot butter (bread supplied daily from Antoni's bakery) makes it memorable. A very good choice if you don't know when you are going to eat next and are up that end of town.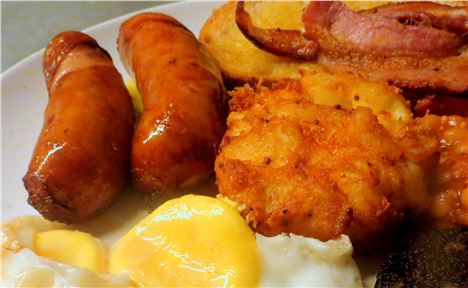 Camp And Furnace: sausage sensation
Camp Breakfast, Camp & Furnace, Greenland Street, L1. £6.75 and rising to £9. All day.
Succulent and truly excellent pork and leek sausages, maple-cured bacon and ballsy black pudding, all from Williams butchers of Flint, were the outstanding features, served with a buttered thick slab of toast and other loveliness.
This is another basic plate where you add on items to make up the final meal. With a huge pint of fresh orange juice over ice, and unlimited tea and coffee, this is not to be dissed as hungover hipster territory.
The Baltic Quarter has two-hour free parking and it's an impressive venue for a brekkie meeting, with the best log fire in town, every day of the year.
Clove Hitch: Mostly very good indeed
Clove Breakfast £8.50, until 4pm. The Clove Hitch 23 Hope St, Liverpool, Merseyside L1 9BQ.
This was certainly not the cheapest we tried but it was sizeable and the quality, mostly speaking, was excellent. Two decent rashers of back bacon and two good fat meaty sausages were outshone by soft, rich black pudding.
Among the rest, a perfect fried egg, field mushroom with good flavour and cooked just so, beans, and hash browns – little more than potato and seasoning but a well judged balance between coarse and smooth, gently pressed into two discs that were quite possibly the best things on the plate.
The only letdown, aside from the regulation packaged butter, was a sad, poorly cooked half of tomato, its inferiority accentuated by the standard set by the rest. There's a smaller Hitch Breakfast at £5 and a veggie version, including grilled halloumi, for £7.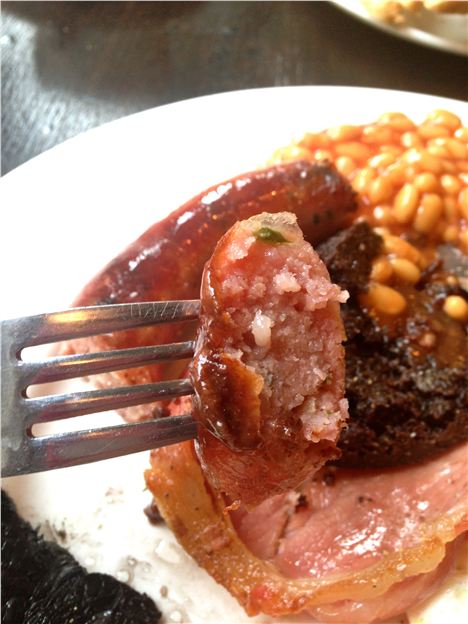 Excellent: Hanover Street Social
Full Social, £6.95, Hanover Street Social, Hanover Street, L1. Served until noon.
Maybe the visiting stags and hens think this place is called Hangover Street Social for come Sunday mornings, this is where they head: regrets, they've had a few. But not for long, for HSS's version of the full English is nothing short of a delight. Bangers, seasoned to perfection with just a touch of fresh herbs, squeal happy free-range Cumbrian pig, ditto the rasher of properly crisped bacon. You many only get one of each to savour, but this is brekkie is all about quality, not quantity.
Soft, crumbly black pudding from Stornaway makes you thankful that Scotland is still part of the Union. Two slices of hot toast, a proper generous ramekin of butter, earthy field mushroom and a tomato that actually tastes of something complete the picture. Special shout out for the long glass of freshly squeezed orange juice. Excellent.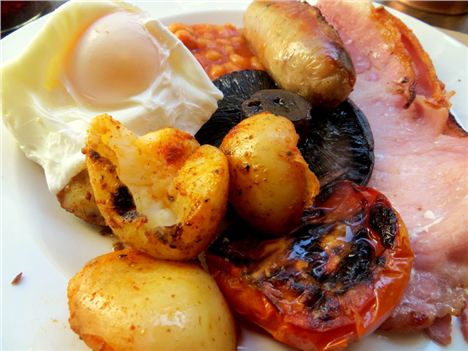 Lox and Caper: Yolks as fat and orange as July 12
Full English, £5.95, Lox and Caper, Hanover Street, L1. Until 4pm.
What, no black pudding? Still, this is an absolute corker of a breakfast frorm the little social enterprise cafe next to the Bling Building.
From a choice of poached, scrambled or fried eggs, the fried boasted yolks as fat and orange as July 12 in Southport.
Two huge poached versions were the sort you would marry the chef for. Good oak smoked rashers of back bacon and a big punchy Cumberland banger sang to the rest. Sauteed spuds and a sweet, charry, cherry tomato completed the feast. L&C was top of the Tripadvisor, list when we went, whatever that means. For brekkies it is fairly unbeatable.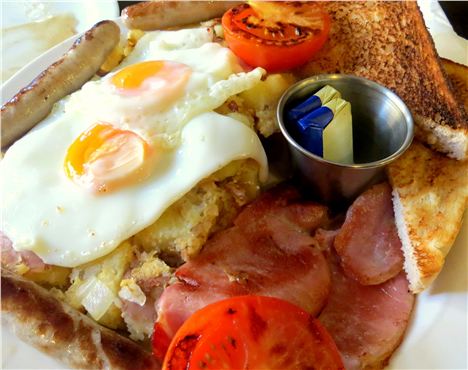 Moose: Good for lost Americans
Mighty Moose, £7, with extras £9.75 Moose, Dale Street, Liverpool 1. All day.
There might not be an exact Full English on the Moose menu, but you will certainly leave the Dale Street diner very full.
Moose looks to the US for breakfast inspiration and both here and Over There you will find no shortage of takers for this authentically supersized fare.
Small it ain't. Not when you've added three chipolatas (£1.75) and a tomato (£1) to the Mighty Moose which already comprises two over-easy eggs, two slices of back bacon and toast.
But the main event lies underneath this groaning mound: a potato/onion bash-hash which rises ominously like Mount Rushmore and spreads across the entire plate.
One if you are an American pining for home or think eating a couple of pounds of spuds in one go is cool (it isn't).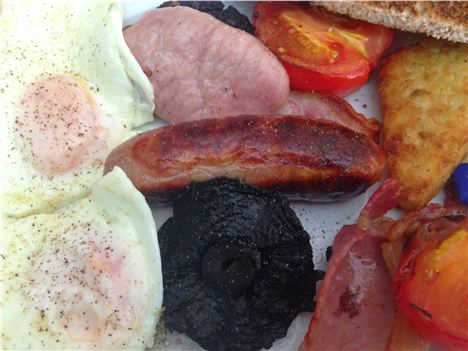 OK: The Quarter
Full Quarter Breakfast - The Quarter £7,95, with add-on beans £8.95. Served until noon.
The Richard Curtis/Notting Hill vibe is what you come for here, the morning after the night before, perhaps with a delicate Julia Roberts-type flower in tow. The ambience and setting swings its inclusion here when otherwise it would have struggled.
Our operative arrived at 11.55am for breakfast and was paying the bill and out at 12.17pm. At the higher end of the breakfast budget spectrum. Want baked beans? It'll cost ya. Two rashers, two eggs, two fat beef tomato halves, a freezer hash brown, sliver of field mushroom, slice of black pudding and one sausage were OK, rather than memorable. Orange juice comes out of a plastic bottle. As our reviewer Fat Git might say: "You would probably like it."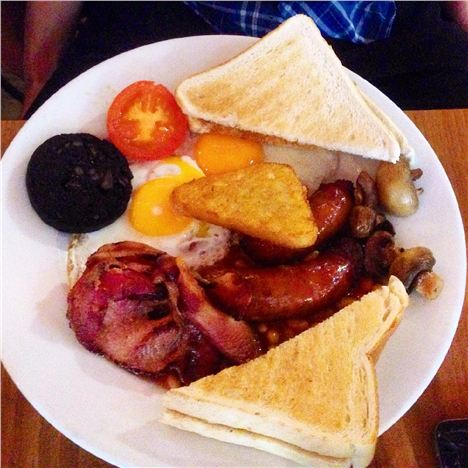 Bargain bin: Shiraz
Full English, Shiraz, North John Street, Liverpool, 2. 8 breakfast items plus coffee/tea £4.95 ♦ Smaller breakfast available for £3.95 ♦ Orange Juice £1.80
Shiraz is renowned for its unashamedly monstrous plate of fried goodness, magnificent for a belly bursting session. Lashings of tasty bacon, perfectly cooked eggs – crispy around the edges, melty in the middle – cheap and cheerful sausages, hash brown, black pudding, juicy mushrooms, nicely grilled tomato and baked beans to absorb all of those heady savoury sensations. Oh, and plenty of buttered toast to mop it all up.
Complimentary tea or coffee, but the orange juice is a must – freshly squeezed, pips and all. Service is easy-going; ambience is cosy, and the price is a deal breaker. This is everything you want from a greasy spoon, minus the grease.
Liverpool Confidential restaurant critics dine unannoucned and get all their own tabs.