IT took five months, but charity fund-raiser Andrew Rogerson, known as the "Cycling Scouser" arrived home today five months after starting a gruelling bike ride from China.
Andrew, a 29 year old auto-electrician at the Jaguar Land Rover plant in Halewood, was mobbed by hundreds of wellwishers as he arrived at the Pier Head to complete an epic journey of more than 10,000 miles.
Yet despite passing through 17 countries, including Uzbekistan, Iran, Serbia and Hungary, without incident, he was stopped on the final leg and, according to supporters, his passport cancelled as he attempted catch a ferry to Britain.
His new lean, tanned look, complete with a bushy beard, were said to be so at odds with his passport photograph that it was hard for Dutch border control officials to reconcile. He almost wasn't was allowed to travel on the Rotterdam to Hull ferry which his team say "would have been a disaster to say the least". He was allowed on the ferry home with minutes to spare, but further forays into foreign lands are off - it seems - for the moment.
"Rogo has lost so much weight on the journey he looks different, so they have cancelled his passport," said a member of his team in Liverpool. "His ambition was to fill every page with border stamps. He only had a couple left."
Yesterday, however, Andrew was concentrating purely on the many high points of his solitary adventure that began in May at the Chery Jaguar Land Rover factory, in Shanghai.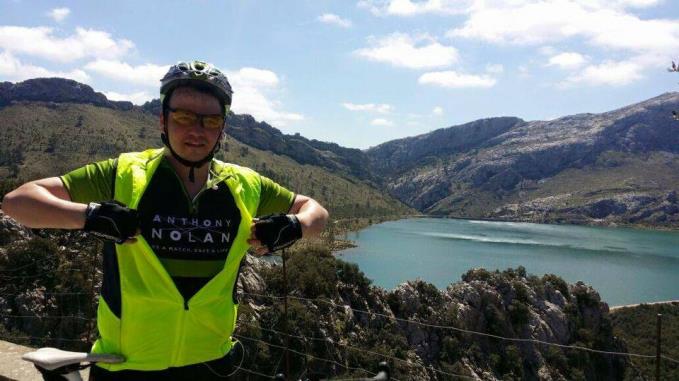 Andrew Rogerson at the start of his adventure in China

Setting a target of 100 km a day, Andrew stopped at Xi'an to view the famous terracotta warriors, and then towards Kazakstan along the famous Silk Road - a place so remote he didn't see another human for days. Most nights he slept in a small tent by the roadside.
He pedalled through China, Kazakhstan, Kyrgyzstan, Tajikistan, Uzbekistan, Turkmenistan, Iran, Turkey, Bulgaria, Serbia, Hungary, Austria, Czech Republic, Germany, Netherlands and the UK.
Bosses at Jaguar Land Rover agreed to give him five months leave of absence to undertake his trip to raise money for a blood cancer charity, the Anthony Nolan Trust. He set a target of raising around £3,000 but as he arrived in the shadow of Liverpool's famous Royal Liver Building, the amount pledged had passed £17,000 and is still rising. See below for how to donate.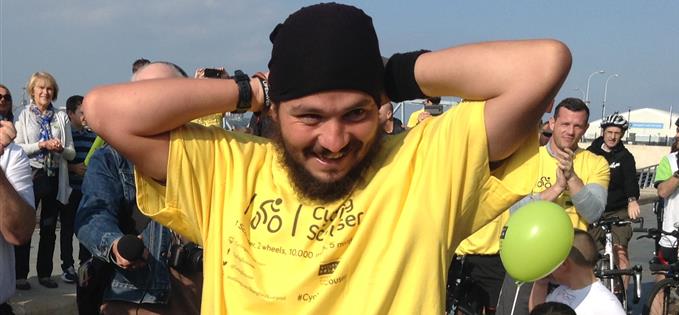 Five months on, Andrew is given a heroic welcome at the Pier Head. Supporters say border control officials in Rotterdam cancelled his passport after failing to recognise his picture

In his regular blogs along the journey, Rogerson admitted he was feeling fatigued as he headed towards mainland Europe, hoping his arrival in his home continent would give him an energy lift.
After crossing the finishing line, cheered and welcomed by hometown crowds, he was cycling again, this time to Goodison Park for the Merseyside derby clash. He rode onto the pitch to be greeted by fans of both teams.
His journey from China was described as "one man, his bike and a sense of humour".
At the finishing line Rogerson said: "It has been an incredible journey, with highs and lows along the way, but today with such a fantastic welcome home I will only be thinking of the high points. People all along the route have been amazing, from China, to all of the countries I have crossed along the way."
Later, Rogerson met up with friends in to watch the local derby football match in a Liverpool public house, enjoying a few pints of beer.
Asked about his next adventure, Andrew said: "I am already working on that and need to ask my employer if they will give me two months leave. I want to row across the Atlantic Ocean from Africa to North America."