Long before the film Kes hit the screens, Anthony Taylor, as a boy of primary school age, was creating drawings of kestrels. One of his teachers found it hard to believe a 10-year-old could produce such a work.
Improving his skills at college in Accrington, then spending three years from 1970 at the Liverpool College of Art (where he was awarded the David Murray Landscape Prize), Taylor developed a reputation as an artist working within the field of modern figurative painting.
He flits between northern England and the Spanish town of Nerja, which inspired much of his recent work. A collection of that work is currently on show (until November 21) at View Two Gallery in Liverpool's Mathew Street.
As Anthony Taylor explains: "I have painted for as long as I can remember and always with the human figure as a predominant theme. I often involve the figure within an abstract context using colour and shape to define the underlying tensions that the subject might suggest."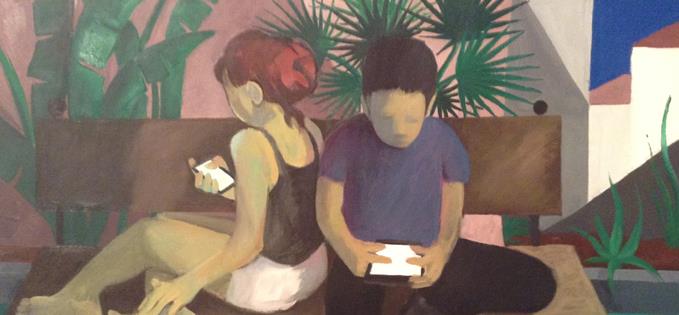 His style has been influenced by Victor Pasmore – his abstract work taught me about shape, Chaim Soutine – a seductively expressionist painter, Picasso – an enduring and amazing artist and Rembrandt – exquisite craftsmanship combined with a profound understanding of the human condition.
While at art college he was fortunate to be tutored by Robin Bownass, Mike Knowles, John Virtue, Peter Prendergast and Peter Crabtree, describing all of them as outstanding painters.
Taylor told Confidential: "I have drawn or painted for as long as I can remembered, especially my drawing of the kestrel which belonged to his Uncle Ray. There was an article about my drawing in the Evening Telegraph in Blackburn. It seemed people were amazed that somebody of 10 could produce such a drawing."
It had been John Proctor a teacher at St Bartholomew's in Great Harwood, who first spotted his talent.
Taylor himself would spend his professional life as a teacher, passing on his skills as an art teacher, while pursuing his own passion for painting.
http://www.anthonytaylorart.co.uk
• View Two Gallery at 23 Mathew Street, open Friday and Saturday, noon until 5pm and at other times by appointment.