IT seems fairly astonishing that someone with the sheer nerve and verve of Ken Campbell should bow out of the physical world without warning, without a final act or curtain call.
If you ever saw him perform or got caught up in his madness, as, down the years, countless people did, hereabouts, you might have heard the small news item that he had died, and be then left wondering: "How did that happen?" Or "That wasn't in the script!"
On Sunday, for once, Campbell's timing was rubbish.
Some of you may not know the name immediately, most will know Ken Campbell from various telly voice-overs, as the neighbour in Till Death Us Do Part, or as the cynical chum of the Fawltys, delivering the memorable line "Sib?", sneering, "Sib-Ill", in the Anniversary episode.


But Campbell, Essex boy, small, round and loud, was so much more than that. So much more. He was one of the true founding fathers of culture, proper, in Liverpool, which might explain why he wasn't here this year.
Ironic, given that Campbell was one of a small number of artists who couldn't tear himself away from the place. He claimed a can't-live-with-it, can't-live-without-it affair with the city, the sort that other non-native artists have described as "stomach-churning", and it began in 1976, in Mathew Street, then a collection of really ramshackle warehouses.
There, with Chris Langham, he formed the Science Fiction Theatre of Liverpool, after stumbling across Peter O'Halligan and O'Halligan's Parlour above a market-stall place called Aunt Twackies (now Flanagan's Apple).
They staged the Illuminatus! Trilogy, which, very sweepingly, was all about conspiracy theories, magic and drugs, the Justified Ancients of Mu Mu and the 23 Enigma.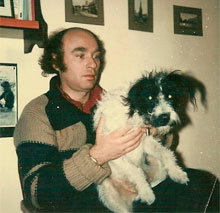 People like Terry Canning and Ian Broudie were in the band, Bill Drummond designed the sets for the strong acting ensemble which was meant to include Bill Nighy, but didn't at first. Making a great deal of the 23 numbers game, one of the bees in Campbell's bonnet, it opened to huge critical acclaim on November 23, 1976, before transferring to the National Theatre and making his name.
Campbell's world was joyously off-kilter with perceived wisdom. So he would have liked the fact that his final performance in the city, last year, was on that very same November 23. That freezing night he appeared before old diehards and a whole new young audience at Mello Mello, Slater Street, doing his monologue on the many universes of the mulitverse. The place was packed. People were loud and drinking. Campbell had no stage, just a floor space in the middle of the room and a crap mike.
"Shut the fuck up!" he bellowed, throwing the microphone down, before launching into a marvellous, acoustic 30-minute volley before a rapt and delighted audience. Doctor Who could have learned a lot about parallel worlds from it. (Campbell nearly was the Seventh Doctor, but his portrayal at audition was deemed "too dark" for BBC softies, and the pleasure of acting opposite Bonnie Langford went to his pal Sylvester McCoy).
Campbell, king of amazing science on Channel Four shows, had a brain the size of an outer solar system planet. In 1980, he brought The Warp to the Everyman, his opening salvo as artistic director. Ten episodes of mayhem, one a week, starring people like Jim Broadbent, the aforementioned Bill Nighy and Neil Cunningham.
I was in the youth theatre at the time and watched in amazement as, on the first night, the mayor of Liverpool and his family got up and walked out in disgust at the nudity and simulated sex scenes amid jugglers, acrobats and pop, on several stages built right around the auditorium (they had taken the seating out). In fact, I just watched in amazement.
Campbell gave us all jobs as extras on a tenner a night, five nights a week, cash in hand. There were also stints available babysitting Daisy, his three year-old daughter (mum was the actress Prunella Gee) in the Green Room. I was in the middle of my mock O-Levels but even I knew this was a "happening", I just didn't know the word for it, and there was no way I was staying home.
It was probably the only time I've personally seen the worlds of theatre and rock and roll truly merge, warp even, as people from the city's then exciting music scene piled in after their own gigs and became part of the show. They all, it seems, "got it". Campbell was electric
He kickstarted so many careers during his tenure at the Everyman. Taxi driver Carl Chase as Hank Williams in The Show He Never Gave, "Downtown" Julie Brown as Disco Queen, and student Mark McGann as Lennon.
He was also verbally without peer. It was the arm waving, the sheer insistence. I remember a huge pile of us all in a Liverpool Chinatown restaurant several years ago where Campbell was holding court. It was 3am, way after licensing hours, and there was white wine being served from one teapot and red from another.
He had just come back from the South American jungles and was claiming he had proof positive that zombies did exist.
He had seen them, and furthermore he had evidence that they were dragging people from villages into the jungle, turning them into zombies and sending their victims back to walk among the tribal people. It might have ended there with a humouring nod, but for a friend of mine who decided to take his theory on.
The ensuing, heated debate somehow carried on in my house and ended around 9am that morning, with the friend finally conceding defeat and tea being served from a teapot.
Ken Campbell truly turned Liverpool on its head, artistically, for a time and he was the most fun the Everyman has ever had by a mile. That he first turned up without being appointed to any role, on any salary, by any board of officials, was perhaps why it worked. He just found the people and they found him.
He was all about risk, about breaking the rules without even stopping to consciously consider what the rules might be. And yet he was always fantastically witty and kind, had time for absolutely anyone who shook his hand and yet remained as sharp as a tack.
It's difficult to believe that a mind like Ken Campbell's can suddenly be no more. That the stars have gone out.
I prefer to think that he is in one of his parallel universes. Actually, make that drinking tea in the next room.
Ken Campbell, actor, director, maverick. December 10 1941-August 31 2008