Graphic, above, by Danny Crone


ANY last lingering accusations attached to Liverpool supporters over the Hillsborough disaster were expunged at shortly after 11am today.
The same authority that allowed the world to believe a crowd of drunken hooligans were responsible for the deaths of 96 of their own, officially cleared the club's fans of all blame.
For 27 years the families of the vicitims of the worst tragedy in British football history have implored for and craved justice. As well as nursing their open wounds with heads held high they faced criticism and sneers from around the country: this was a city of whingeing Scousers doing what it does best, whinge.
It took a jury in Warrington just a matter of minutes today to finally spell out to the world what everybody – red or blue – in Liverpool has known all along: those ordinary souls, aged 10 to in their 60s, were unlawfully killed.
It is unclear whether any other city in Britain, maybe even in the world, would have had the fight in it, the energy and the determination to right that terrible wrong. And never, ever give up
The long arm of justice pointed an accusing finger at the police and the match commanders on duty at Hillsborough on that sunny springtime afternoon in Sheffield when Liverpool were due to play Nottingham Forest in an FA cup semi final.
It is unclear whether any other city in Britain, maybe even in the world, would have had the fight in it, the energy and the determination to right that terrible wrong. And never, ever give up.
If it took so-called "whingeing" Scousers to battle against all of the world who claimed they knew "The Truth", then long live whingeing. Justice has been done, but at a price with many dedicating the best part of their lives in dogged pursuit.
The lies and excuses from the Establishment, particularly the police, have taken their toll on the justice fighters of Liverpool. Some, such as tireless campaigning mum Anne Williams, have not lived to see this day, April 26, 2016, one that will go down in history.
For two years the jury has faithfully sat in a courtroom in Warrington listening to evidence. These were not diehard Kopites or Blues, but a non-partisan group of individuals with no axe to grind one way or the other.
They listened, they heard, and they considered the verdicts, and today they have spoken and delivered their judgement.
Just as crucially as blaming the police, they clear Liverpool fans of all culpability for what happened in that crush that left 96 breathing their last, 766 others injured, and many more emotionally scarred for life after witnessing the horror unfold on April 15, 1989.
Within minutes of the verdict being announced the CPS announced it would now be considering criminal charges.
It means that the story will continue, perhaps for some years, if charges for unlawful killing are brought against individuals or organisations.
Relatives and loved ones, now middle aged and beyond today sang You'll Never Walk Alone outside the Warrington courtroom. They cried and held one another.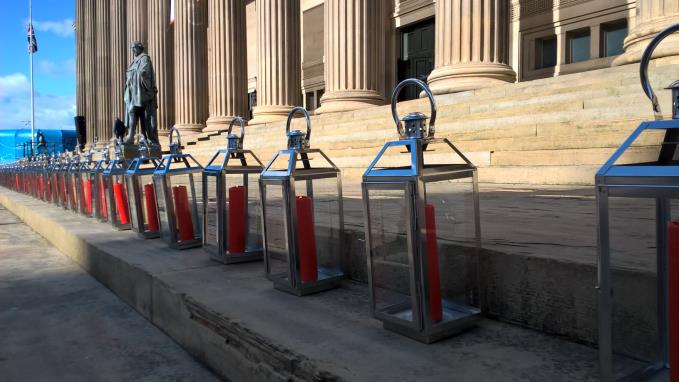 The inquest, the longest in British legal history, may have cost millions of pounds to run. But the cost in the impact it has had on individuals can never be counted.
The jury had been asked to answer 14 questions, but the focus was on Question Number 6, reached by a majority verdict by seven of the nine jurors.
The question, of just 18 words was brief…. "Are you satisfied, so that you are sure, that those who died in the disaster were unlawfully killed?" The answer, even briefer at one word YES. There was applause in the courtroom.
People gathered at St George's Hall where 96 lanterns were glowing. More tears, more applause. Already an event led by Mayor Joe Anderson, has been organised there for tomorrow night where people are invited to gather and remember one more time,
Moments after the verdict was delivered, Sheila Coleman, one of the leading members of the Hillsborough Justice Campaign, was overwhelmed and announced on Facebook: "I can't breathe! Thinking of John Glover and Anne Williams."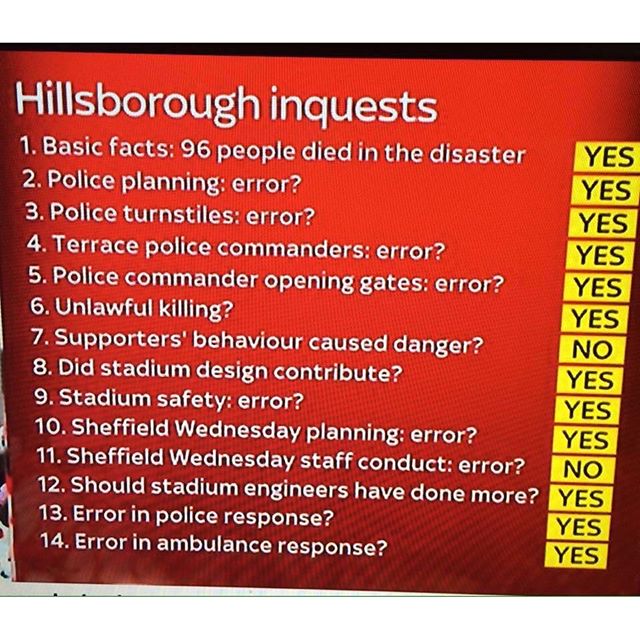 Walton MP Steve Rotherham said: "I have waited 27 years for this moment. But I know it comes too late for many. I was there on the day and saw the horror unfold before my very eyes.
"Before we'd even buried our dead, the hurt of loss was compounded by the lies and smears. I remember picking up a newspaper and feeling sick to the pit of my stomach. They inflicted terrible pain on a city at its moment of maximum grief.
"I've seen how friends have suffered. This is a momentous day but they should never have had to wait so long. The truth is out there for all to see. Justice has been served by the verdicts and now it is about accountability."
Shadow Home Secretary Andy Burnham, a leading political figure in the Hillsborough Justice Campaign, said: "The survivors of this tragedy can finally be remembered for what they were on that day - the heroes of Hillsborough who tried to help their fellow fans."
He added: "The Hillsborough Independent Panel gave us the truth. This inquest has delivered justice. Next must come accountability. For 27 years, this (South Yorkshire) police force has consistently put protecting itself above protecting those hurt by the horror of Hillsborough. People must be held to account for their actions and prosecutions must now follow.
"Disgracefully, lawyers for retired police have attempted to continue the cover-up in this courtroom. They made it an adversarial battle in defiance of the Lord Chief Justice's ruling. This has been brutal on the Hillsborough families and put them through hell once again. The current leadership of South Yorkshire Police needs to explain why it went back on its 2012 apology at this Inquest, prolonging the agony for the families."