LOVE it or loathe it – and it's mainly loathed - Liverpool's St Johns Precinct dominates a large slice of the city centre.
If critics had their choice it would be bulldozed without delay, a fate demanded as locals responded in their usual, no-nonsense, way to reports this week that a £2m facelift, on the drawing board since last year, had yet to start.
To be honest, in a complex so large, spending a mere couple of million on a makeover is akin to having a few pimples squeezed.
Designed by Birmingham architect James A Roberts and covering 6.2 acres, the precinct has always been seen as a poor substitute for the grand and ornate market complex that once graced the site.
We can inhabit, appropriate and occupy the new ecological skin. A double and triple skin with external escalators, lifts and ramps. Pipes, services, Plug in shops and pods
But as everyone knows Liverpool has a history of replacing grand with bland.
The vast market hall, once one of the prides of the city centre, was booted upstairs when the precinct, slammed by the Pevsner architectural guide as a "bleak and brutal affair" was built in 1970. It could be reached by staircases or escalators, but was - and is still - quite a hike from street level.
What's needed, says Liverpool architect and academic Dr Robert MacDonald, is a French connection – no, not the fashion store.
St John's Precinct should look to Paris's world famous Georges Pompidou Centre to transform it into something special. In other words, says Dr Mac, turn it inside out.
He told Liverpool Confidential: "All great cities have vibrant markets. London has Camden Market . In Barcelona, the Ramblas is one long street market and the Catalonian covered Fish Market is spectacular.
"Liverpool used to have many enclosed and open street markets such as the fruit market, fish market, meat market, second hand clothes market, Heritage Market and now, even still, the Greaty on Great Homer Street.
"Markets are meant to be fun."

He went on: "The outside of St Johns is a brutalist megastructure and the knee jerk reaction is to demolish it. It's definitely not Liverpool One, but continual demolition and further demolition is a waste of energy and unsustainable.
"Internally, it actually feels more like authentic Liverpool. You can buy Hollands pies and puds, stuff from Matalan, Aldi and Clintons. On an afternoon it does feel busy and buzzy. It is raw popular culture and not for the snobs, toffs or the stuffy."
Dr MacDonald, Reader in Architecture at Liverpool John Moores University, was a fierce critic of the original plans to regenerate Lime Street earlier this year.
However, for the precinct itself, which dominates the area, he believes a radical rethink is necessary with utilities, and even plug-in shops on the exterior.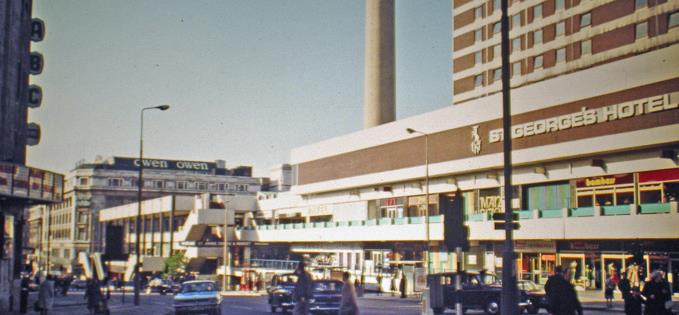 Brum do: The brutalist design by Birmingham architect James A Roberts was tempered in the 1990s
"Rather than demolish the whole of St John's what we need to do is creatively turn it inside out. Let's spread the inside onto the outside by constructing new attached temporary and permanent networks, just like the Parisian Pompidou Centre. We can inhabit, appropriate and occupy the new ecological skin. A double and triple skin with external escalators, lifts and ramps. Pipes, services, Plug in shops and pods; a Fun Palace after Cedric Price, Richard Rogers and Renzo Piano."
One side of the centre facing Lime Street Station – described as "truly disastrous" by Pevsner - has been hidden from view by plastic curtain that doubles up as a giant video screen.
The rest has been tarted up to give it a friendlier look and the Modernist white tiles that covered the exterior have long gone.
The market ought to be – and deserves to be - its crowning glory. But it simply isn't.
If it is to survive its slow death, the market must to go back to its roots – and those roots are on ground level. Alternatively, as Robert MacDonald says, let them flourish as an integral part of a radical, Pompidou style shake-up.
Over 5m people a year visit the Pompidou centre, making it a real euro spinner for the French capital.
'The stranger cannot fail to be astonished'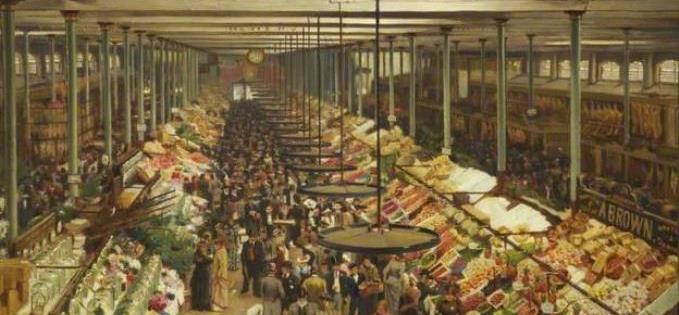 The original market stretched over an area the size of St George's Hall
THE original St John's Market, designed by Liverpool architect John Foster, was completed in 1820 and was something of a modern wonder. It was the prototype for the great 19th century market halls in English cities and the builders of Britain's early train sheds took their cue from it.
Stretching from Elliot Street to Roe Street it covered a vast area the size of St George's Hall.
Smith's Strangers' Guide to Liverpool, published it 1843, describes it thus: "This extensive building is situated in Great Charlotte-street, near Clayton and Williamson Squares, and was erected from the designs of Mr. Foster, in 1822. It is built of brick, and is 183 yards long, and 45 yards wide, enclosing an area of 8235 square yards.
"The roof is light and in five ranges, with side lights, supported on 116 slender cast-iron pillars twenty-five feet high, and the building is divided into five avenues, extending the entire length. It is lighted by 136 windows, and has numerous entrances.
"The walls are lined by shops, and the sides of the different avenues are occupied by stalls, on which are offered for sale provisions of every description.
"The total number of shops, stalls, and standings, amounts to 669, which, in 1840-41, realized the sum of £5,344 to the corporation as rent.
"Below the south-west end of the building are a number of store cellars.
"On entering this market the stranger cannot fail to be astonished at the magnitude and lightness of this extensive building ; and at night, when lighted by gas, it presents a brilliant appearance.
"It is closed at eight o'clock every evening, except Wednesdays and Saturdays, when it is open till ten."
Markets are meant to be fun, says Dr Robert MacDonald