AS the highest court in England today prepares to decide the fate of the Futurist in Liverpool's Lime Street, a rival plan has been released which would spare its frontage and surrounding buildings from the bulldozers.
The scheme, which shows far more detail than the initial vision that SAVE put forward last month, comes from architect Eva Palacios. It is a direct challenge to a "monolithic and bleak" multi-million pound development by Neptune which will see the historic cinema and a number of surrounding old buildings razed to make way for student flats and mixed retail.
I simply don't believe that this would be too expensive, and don't understand why the developers and their architects are being so obstinate - urban planner Trevor Skempton
The SAVE vision offers similar opportunites, with the addition of a high quality hotel using the Futurist facade as a grand entrance, and shows how it and exisiting 18th and 19th century buildings could be integrated.
And SAVE has also announced that national developer City & Country has expressed an interest in developing a scheme on the Lime Street site, along the lines of its own plans revealed here, retaining the original terrace of buildings, including the frontage of the Futurist.
SAVE's Judicial Review challenge, which will he heard today in the London Court of Appeal, centres on a claim that Liverpool planners should have referred Neptune's application to both the Department of Culture, Media and Sport and to UNESCO, because the scheme site sits within the Buffer Zone of its World Heritage Site
In a letter sent to SAVE dated 21st June, Simon Marner, associate director at City & Country said: "We learnt with interest of SAVE's proposals for Lime Street, including the retention and restoration of the existing terrace and frontage of the Futurist. We are certainly interested in exploring a scheme on the lines SAVE proposes – that is for a hotel behind the façade of the Futurist and we like the idea of reopening the shops along the street and having a mix of retail and places to eat, with a mix of office and residential use above.
"The rear of the site clearly has the potential for new development and we appreciate SAVE's concern that new buildings along Bolton Street should not be high and intrusive. We would be interested to look at student accommodation on this side of the site as part of a comprehensive redevelopment scheme."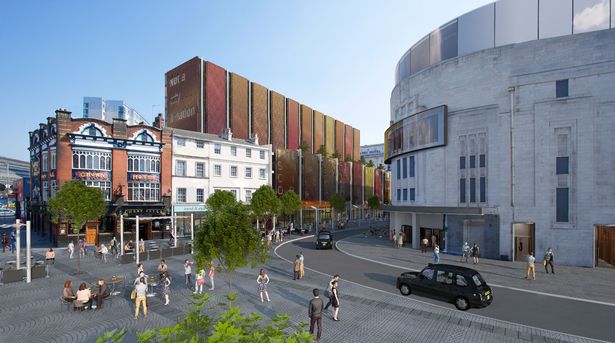 The present plan from Neptune
City & Country, beginning as commercial builders, took on two large country houses Balls Park and Cheverills and successfully converted them. Their scheme at Warley Hospital (now The Galleries), in Brentford, is illustrated in SAVE's latest publication Big Saves: Heroic Transformation of Great Landmarks.
SAVE says: "With conservation architect Eva Palacios, we have now done further work to show how the spaces inside the scheme could work – including an 85 bed hotel using the Futurist frontage as a grand entrance, as well as the proposed 5 storey student accommodation block to the rear – with capacity for 98 rooms."

The mixed use vision from SAVE retains the buildings and the Futurist facade with student blocks at the rear still there but invisible from Lime Street
But yesterday, the council's current preferred developer for Lime Street, Neptune, warned that SAVE's legal challenge to its planning consent could paralyse the planning process and, if successful, could stall Liverpool regeneration projetcs.

Neptune Managing Director, Steve Parry warned the legal challenge could stop "every planning application within Liverpool in its tracks" and accused SAVE of being unconcerned about that from its "London vantage point".
He said: "Last year there were more than 600 planning applications within the WHS Buffer Zone in Liverpool. Each and every one of these applications should, according to SAVE, be referred to the Government's DCMS and then on to UNESCO's World Heritage Committee for consideration. However, this committee sits only once a year and is responsible for over a thousand WHSs across the globe."

The detailed plan from architect Eva Palacios
"This is why the practical protection of such sites is entrusted to a local level where there are UNESCO approved management plans and policies in place. In this case the planning authority and Historic England were satisfied that this application did not have any impact on the WHS and actually enhanced a seriously derelict and rundown gateway to the city."
Although Liverpool's World Heritage site covers a limited area of dockland and the city's historic commercial core, the Buffer Zone extends to cover virtually the entire city centre.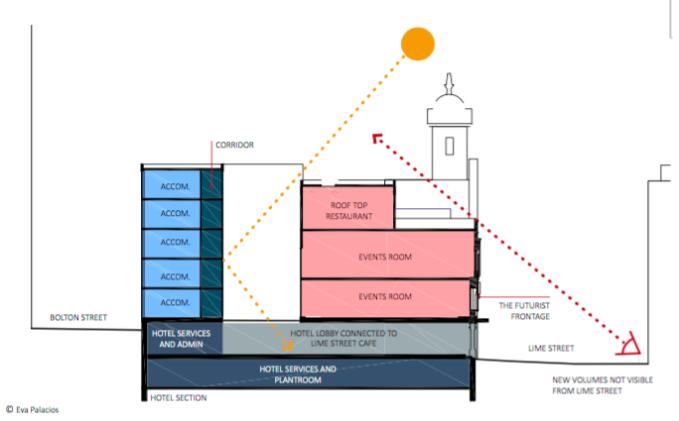 Key development sites within the so-called Knowledge Quarter, commercial district, Ropewalks and Baltic area would, says Parry, be covered by the implications of the SAVE legal challenge.
"It would even apply to projects that seek to convert and refurbish heritage buildings that might currently be in jeopardy, he claimed.
Commenting on the Lime Street scheme he said: "Every development will have its admirers and detractors and the planning system will ultimately balance those views and relevant policy considerations in making a decision. But this legal challenge has nothing whatever to do with saving the Futurist or any other building on Lime Street. It is about creating a protocol which will stop every planning application within Liverpool in its tracks. Maybe from their vantage point in London, SAVE Britain's Heritage aren't too concerned by that eventuality, but everyone who needs and depends upon investment in our city centre will regard that as a disaster."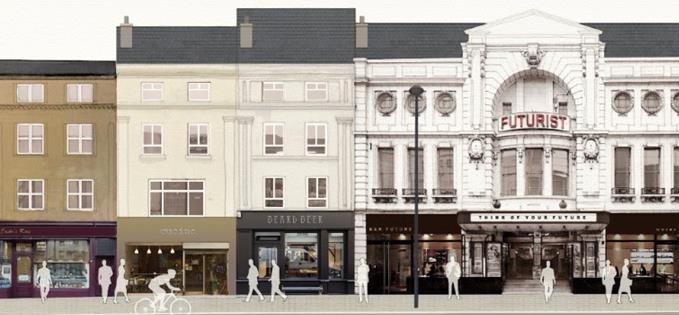 Liverpool based architect and urban designer Trevor Skempton earlier slammed Neptune's current proposals as monolithic and bleak "with a few shops added like an afterthought."

Referring to the former celebrated status of Lime Street which has suffered from many years of neglect, Skempton added, "Rather than a grand city street, this resembles a bleak suburban parade, with small shops squeezed under the mass of the building above".
The architect also supported SAVE's alternative vision of retaining the frontages on Lime Street and using the Futurist entrance as part of a new scheme for the site.
Skempton said in a statement: "Lime Street is one of the most celebrated streets in Liverpool and was once one of the busiest. But it isn't any more, after many years of neglect.
"The revival of Lime Street needs to start with the character of the street itself, introducing an attractive mix of development to recapture the potent memories."
Skempton is on the council of the Merseyside Civic Society and a teacher at Liverpool University's School of Architecture. He has worked as Head of Architecture in Birmingham, City Architect in Newcastle and Chief Architect in Barrow-in-Furness. He has also worked for authorities in Scotland, Wales and Yorkshire, and in private practice in Liverpool.
He added: "I support the creative conservation of the existing facades, in particular the use of the Futurist to provide a grand entrance to an attractive semi-public interior space.
"I simply don't believe that this would be too expensive, and don't understand why the developers and their architects are being so obstinate."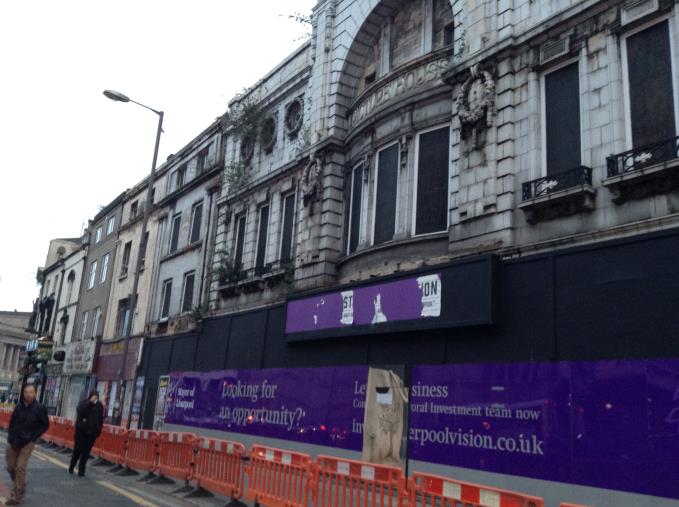 As it stands, for the moment
His intervention comes after Liverpool-born Sex And The City star Kim Cattrall voiced her opposition on Twitter, a few days ago to the demolition of the existing buildings.
Planning permission for the demolition and re-development of the Futurist cinema and over 10 flanking 18th and 19th century buildings on Lime Street was approved by Liverpool City Council in 2015.
Objections have been raised against the loss of the existing buildings and replacement 11 storey proposal for student flats and hotel, from Merseyside Civic Society, the Historic Cinema Theatres Association and the Victorian Society, as well as SAVE. A public petition to Save the Futurist Cinema gathered over 4,000 signatures.
Powered by Wakelet