HE arrived in Liverpool like a conquering hero, described as the nation's favourite French chef and a "major coup" for the city.
But four months after Jean-Christophe Novelli fully opened his first UK restaurant in over a decade, there has been a sudden and unannounced French Disconnection: the Michelin starred chef has left the building.
Novelli's concept (French brasserie cuisine) was too quirky. While it would have been fine in London, perhaps it was a bit lost on Liverpool - hotel source
Last January, in a fanfare of publicity, it was revealed that the long awaited DoubleTree Hilton Hotel & Spa in Dale Street had struck a deal with the celebrity chef to launch his brasserie, Jean-Christophe Novelli at Michelle (named in honour of his fiancee).
"I want to create the most talked about and respected brasserie in the North West," declared Novelli at the time.
Staff were to be hand picked and trained in the arts of the Novelli way of cooking at his Hertfordshire catering academy. "I am passionate about getting the right team to work with me," he had said.
But venture to the hotel complex, occupying the former Municipal Annexe and Education Offices, and Michelle and Jean-Christophe exist no more.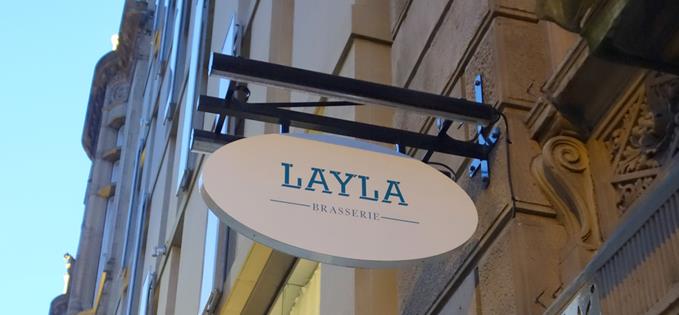 It's goodbye Michelle, hello Layla
The signage has disappeared, the menus have been changed. Brasserie Michelle has become Layla Brasserie, and coq au vin and oysters have made way for sticky ribs and fish and chips.
A month ago, the hotel was advertising its Valentine's Day programme featuring a menu created by a man described as a world's sexiest chef.
But the time February 14 arrived it was clear Liverpool's newest culinary romance was over and Novelli's name was nowhere on the flyers.
Whether the French leave was mutual or of Napoleonic War proportions is not known. But a Hilton insider gave an insight into what had been going on.
Read: Michelin-starred Jean Christophe Novelli to open in Liverpool
About three weeks ago it is understood that a dawn crisis meeting was called between management and restaurant staff. "They all thought they were being called in to be sacked," said the hotel source.
They were safe, but still Novelli's departure came as a shock.
"There were no clues," the source added. "The night before the restaurant had been serving Novelli's French brasserie menu."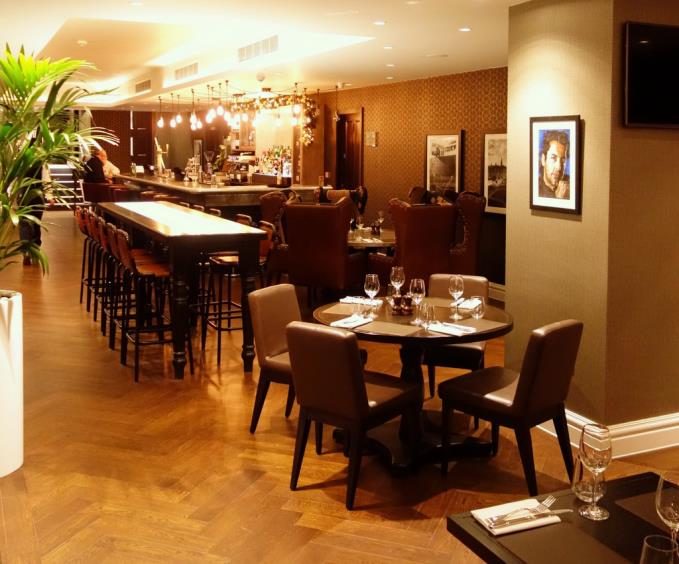 Airbrushed out: Brasserie Michelle three months ago with a portrait of Novelli on the wall
They said two hours after the meeting staff were cooking new dishes and taking orders from completely new menus. All the branding had gone, including the sign outside.
"It was called Brasserie Michelle. Suddenly it was Layla Brasserie after the daughter of the building's owner."
Read: Review: Jean Cristophe Novelli at Brasserie Michelle
It's all a far cry from a year ago when the hotel's then general manager, Terence Southward, announced: "Jean-Christophe is one of the best chefs of his generation and it seems only right that such a prestigious building should be partnered with such a fabulous chef. This is not only wonderful news for the hotel but also a major coup for the city, and we are proud to welcome him."
Novelli
Development of the Grade II listed building complex, one time home of Liverpool's Conservative Club, has been dogged by delays. Liverpool-born celebrity chef Simon Rimmer was originally appointed to the role but in August 2014 walked away from the venture.
Read: Simon Rimmer walks away from four-star Hilton Venture
Novelli came to Britain at the age of 22 and worked in Keith Floyd's pub while his boss was carving his own celebrity chef career. The Frenchman subsequently notched up four Michelin stars in his career. But he took a break from restaurants after his son was born six years ago. The Liverpool venture, with 120 covers, was envisaged as the first of a new "concept".
But not everyone was convinced. "Novelli's concept (French brasserie cuisine) was too quirky and while it would have been fine in London, perhaps it was a bit lost on Liverpool," the hotel source suggested.
The current food menu - steaks, burgers, chicken saltimbocca, a tomato risotto and garlic prawns is said to be an interim fix while a more permanent solution is reached.
"It's proving to be very popular indeed," they added.
We have asked Jean-Christophe and the hotel management to spill the beans and await their comments.