WALLASEY MP Angela Eagle has announced - and then "unannounced" - a leadership challenge to Jeremy Corbyn.
Thursday: yet another surreal day in Westminster, which saw Boris Johnson sensationally edged out of the race for Number 10 by his Brexit running mate Michael Gove. The Eagle camp said she would stand for the top Labour job but not right now: today was a "day for the Tories".
"There's still time for Jeremy to back down and see sense," an Eagle source added.
That remark is seen, by some observers, as a device to buy more time to intensify the pressure on Corbyn to quit of his own accord.
The older half (by 20 minutes) of the Eagle twins, Angela Eagle had put herself forward as a unifying candidate to Corbyn, estranged from most of his Labour MPs, but adored by his grassroots supporters.
Some MPs are saying the future of the Labour Party itself is threatened. But which Labour Party? The Mark I socialist version or the Mark II Blairite version?
Eagle had been expected to launch her leadership bid at 3pm today, a move that had already put her on a collision course with her constituency party members on Wirral.
The Wallasey CLP met last Friday and its secretary issued a message to Eagle asking her to back Corbyn.
An emotional Eagle was one of the 20 or so Front Bench shadow secretaries to quit earlier this week, prior to a vote of no confidence in Corbyn which saw 172 Labour MPs turn their backs on him.
Eagle was one of Corbyn's closest colleagues, deputising for him in the Commons when he was absent and representing Labour at Prime Minister's Questions. Corbyn had appointed her as the Shadow Business Minister and Shadow First Secretary of State last year.
Her sister, Maria, MP for Garston and Halewood, also quit Corbyn's top team, as did Wavertree's Luciana Berger, in a drip feed of resignations on Sunday and Monday. They came on the hour, every hour, ensuring the story was never off at the top of the newsfeed.
Only 11 months ago thousands of people, many of them under 30, turned up to Liverpool's Adelphi Hotel to hail JC, leadership contender who stood reluctantly after Ed Miliband quit as leader in the wake of a dismal performance by Labour in the 2015 general election.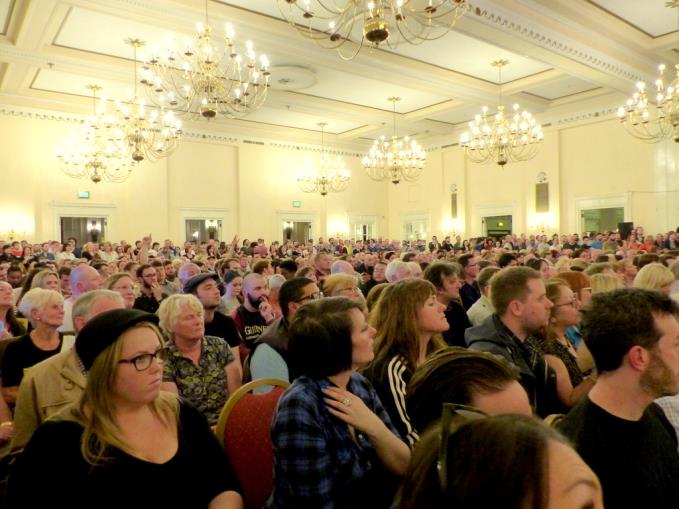 Thousands packed the Adelphi last August when Corbyn came to town
Starting as a 500-1 outsider, his tone engaged them. What Corbyn lacks when confronted by TV cameras or a jeering PMQs - he makes up for when addressing public crowds. He wiped the floor with his rivals, winning around 250,000 votes, the biggest mandate ever in such a contest, compared with his nearest rival, Andy Burnham, who got around 80,000.
Corbyn supporters have since become active in numerous CLPs, giving the leader a strong foothold, Rebel MPs insist he is unelectable.
The big question is: If he can hold his nerve, will there be a repeat of the success he enjoyed in 2015 when the new election eventually takes place? His loyal shadow chancellor, Liverpool-born John McDonnell, is convinced he can do it. As for the man himself, he vows he will not "betray" the party members who elected him last year.
With only 40 MPs supporting him on the ballot paper - they include Burnham, Bootle MP Peter Dowd, Walton MP Steve Rotheram, Sefton Central MP Bill Esterson and Wirral South MP Margaret Greenwood, some are wondering if he'll have enough people to form a shadow cabinet even if he does..
As an indication of the volatility, a letter from Wallasey CLP, sent to Angela Eagle, ahead of Monday's vote of no confidence, has been tweeted by Corbyn loyalist Diana Abbott. The letter makes it clear the Wallasey CLP was overwhelmingly behind Corbyn.
It read: "The idea that the Labour party would rather miss the chance to capitalise on the splits in the Tory party by in fighting was not acceptable to members. On behalf of the constituency I would ask you to make a clear public statement of support for him."
The letter was signed by Kathy Miller and Kathy Runswick, chair and secretary of Wallasey CLP.
Corbyn's right hand man in the Commons, Parliamentary aid and Walton MP Steve Rotheram, sat next to his boss when the new-look Shadow Cabinet held its first meeting earlier this week.
Corbyn in Liverpool last year
As the leadership campaigns start it will demonstrate feelings in the various Labour Party branches and constituencies about where loyalties lie.
Anti-Corbynites are hoping that as many younger party members voted Remain, they will heap some of the blame on their Messiah for what was described in some quarters as his lacklustre campaign. Pro-Corbynites, who joined up last year, say they will go if he goes.
All this has put the post-Brexit Labour Party into a state of civil war, with some MP saying the future of the Labour Party itself is threatened.
But which Labour Party? The Mark I socialist version or the Mark II Blairite version?
And which one can not only despatch the Tories but win back the disenfranchised, traditional working class vote which made its feelings known so dramatically last Thursday?
To be continued. And continued.
Go now: the Liverpool councilors who have signed a public statement calling
calling for Corbyn to quit
Meanwhile, back in the town halls of the land, more than 500 councillors have signed a public statement calling for Corbyn to go. It reads
As Labour councillors we support the recent call from colleagues for new leadership at the top of our party.
Jeremy Corbyn is an honourable man with a record of public service stretching back more than four decades, not least in local government.
We are drawn from a number of traditions within our movement, including those who voted for Jeremy last year.
It has now become clear, however, that he is unable to command the confidence of the whole party nor of many traditional Labour supporters we speak with on the doorstep.
Our country is facing a crisis – and the neighbourhoods we represent are on the front line. We urge Jeremy Corbyn to make way for the new leadership that our communities so desperately need.
It was signed by the following in Liverpool
Cllr Anthony Lavelle, Croxteth Ward;
Cllr Carol Sung, Tuebrook and Stoneycroft;
Cllr Helen Casstles, Wavertree;
Cllr Jeremy Wolfson, Childwall;
Cllr Lana Orr, West Derby;
Cllr Malcolm Kennedy, Kirkdale (pictured, right) ;
Cllr Patrick Hurley, Mossley Hill;
Cllr Richard Wentstone, Church;
Cllr Timothy Moore, Princes Park.
Powered by Wakelet