WITH all the charm of Bavaria, mulled wine, chestnuts and some festive trinkets thrown in, Liverpool's Christmas markets have added a bit of light relief to Church Street, Lord Street and Williamson Square, these past 11 years.
But this year established retailers on the shopping stretch will be given some air to compete with Liverpool One. The scores of wooden stalls are on the move to St George's Hall.
It's a grander setting, on a par with Manchester's Albert Square, you might say. The official word is that it's to "complement" Shrek and Harry Potter - and you can't get more seasonal than that.
Read: Gigantic Shrek to light up Christmas Liverpool
It is the first year the city's Christmas market has been fully operated by Liverpool City Council, after it brought back the city's market company for £1 last month. It says the market, with 40-odd stalls, will be "animated throughout its run with specially designed creative interventions".
Read: Liverpool takes back markets in quid deal
"The new location has been chosen so the festive market can complement the UK premiere of the Dreamworks Lights show - a lantern extravaganza featuring characters from the blockbuster films of Shrek, Kung Fu Panda and Madagascar, which the Grade I listed hall will be hosting from Thursday, 26 November to Sunday, 15 January 2017," it says here.
"Liverpool's Christmas Market will open on St George's Plateau on Friday, 18 November, the same day as the worldwide release of the new Harry Potter blockbuster, Fantastic Beasts and Where to Find Them, in which the hall and plateau both have a starring role."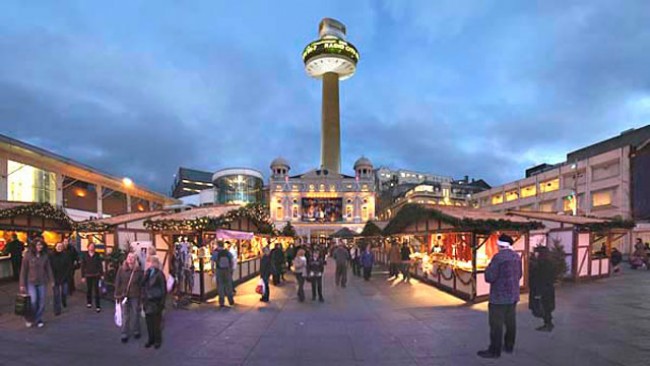 Down with this sort of thing
Those of you wondering what's happened to the Winter Arts Market, staged at St George's Hall for the past god knows how many years, will have to look to the Anglican Cathedral, where its been relocated, presumably to make room.
Back on Lime Street, the new look market will run until Thursday, 22 December operating from 11am-9pm and 11am-5pm on Sundays.
Joe Anderson, Mayor of Liverpool, said: "Liverpool's Christmas Market deserves to be in a beautiful place and we're delighted we can now move it to one of the best locations in the country.
''The stunning backdrop, which Harry Potter fans will soon get to see, is a huge boost for our Christmas plans and with families pouring in to St George's Hall for Dreamworks Lights it'll take the market to a totally new level.
''St George's Plateau is the city's postcard to the world and with the extra special animation we have in store for the market and Dreamworks Lights it will be a magical sight this Christmas."