TONKATSU Kare is as big in Japan as KFC is in any British town. It's finger lickin' good, or as they say on the streets of Shibuya, "fukujin-tzuke". That's a sort of pickle and one which you will find accompanying this no-frills food.
In Japan, restaurants are dedicated to just one kind of food: as a rule you would never see tempura being sold in the same bar as noodles. And in thousands of katsu cafes, pork and chicken are the meats of choice: fat slabs of flesh, dipped in breadcrumbs, deep fried golden, sliced on the diagonal, and lashed all over with Japanese, soy-spiced curry from a block.
With Bold Street getting its first Japanese-themed "street" restaurant, Mr Miyagi, later this week, this Rising sun favourite is on the rise.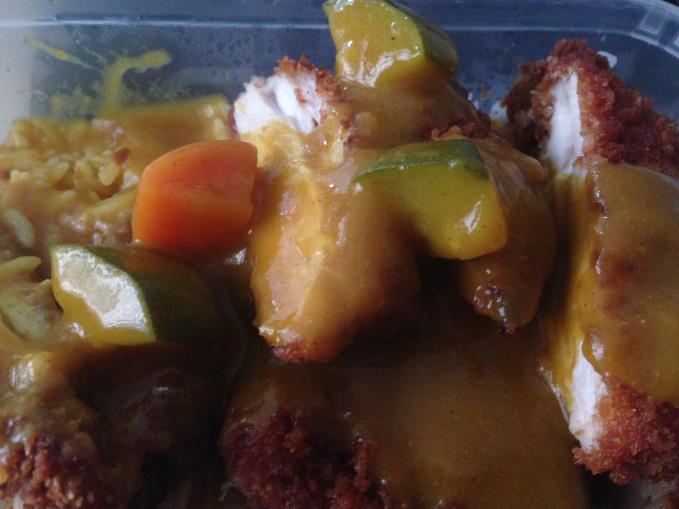 Big, cheap and authentic at Chop Chop



Chop Chop, 46 Fenwick Street, Liverpool. L2 7NA. Tel: 0151 227 9999. Website
Chicken Katsu with Mega Sauce, £4.90 lunch, £5.50 dinner. 8/10
There are queues out of the door every lunchtime for Mr and Mrs Lee's bento boxes, teriyakis, bibimaps and kimchi. The Korean couple have been serving up Tokyo and Seoul food to hungry Liverpudlians for eight years and a steady stream of tourists from the Far East make a beeline for the tiny shop in the commercial district.
"Mrs Lee is very clever," our counter assistant tells us. "She invents her own dishes," which include deep fried Chicken Ball, in a light sweet and sour concoction, and Mega Chicken, deep fried chicken in Chop Chop's own sauce with plenty of veg over steamed rice.
The dish: A generous tub of thick, robust Mega sauce comes with cucumber, carrot and broccoli, stir fried just so. It's ready when you are to tip over crisp escalopes of juicy chicken breast and rice. Dive into it with disposable chopsticks. A milder version for Tokyo tastes is available so nobody makes the unforgivable Japanese faux pas: blowing the nose.
Pros: Authentic. Cheap. Pretty faultless.
A big, steaming lunch for under a fiver (11am-4pm). An even bigger, steamier dinner version, for just a few bob more, is served from 5pm to 8pm.
Cons: Takeaway trays. Nowhere indoors to sit. Closed weekends and after 8pm.
Good for: Anyone with a desk to sit at, city centre residents, early doors party people who don't mind dipping. Japanese visitors and students thousands of miles from home. Delivery also available. Give them a "Mega"-phone.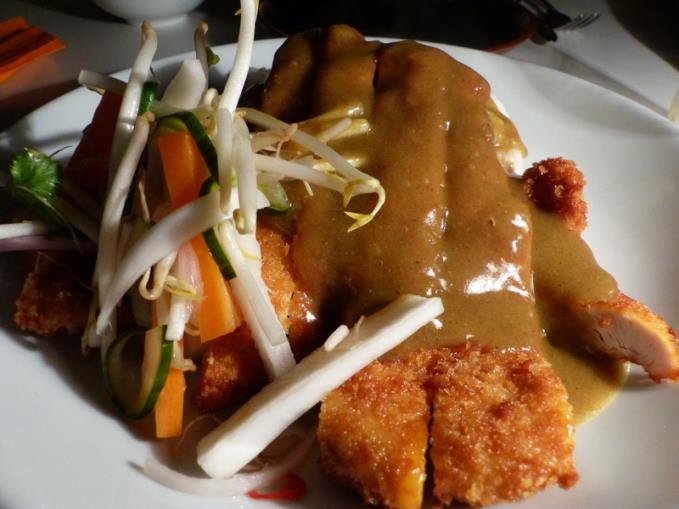 Making the most of HOST
HOST, 31 Hope Street, Liverpool, L1 9HX. Tel: 0151 708 5831. Website
Katsu Curry, £10.50. 7/10
HOST doesn't stick to one country's cuisine - it thinks big, Asia-Pacific region big. Thai green curry (top drawer last week) resides alongside Indonesian braised lamb and seared beef po. In many hands such diversity is a recipe for disaster, but here no sweat. You never have a bad night in the Manning Brothers' Soho-infused nod to the East (Confidential hasn't anyway).
The dish: What appears to be a molten lava of curry sauce cascades down a Fuji-sized mountain of succulent, snow white chicken encased in golden Japanese panko breadcrumbs. More carrot, more cucumber, but this time raw and preserved in a sharp rice wine vinegar. It gives a sharp kick to plate of food easy on the eye and on the tastebuds.
Pros: A few dollars more buys you HOST'S ambience, service and liquor licence which means a good glug of Grillo by the glass (£4.45) will help things agreeably along.
Classy: no seagulls chasing you and your dinner down James Street.
Cons: The spices in the curry sauce could have been ratcheted up several notches without losing the authenticity. Chicken arrived with the sauce already poured over it which might not suit everyone.

Good for: Families wanting to turn their children onto more sophisticated choices than the usual breaded chicken fare. The mild at heart - or the wild of heart on a night off. Late finishers. Order 11am-10.30pm seven days.
All scored Confidential reviews are impartial. Critics dine unannounced and the bill is picked up by the company. Never the restaurant or a PR company.