LOVERS of the sweeter things in life have been making a beeline for Caz's Kitchen since it opened last summer.
Sponges, tarts, blondies, brownies and cheesecakes fly out of the tiny bakery on St John's Road, Waterloo, with customers flocking from all over Merseyside to fetch a box of treats for home.
Yes, for home.
You see Caz's Kitchen was merely a shop. Now it is something more: a blue heaven thanks to the opening of a summer suntrap at the back - serving as much cake, tea and coffee as you can handle.
With light dancing off mini disco balls and onto the Mediterranean turquoise walls, crocheted dream catchers, reclaimed hessian seating and lovely children tending a mini allotment, it's all rather like stepping into the Boden catalogue.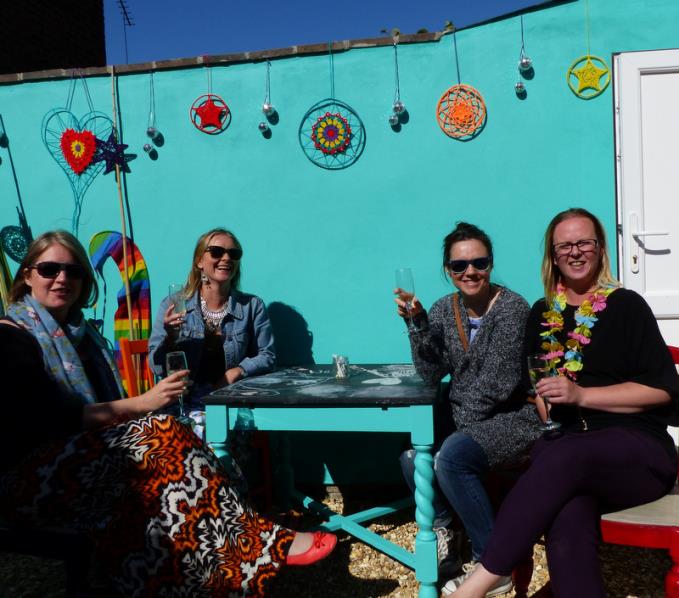 Not a cake in sight: Caz and her mates lay into the fizz
A DJ and invited guests toasted Caz's "secret garden" on the longest day of the year; an afternoon launch party which also heralded, for the first time, Sunday opening hours.
Apart from regular cake, eponymous owner Caroline Hill, a degree-qualified nutritionist, whips up gluten free and vegan treats and was the first to market raw cakes, making naughtiness officially good for you.
She told Liverpool Confidential: "We have vegan people travelling from far and wide as they aren't readily available anywhere yet but more importantly a lot of my regular cake customers - who now trust what we do - are giving the healthy cakes a go too and adding them to their favourites list.
"The raw food revolution is gathering momentum and in my opinion is so much better for you than the processed, low fat, low calorie packaged stuff from the supermarkets. Weight Watchers and Slimming World diets are pretty old hat. Eating as naturally as possible can only be a good thing."

She added: "On the other hand there is always just proper cake and a proper brew to be had with us and this is still the bulk of our biz!"
*Caz's Kitchen, 47 St John's Road, Waterloo, L22 9QB. 10am-5pm, Mon-Sat. 11am-3pm, Sun. Facebook here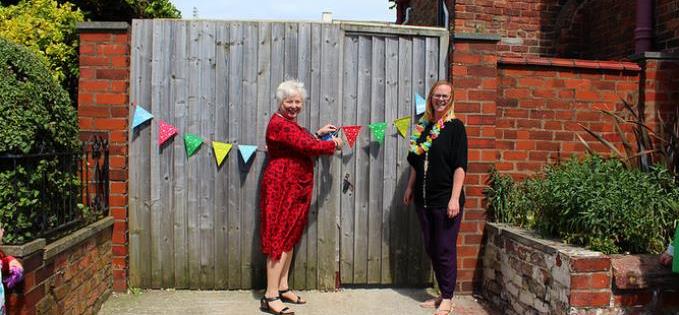 Councillor Jan Grace cuts the bunting to declare the garden open (Pic: Heather Currie)