BEG, steal or borrow. That's how it used to be.
Family, friends, credit cards, savings, loans, muggings; the traditional ways to fund a new venture. Crowdfunding has changed all that and with websites like IndieGoGo and Kickstarter .
Once the domain of creative and techie types who desired to build a $10,000 50ft robot snake (this actually happened), or dozens of bands, such as our own Echo and The Bunnymen who got fans to fund an album out of it, crowdfunding has started to make a big impact on the restaurant industry.
The Clove Club, in Shoreditch, which went on to Michelin starred glory in 2014 - was partly funded by a staggering £250k via Crowdcube. Closer to home, chef Gary Usher's Sticky Walnut bistro in Chester - recently named AA Restaurant of the Year - raised just over £100k from 891 backers in November 2014 to launch its second operation, Burnt Truffle, later this year.
Next to take a punt on crowdfunding is Manchester and Birmingham's foremost vegetarian restaurant, 1847. And its mission is to open up here in Liverpool by the end of the year.
1847 and its owner, Damien Davenport, are flying following a glowing review by The Guardian's Jay Rayner and scooping the Cook Vegetarian magazine's 'Best Vegetarian Restaurant Outside of London 2014'.
Over the next six weeks, Davenport hopes to raise £60,000 via Kickstarter to launch a third operation. Twelve jobs will be created, he says, and the eagle eyed could spot him last Friday foraging potential sites at the heart of the city centre. But it doesn't stop there. Davenport, who fell in love with Liverpool as deputy general manager of the Malmaison when it launched here in 2007, wants to establish a vegetarian cookery school in the city. He is also planning 1847 Pantry, a range of vegetarian takeaway meals, with the proceeds.
So far they've raised over £4,500 in under a week.
He's been a vegetarian since the age of 11 and opened 1847 after a lifetime of being faced with nut roasts and mushroom risotto every time he dined out. He says he knew vegetarian food didn't have to be like this and started the business with a simple aim - to push the boundaries of th cuisine.
Opening in Liverpool is a really exciting project for us. 1847 Liverpool will be our biggest yet. It will include over sixty covers and a separate bar area," says the blurb.
"Our market research shows that the Vegetarian/Vegan population are poorly catered for and are enthusiastic about 1847 opening in the city.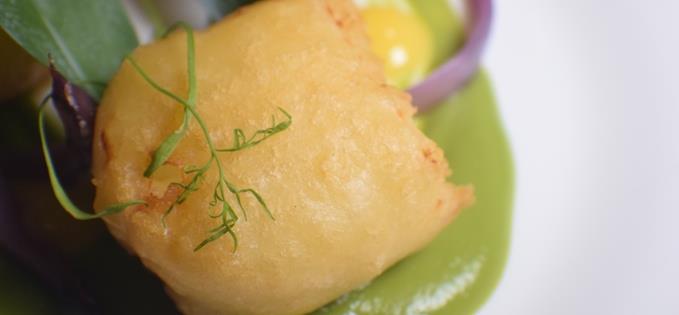 Not nut roast: Tempura halloumi, lemon curd, pea emulsion and sea herbs
"Liverpool will be home to our first school - a section of the restaurant devoted to the training and development of our chefs in modern vegetarian/vegan cuisine, giving our employees the very best start and skills to develop their careers. We also plan to offer educational opportunities to external chefs to allow them to take the skills learnt back to their restaurants, in the hope of widening and improving the non-meat options available to diners.
"The School will also be open to the public – so people can come and learn from our chefs and take their newly honed skills back to their own kitchen." 1847 is an enormously successful enterprise in Manchester and Brum, so why does it need to turn to the public for funding.
"We've been trading successfully for five years and have managed to grow organically to two sites in Manchester and Birmingham" Davenport says, "but we've still found it difficult to secure traditional bank lending," he says.
"We were offered investment last year but they wanted to take half of the business. "We've seen what other restaurants like Sticky Walnut can do with crowdfunding and we think it's achievable for 1847."
However, crowdfunding is by no means a certainty; fewer than 40 percent of approved Kickstarter campaigns achieve their targets, while 20 percent don't even pass the first approval stage which means, in reality, only a third of all campaigns are successful.
Regardless, Davenport is confident. "I think being a vegetarian restaurant, there's already a strong community out there," he says "We've looked at the competition and we're sure that a city as big as Liverpool would benefit from an 1847."
He adds: "We've identified potential sites, we're ready to go, we just need our community to back us."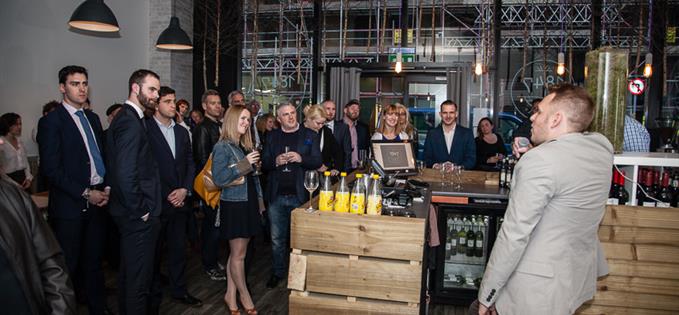 1847 Owner Damien Davenport addresses the crowd at the Kickstarter launch party
A bonus for entrepreneurs like Davenport are that, unlike traditional financing, money collected via Kickstarter require no financial payback, no interest and no collateral.
What's the worst case scenario?
"The truth is that if our crowdfunding was unsuccessful we'd still eventually open in Liverpool - but how much longer down the line? A few years perhaps."
"This campaign is about avoiding the rigmarole and red tape of traditional investment, speaking directly to our community and potential community and asking for their help to bring this forward.
"After all, it's those people that we're feeding everyday, not the bloke behind the desk with the chequebook."
You can donate to the 1847 Kickstarter campaign here.